Discover the winners of the Marcus 2022 - the FIA Austrian Mobility Club ÖAMTC Awards
The Austrian Automobile Awards were awarded for the 10th time, with the complete Mercedes-Benz EQS system receiving the "guiding concept" award.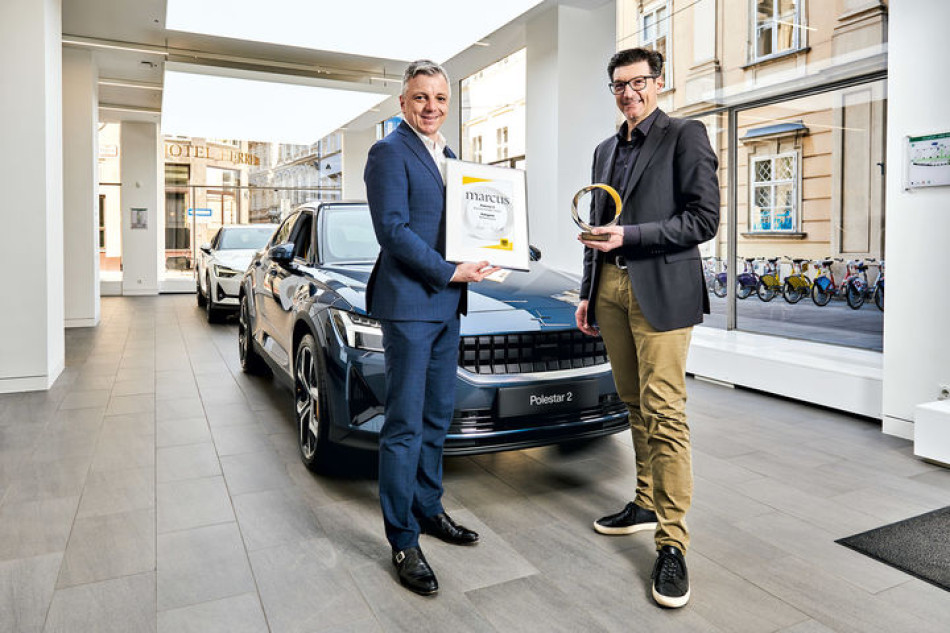 In March 2022, the Marcus awards were awarded for the 10th time. 36 car models that were put on the Austrian market in 2021 were tested and evaluated by ÖAMTC experts. 
"From the beginning, the goal of the Marcus was to distinguish the characteristics that are most important to car buyers. Especially with the ever-increasing variety of drive and equipment concepts, the Marcus offers orientation through a transparent and objective evaluation." - ÖAMTC Director Oliver Schmerold
Criteria
The criteria used to evaluate the 36 car models were eco-friendliness, safety, and economic efficiency. The evaluation allowed to identify overall winners this year in four different vehicle categories instead of five —  as since the offer for small cars and in the compact class was lower, the categories were combined into one. 
A second Marcus in each of these vehicle categories was awarded by the ÖAMTC members. They were able to choose their favorites in four vehicle classes from all new releases in 2021. In addition, a forward-looking technology was awarded a "guiding concept" award by a jury of experts.
No Marcus in the small car & compact class category
In the small cars & compact class category, there was a special case this year - the Dacia Spring received top marks in the ratings of economic efficiency and eco-friendliness, but the worst rating for its safety equipment. 
The Dacia Spring also performed poorly in the field of safety with EuroNCAP and received only one out of five possible stars. The good rating in economy and eco-friendliness is sufficient to mathematically compensate for the significantly worse rating in terms of safety and allow the car to achieve the highest score in its category overall. However, it does not justify an award. Therefore, no Marcus was awarded in the small car & compact class category in 2022.
Components of the overall rating
The overall rating relies on the assessment of safety, economic efficiency and eco-friendliness. In terms of safety features, the series equipment was evaluated on the basis of 37 defined features (basic variants of each model). The basis for the evaluation of eco-friendliness and economic efficiency were fuel consumption measurements during trips of the editors of the ÖAMTC mobility magazine auto touring. 
Of the 36 cars that were newly launched in Austria in 2021, 33 could be tested, three models were not made available. For the calculation of economic efficiency, factors such as list price, mileage and loss of value were also included in the evaluation. In terms of eco-friendliness, the new models with the lowest CO2 emissions were awarded the best scores, for electric cars a CO2 equivalent calculated from electricity consumption was used.
Download the detailed evaluations here: 
ÖAMTC members' Marcus Winners
ÖAMTC members were able to select their personal favorites in four vehicle classes online from the new releases 2021. Around 52,000 members voted online, the results were determined by a notarial basis.
"Guiding concept" award for the complete Mercedes-Benz EQS system
The Marcus awards a particularly forward-looking innovation from the automotive sector every year as a "guiding concept". This time, the expert jury voted unanimously on the overall Mercedes-Benz EQS system.
"The EQS is tremendously performant in a variety of criteria of modern technologies. Thanks to numerous efficiency measures and a very high recuperation performance - which refers to the energy recovery achieved when speed is reduced - it reaches e.g. B. in the WLTP cycle with the 108kWh battery up to a 748 km range. The cw value of 0.2 is great - the air resistance coefficient is considered as a measure of the aerodynamics of a vehicle. And with Level 3, it is the first vehicle registered for semi-autonomous driving in Europe," the ÖAMTC Director summarises the jury's statement.
The jury of experts
The jury of experts chaired by ÖAMTC chief technician Thomas Hametner consisted of:
Herbert Demel
Bernhard Geringer (Board Member of the Institute for Vehicle Drives & Automotive Technology, Vienna University of Technology)
Reinhard Kolke (Head of Test and Technology, ADAC Technik Zentrum Landsberg am Lech)
Hans Peter Lenz (Chairman of the Austrian Association for Automotive Engineering)
Cornelia Lex (Stv. Head of Research Department Driver Assistance, Driving Dynamics and Chassis TU Graz, Institute of Automotive Engineering)
Peter Schoeggl (Head of the Racing, Vehicle Development and Technology, Drive Systems, AVL List GmbH business unit)
Das sind die Gewinner des Marcus 2022 
Österreichischer Automobilpreis zum zehnten Mal vergeben, Wegweiser für Gesamtsystem Mercedes-Benz EQS.
Im März 2022 wurde bereits zum 10. Mal der Marcus vergeben. 36 Automodelle, die 2021 auf den österreichischen Markt gekommen sind, wurden dafür von ÖAMTC-Fachleuten geprüft und bewertet. 
"Ziel des Marcus war es von Anfang an, jene Eigenschaften auszuzeichnen, die Autokäuferinnen und Autokäufer am wichtigsten sind. Gerade bei der immer größer werdenden Vielfalt an Antriebs- und Ausstattungskonzepten bietet der Marcus Orientierung durch eine transparente und objektive Bewertung". - ÖAMTC-Direktor Oliver Schmerold
Kriterien
Die 36 Automodelle wurden nach den Kriterien Klimafreundlichkeit, Sicherheit und Wirtschaftlichkeit bewertet, daraus wurden die Gesamtsieger errechnet – heuer in vier statt bisher fünf unterschiedlichen Fahrzeugkategorien: Da das Angebot bei den Kleinwagen und in der Kompaktklasse geringer war, wurden die Kategorien zu einer zusammengefasst.
Ein zweiter Marcus in jeder dieser Fahrzeugkategorien wurde von den ÖAMTC-Mitgliedern vergeben. Sie konnten aus allen Neuerscheinungen 2021 ihren Favoriten in vier Fahrzeugklassen auswählen. Zusätzlich wurde von einer Fachjury eine zukunftsweisende Technologie als Wegweiser ausgezeichnet.
Kein Marcus in der Kategorie Kleinwagen & Kompaktklasse
In der Kategorie Kleinwagen & Kompaktklasse gab es heuer einen Sonderfall – der Dacia Spring erhielt zwar Bestnoten in den Wertungen Wirtschaftlichkeit und Klimafreundlichkeit, aber die schlechteste Bewertung für seine Sicherheitsausstattung.
Auch beim EuroNCAP schnitt der Dacia Spring beim Thema Sicherheit mangelhaft ab und erhielt nur einen von fünf möglichen Sternen. Die gute Benotung in Wirtschaftlichkeit und Klimafreundlichkeit reicht zwar aus, die deutlich schlechtere in puncto Sicherheit rechnerisch zu kompensieren und in seiner Kategorie insgesamt die höchste Punktezahl zu erreichen. Sie rechtfertigt aber keine Auszeichnung. In der Kategorie Kleinwagen- & Kompaktklasse wurde daher 2022 kein Marcus vergeben.
So setzt sich die Gesamtwertung zusammen
Die Gesamtwertung setzt sich aus einer Sicherheits-, Wirtschaftlichkeits- und Klimawertung zusammen. Bei den Sicherheitsmerkmalen wurde die Serien-Ausstattung anhand von 37 definierten Merkmalen bewertet (Basis-Varianten jedes Modells). Grundlage für die Bewertung der Klimafreundlichkeit und Wirtschaftlichkeit waren Verbrauchsmessfahrten der Redaktion des ÖAMTC-Mobilitätsmagazins auto touring.
Von den 36 Autos, die 2021 in Österreich neu auf den Markt gekommen sind, konnten 33 getestet werden, drei Modelle wurden nicht zur Verfügung gestellt. Für die Berechnung der Wirtschaftlichkeit flossen zusätzlich Faktoren wie Listenpreis, Kilometerleistung und Wertverlust in die Bewertung ein. Bei der Klimafreundlichkeit wurden die Neuheiten mit dem geringsten CO2-Ausstoß ausgezeichnet, bei E-Autos wurde dazu ein aus dem Stromverbrauch errechnetes CO2-Äquivalent herangezogen. 
Detailbewertung zum Download: 
Marcus-Sieger Voting ÖAMTC-Mitglieder
Für die Wahl konnten ÖAMTC-Mitglieder aus den Neuerscheinungen 2021 online ihren persönlichen Favoriten in vier Fahrzeugklassen auswählen. Rund 52.000 Mitglieder haben online gevotet, die Ergebnisse wurden notariell ermittelt.
Wegweiser für Gesamtsystem Mercedes-Benz EQS
Als "Wegweiser" wird beim Marcus jedes Jahr ein besonders zukunftsweisendes Konzept aus dem Automobilbereich ausgezeichnet. Die Wahl der Fachjury fiel diesmal einstimmig auf das Gesamtsystem Mercedes-Benz EQS.
"Der EQS vollbringt in einer Vielzahl von Kriterien moderner Technologien eine Meisterleistung. Aufgrund zahlreicher Effizienzmaßnahmen sowie einer sehr hohen Rekuperationsleistung – das ist die Energierückgewinnung bei der Geschwindigkeitsreduktion – erreicht er z. B. im WLTP-Zyklus mit der 108kWh großen Batterie bis zu 748 km Reichweite. Der cw-Wert von 0,2 ist absolut spitze – der Luftwiderstandsbeiwert gilt als Maß für die Aerodynamik eines Fahrzeugs. Und mit Level 3 ist er das erste Fahrzeug, das in Europa für teilautonomes Fahren zugelassen ist", fasst der ÖAMTC-Direktor die Begründung der Jury zusammen.
Die Fachjury
Die Fachjury unter Vorsitz von ÖAMTC-Cheftechniker Thomas Hametner bestand aus:
Herbert Demel
Bernhard Geringer (Vorstand des Instituts für Fahrzeugantriebe & Automobiltechnik, TU Wien)
Reinhard Kolke (Leiter Test und Technik, ADAC Technik Zentrum Landsberg am Lech)
Hans Peter Lenz (Vorsitzender Österreichischer Verein für Kraftfahrzeugtechnik)
Cornelia Lex (Stv. Leiterin Forschungsbereich Fahrerassistenz, Fahrdynamik und Fahrwerk TU Graz, Institut für Fahrzeugtechnik)
Peter Schoeggl (Leiter des Geschäftszweigs Racing, Fahrzeugentwicklung und -technologie, Antriebssysteme, AVL List GmbH)