Nepal Automobiles' Association leads a pioneering 'Safe School Zone' campaign
With the support of the FIA Road Safety Grants Programme funded by the FIA Foundation, FIA Member the Nepal Automobiles' Association (NASA Nepal) has recently completed a pioneering campaign called 'Safe School Zone' – a first-ever Star Rating for Schools (SR4S) campaign in Nepal – that allowed to improve safety in several school zones in the country.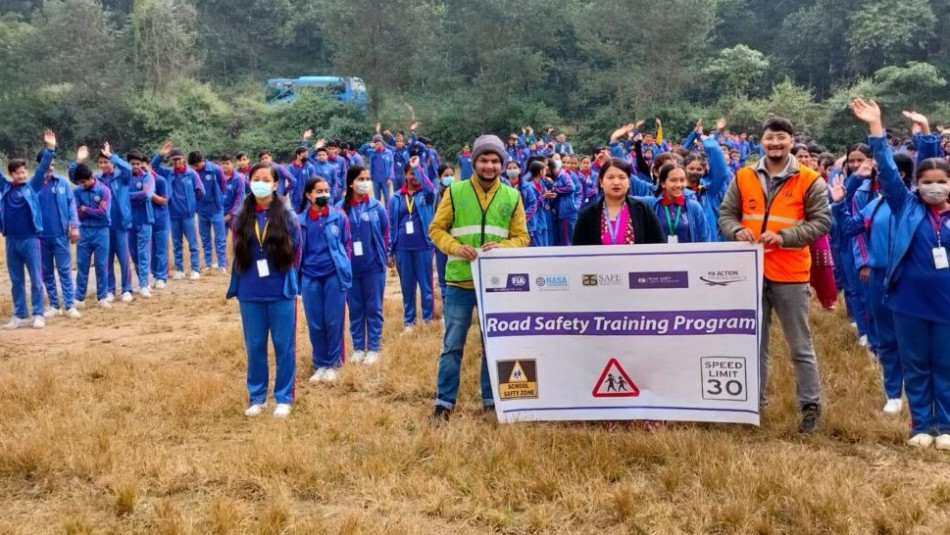 The campaign has been implemented following the steps presented in the FIA School Assessment Toolkit and aimed to improve road safety for school children. The technical deployment was supported by the FIA Foundation and the International Road Assessment Programme (iRAP) as part of the FIA Road Safety Grants Programme. 
Fourteen schools were selected for assessment, including 12 schools from the Kathmandu Valley and two schools from Nuwakot District. Thanks to the SR4S assessments, the road infrastructure around three schools was upgraded to 5 stars, nine schools were upgraded to 4 stars, and two schools were rated 3 stars for pedestrians' post upgrade.
NASA Foundation Nepal coordinated the campaign, while Safe & Sustainable Travel Nepal (SSTN) contributed as an implementing partner. 
The project was concluded through an official ceremony in Kathmandu, where the results, summary, and awards were presented to the schools and personnel associated with the project in the presence of Members of Parliament, representatives of the Ministry of Transport, Ministry of Health, Department of Transport Management, National Road Safety Council, Nepal Traffic Police, NGOs, and other stakeholders.
The campaign has not only helped to identify the areas where improvements were needed but has also demonstrated how the safety of school zones can be improved thanks to a systematic approach in the road safety management.
The SR4S campaign was an essential step in Nepal's road safety journey with NASA Nepal taking a proactive approach to improving children's safety.
 
Before and after results for the 14 assessed schools
| | | | |
| --- | --- | --- | --- |
| S.N. | School | Before | After |
| 1 | Sharada Secondary School | 1 | 4 |
| 2 | Chumunda Higher Secondary School | 1 | 3 |
| 3 | Tilingatar Higher Secondary School | 1 | 4 |
| 4 | Kamyak School | 2 | 4 |
| 5 | Shree Manohar Secondary School | 1 | 4 |
| 6 | Triyog High School | 2 | 3 |
| 7 | Shree Souvenir Boarding School | 2 | 4 |
| 8 | Gateway Academy | 3 | 4 |
| 9 | Jaya Multiple Campus | 3 | 4 |
| 10 | Apple International School | 3 | 4 |
| 11 | Himalaya English Boarding Secondary School | 3 | 5 |
| 12 | Joseph High School | 4 | 5 |
| 13 | Shivapuri Higher Secondary School | 4 | 5 |
| 14 | Shree Sahid Jagat Prakash Jung Shah Sanskrit Secondary School | 4 | 4 |