FIA MEMBER CLUB ROAD SAFETY INSTITUTE 'PANOS MYLONAS' DISSEMINATES 'DRIVE IN THE MOMENT' TOOLKIT AT THESSALONIKI INTERNATIONAL FAIR
Supported by the FIA Road Safety Grants Programme, FIA Member Club Road Safety Institute (RSI) 'Panos Mylonas' promoted the 'Drive in the Moment' toolkit at the 86th Thessaloniki International Fair (TIF), held from 10 to 18 September, through a 730-square meter stand featuring multiple road safety activities.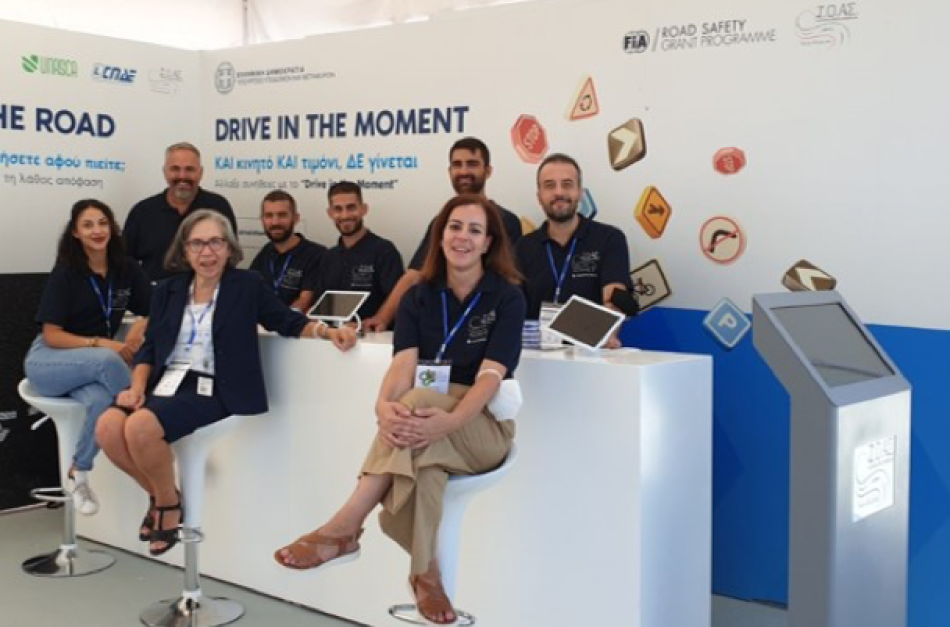 Hosted by the Ministry of Infrastructure and Transport, TIF is the largest annual exhibition for entrepreneurship and new technologies. This year, TIF focused on regional development through the model of circular economy, with United Arab Emirates as the Country of Honor. Visitors and exhibitors from all around the world were presented with the 'Drive in the Moment' project and given promotional materials. Numerous public and political figures attended the event, such as Greek Prime Minister Mr. Kyriakos Mitsotakis, Minister of Infrastructure and Transport Mr. Kostas Karamanlis, General Secretary of Transport Mr. Xifaras, CEO of Athens Urban Transport Organization (OASA S.A.) Mrs. Antonopoulou, CEO of Hellenic Train Mr. Capotorto, and Mayor of Thessaloniki Mr. Zervas among others. 
Developed by the Australian Automobile Association (AAA), in collaboration with the New Zealand Automobile Association (NZAA) and the University of Queensland, 'Drive in the Moment' is an online tool that aims to inform, raise awareness and, most importantly, help drivers drop the risky habit of using their phones while driving. It is being promoted worldwide as one of the evidence-based global programmes supported by the FIA Road Safety Grants Programme. 
Based on planned behaviour theory, 'Drive in the Moment' consists of two parts: 
A quiz prompting road users to rank the relative risk of various driving behaviours against the opinions of road safety experts to help them understand the crash risk (risk rater); 

A tool helping young drivers build a personalised plan to reduce their smartphone use by training their mind to better respond every time they feel the urge to look at their phone (plan builder). 
RSI 'Panos Mylonas' translated and adapted the 'Drive in the Moment' application in Greek and promoted it in Greece and Cyprus. 
A total of 20,000 individuals stopped by the RSI 'Panos Mylonas' stand at TIF and participated in the different road safety activities. They had the opportunity to test the toolkit, as well as a rollover simulator, alcohol impairment simulation goggles, and micro mobility circuit with electric bicycles and e-scooters.