Successful first FIA Smart Driving Challenge in Paris
Last week, Jean Todt participated in the FIA Smart Driving Challenge (FIA SDC), a demonstration that encourages smart, safe and environmentally-friendly driving.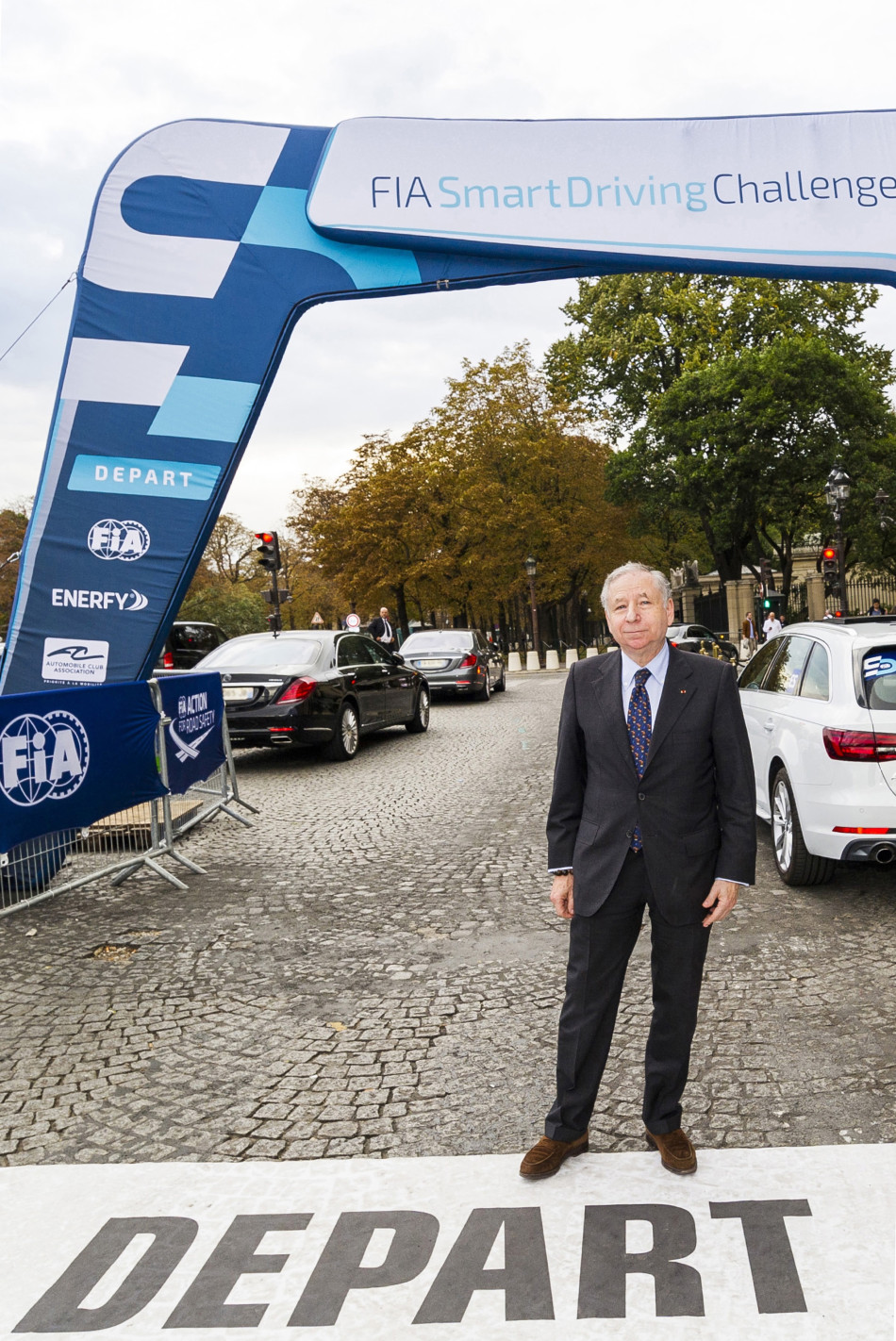 From 4 to 14 October 2018, on the occasion of the Paris Motor Show, the FIA allowed the general public a sneak peek at this innovative experiment. Over these ten days, starting from Place de la Concorde, the registered participants, accompanied by instructors from the Automobile Club Association, tested their driving skills at the wheel of various electric, hybrid, or internal combustion cars on the course of the Paris E-Prix.
As they covered the route, their driving was evaluated, in real time via artificial intelligence, by the Enerfy® digital platform connected to a smartphone app. At the end of the experiment, participants were awarded points in order to determine their classification and their chances of becoming the smartest driver of the challenge.
After taking part in the experience, FIA President Jean Todt declared, "It goes in the right direction. We know the damage of pollution, we know the threat of climate change. All we can do to address these problems is good. I'm happy that the FIA Smart Driving Challenge is generating interest. If everybody goes in that direction, we can make our roads healthier and safer."
Reminding that smart driving is critical to build better and safer mobility for the future, Former President of Mexico and FIA Environment and Sustainability Commission President Felipe Calderón, who also took part in the challenge, said, "To address congestion in urban areas or reduce the number of fatalities on our roads, we must drive forward projects, such as the FIA Smart Driving Challenge, that contribute towards building better mobility for the future, one which is not only safer for all road users but also more respectful to the environment." 
Welcoming the initiative and highlighting the key importance of training as a driver, Nine-time FIA World Rally Champion and World RX Driver for Team Peugeot Total Sébastien Loeb stated, "Throughout the years, I've been racing on every road condition you can imagine. Now I'm looking forward to using that experience to encourage smarter driving. Being a good driver requires to be focused behind the wheel and prepared to react well in any situation. The FIA Smart Driving Challenge captures all of that and helps you improve your eco-friendly and safe driving skills."