President Todt says FIA clubs have 'voice like no other' in battle for road safety as 2015 FIA Mobility Conference opens in London
FIA President Jean Todt today opened the 23rd FIA Mobility Conference by saying that the Federation's global alliance of almost 250 motoring clubs constitutes a uniquely powerful force for the advancement of road safety worldwide.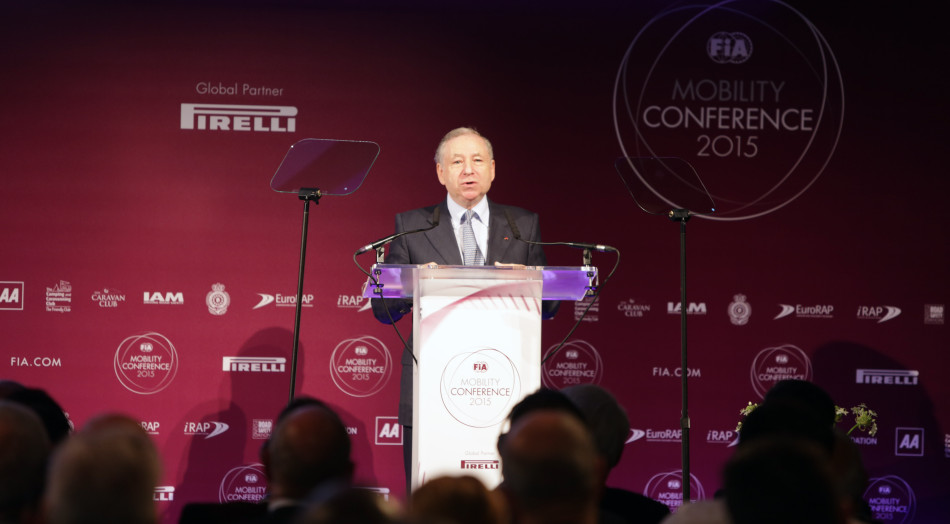 After thanking the London event's hosts, the Automobile Association UK, the Camping and Caravanning Club, the Caravan Club, the Institute of Advanced Motorists, the Royal Automobile Club, the Road Safety Foundation, road safety infrastructure monitors iRap, EuroRap, and the FIA Foundation, President Todt told the record 235 delegates in attendance that the Federation's membership represent a strong force for change.
"I am proud to say that the FIA and its clubs are now firmly established as leading campaigners in the fight for road safety, together with the FIA Foundation," he said. "My appointment as the UN Secretary General's Special Envoy for Road Safety earlier this year was a recognition of this fact.
"With a constituency of more than 80 million members, when we speak as one, we have a voice like no other in the road safety community," he added.
The FIA President continued by saying that as the midpoint of the United Nation's Decade of Action for Road Safety is reached it is now more important than ever that the voice of clubs is heard at the highest levels.
"We are in a critical year," he said of the global campaign to significantly reduce road fatalities and injuries by 2020. "FIA Clubs were among the key campaigners for the launch of the Decade in Moscow and have been among its strongest supporters ever since.
"As was the case [at the first such meeting] in Moscow six years ago, a large representation from the FIA will be present in Brasilia in November for the Second Global High-Level Conference on Road Safety.  We need to make sure our voice is heard again.
The FIA's annual Mobility Conference brings together clubs from across the world to discover the latest trends in mobility. 
This year's event centres around the theme of 'Keep Calm and Stay Connected' with FIA club representatives discussing and developing strategies to ensure future success in a mobility climate being increasingly influenced by the growth of connected vehicle services and the emergence of the autonomous vehicle.
The FIA's 23rd Mobility Conference continues in London until Friday, 18 September. 
---
Le Président Todt salue la voix prépondérante des clubs de la FIA
dans la bataille pour la sécurité routière
alors que s'ouvre la Conférence FIA Mobilité 2015 à Londres
LONDRES – En ouverture de la 23ème Conférence FIA Mobilité, le Président de la FIA Jean Todt a déclaré que l'alliance internationale formée par la Fédération avec près de 250 automobile clubs constitue une force unique pour faire progresser la sécurité routière à l'échelle mondiale.
Après avoir remercié les hôtes londoniens de l'événement, l'Automobile Association UK, le Camping and Caravanning Club, le Caravan Club, l'Institute of Advanced Motorists, le Royal Automobile Club, la Road Safety Foundation, les organismes de surveillance des infrastructures de sécurité routière que sont iRap et EuroRap ainsi que la Fondation FIA, le Président Todt a rappelé aux 235 délégués présents que la Fédération représente un vecteur fort de changement.
"Je suis fier de pouvoir affirmer que la FIA et ses clubs sont désormais des acteurs de premier plan de la campagne pour la sécurité routière, aux côtés de la Fondation FIA", a-t-il déclaré. "Ma nomination récente en tant qu'Envoyé Spécial pour la Sécurité routière du Secrétaire général de l'ONU en est la confirmation.
Forts de plus de 80 millions de membres, lorsque nous nous exprimons d'une seule voix, nous pouvons avoir un retentissement inégalé dans la communauté de la sécurité routière", a-t-il ajouté.
Le Président de la FIA a ensuite souligné qu'à mi-parcours de la Décennie d'action de l'ONU pour la Sécurité routière, il est plus que jamais crucial de faire entendre la voix des clubs aux plus hauts niveaux.
"Nous sommes dans une année critique" a-t-il observé, évoquant la campagne mondiale qui vise à réduire significativement le nombre de victimes de la route d'ici à 2020. "Les clubs de la FIA ont soutenu activement le lancement de la Décennie à Moscou et figurent depuis parmi ses plus grands supporters.
Comme c'était le cas [lors de cette première réunion] à Moscou il y a six ans, la FIA sera largement représentée à Brasilia en novembre pour la deuxième Conférence mondiale de haut niveau sur la sécurité routière. Nous devons nous assurer que notre voix sera à nouveau entendue."
La Conférence annuelle de la FIA Mobilité réunit des clubs du monde entier pour découvrir les dernières tendances en matière de mobilité.
L'édition de cette année a pour thème "Keep Calm and Stay Connected". Des représentants des clubs FIA examineront et élaboreront des stratégies d'avenir dans un contexte caractérisé par le développement des services pour véhicules connectés et l'émergence de la voiture autonome.
La 23ème Conférence FIA Mobilité se tient à Londres jusqu'au vendredi 18 septembre.