Peru TACP uses media to reduce the fatality rate nationally through the "Road Safety Education Campaign"
Peruvian automobile club Touring y Automovil Club del Peru (TACP) has launched a new campaign to promote safe behaviour among road users. The Club received a subsidy from the FIA Road Safety Grant Programme and partnered with Michelin in order to implement the project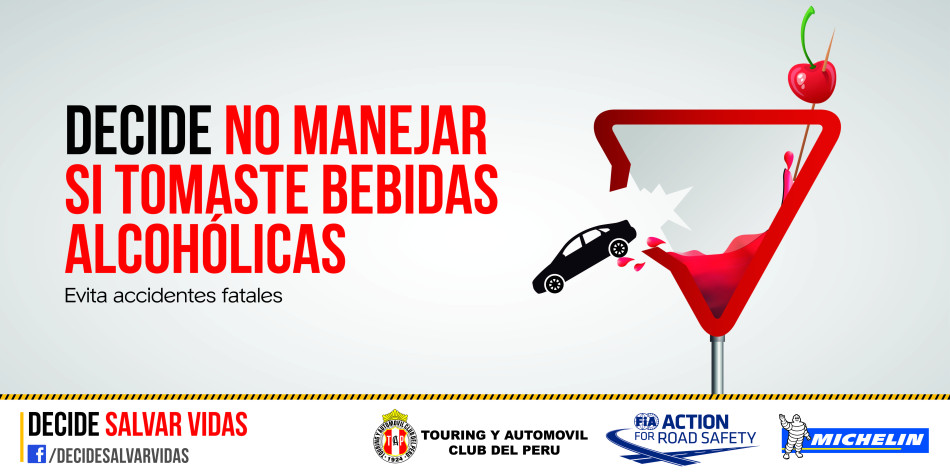 The "Road Safety Education Campaign 2016" is the continuation of the same initiative which was successfully implemented in 2015. The aim of this initiative is to raise the public's awareness of the importance of changing their driving behaviour and habits.
With its 2016 campaign, TACP hopes to go even further by educating the population on the main rules and challenges relating to road safety. The campaign targets drivers, pedestrians, passengers as well as local and national authorities, and ultimately aims to reduce traffic accidents in the country.
As a first step the TACP created and produced ten digital messages detailing the key principles of road safety: "Driving recklessly causes traffic accidents"; "Use a seatbelt"; "Respect the speed limits"; "Do not drink and drive"; "Do not use a cell phone while driving"; "Respect pedestrians"; "Use the pedestrian crossings"; "Respect the traffic signals"; "Use a safety helmet when on a motorcycle"; and "Road noise pollution is harmful to health". As part of the media campaign, these ten messages were shared on Facebook and Twitter to reach as many people as possible. They were also displayed on advertising panels, billboards and buses to increase their visibility and reach.
Then, the Club designed an internet and social media network made up of the Club members' email database and the platforms of 12 companies and institutions that are active in the transportation and communications industry. The content of the campaign was sent to TACP's partners and the Club started to publicise its initiative via correspondence.
Along with the development of the media campaign, TACP educated 6,750 children aged 3 to 12 between August and October. The course aims to disseminate the concepts of education and road safety among children in a fun and entertaining way ensuring they become responsible pedestrians and future drivers and ultimately help reduce traffic accidents.
Through this initiative, TACP intends to promote safe behaviour and to educate the younger generation in order to save lives now and in the future.
For more information on the FIA Road Safety Grant Programme, click here.