Michael Fassbender joins the #3500LIVES Road Safety Campaign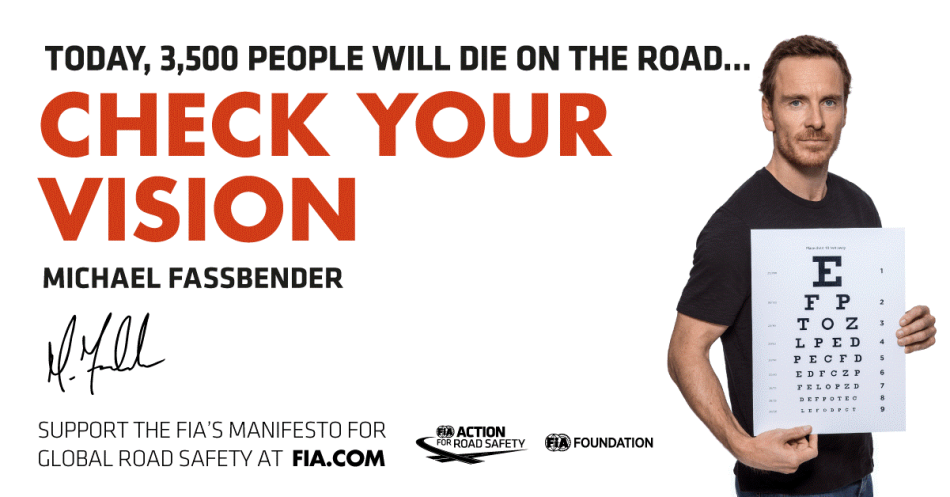 Every year, 1.25 million lives are lost worldwide due to road traffic fatalities. This directly translates to 3,500 people killed every day, 500 of which are children. Young people are particularly affected as road traffic crashes are the main cause of death of 15 to 29 year olds. To tackle this challenge, the FIA has partnered with JCDecaux, number one outdoor advertising company worldwide, and together, they launched the #3500LIVES global campaign on 10 March 2017 thanks to the support of 13 world renowned ambassadors from the sport, music and film industries. Through a concrete and positive approach, the #3500LIVES campaign aims to raise awareness and prompt all road users to adopt simple, easily applicable and efficient rules. So far, the campaign has been visible in over 900 cities, in more than 75 countries.
Today, the FIA is releasing a new #3500LIVES campaign visual featuring Michael Fassbender to illustrate the "check your vision" rule. Recently added, this Golden Rule encourages all road users to check their vision regularly and wear appropriate glasses on the road. Indeed, vision is critical to the decisions road users make on the road and poor vision can notably increase their reaction time, putting themselves and others at risk. Moreover, public awareness is low and access to quality eyeglasses remains limited in many regions of the world.
By embodying this rule, Michael Fassbender will add on to the 13 existing campaign Ambassadors from the worlds of art (Michelle Yeoh and Pharrell Williams), motor racing (Fernando Alonso, Nico Rosberg, Marc Márquez, and Felipe Massa), sport (Rafael Nadal, Yohan Blake, Wayde van Niekerk, Vanessa Low and Haile Gebrselassie), and politics (Anne Hidalgo) who aim to raise awareness on other key risk factors such as speed, alcohol, seatbelts...
You can discover Michael Fassbender's video message here: 
Michael Fassbender rejoint la Campagne de Securite Routiere #3500LIVES
Chaque année dans le monde, 1,25 million de personnes perdent la vie dans un accident de la circulation, soit 3500 victimes par jour dont 500 enfants. Les jeunes sont particulièrement touchés, l'insécurité routière constituant la principale cause de mortalité chez les 15-29 ans. Face à ce fléau, la FIA a noué un partenariat avec le numéro un de la communication extérieure JCDecaux pour lancer conjointement, le 10 mars 2017, la campagne mondiale #3500LIVES soutenue par 13 ambassadeurs de renom issus de l'univers du sport, de la musique et du cinéma. A travers une approche à la fois concrète et positive, la campagne #3500LIVES encourage tous les usagers de la route à adopter des règles simples, faciles à appliquer et efficaces. A ce jour, la campagne a été déployée dans plus de 900 villes de plus de 75 pays.
La FIA dévoile aujourd'hui un nouveau visuel #3500LIVES mettant en scène Michael Fassbender pour illustrer la règle "Faites contrôler votre vue". Cette nouvelle Règle d'Or engage tous les usagers de la route à faire contrôler régulièrement leur vue et à porter des lunettes appropriées au volant. Pour les automobilistes, la vision est en effet fondamentale dans la prise de décisions sur la route et une vue déficiente peut augmenter sensiblement leur temps de réaction, mettant ainsi leur vie et celle d'autrui en danger. En outre, la sensibilisation du public est insuffisante et l'accès à des lunettes de qualité demeure limité dans de nombreuses régions du monde.
En acceptant d'incarner cette règle, Michael Fassbender rejoindra les 13 ambassadeurs de la campagne venus du monde des arts (Michelle Yeoh et Pharrell Williams), des compétitions automobiles (Fernando Alonso, Nico Rosberg, Marc Márquez et Felipe Massa), du sport (Rafael Nadal, Yohan Blake, Wayde van Niekerk, Vanessa Low et Haile Gebrselassie) et de la politique (Anne Hidalgo) et dont l'objectif est de sensibiliser à d'autres facteurs de risque majeurs tels que la vitesse, l'alcool, le non-port de la ceinture de sécurité...