Jean Todt & Lewis Hamilton presents MSA Road Safety film competition prizes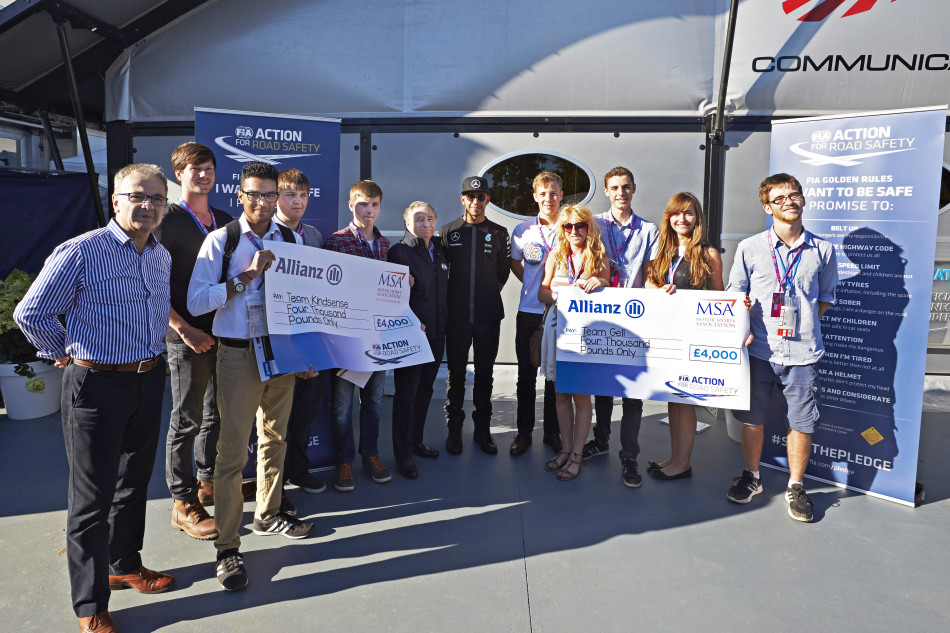 Two winning teams celebrated at Italian Grand Prix

Reigning F1 World Champion and FIA President present prizes

Amazing experience as winners tour Mercedes garage
The two winning teams of the 2015 MSA Road Safety Film Competition were presented with their top prizes by reigning Formula 1 World Champion Lewis Hamilton and FIA President Jean Todt at the Italian Grand Prix last weekend (5-6 September). As part of the FIA Action for Road Safety and in association with Allianz, the competition invited young people aged 16-24 to submit short films relating to one of the FIA's Ten Golden Rules of Safer Motoring. 
 
Team Gell from Derbyshire and Team Kindsense from Harrow scooped the once in a lifetime opportunity to meet Hamilton and enjoy an exclusive tour of the MERCEDES AMG PETRONAS Formula One™ Team garage with their respective films 'Worth It' and 'Pause', which were judged by Hamilton to be top of a highly competitive entry.

Focusing on Rule 7: Pay Attention, Team Gell perfectly illustrated the many distractions of a modern day car journey and can be viewed by clicking here. Team Kindsense used some brilliant special effects to create a simple, hard-hitting film focusing on Rule 8: Stop When I'm Tired, which can be viewed by clicking here.
 
FIA President Jean Todt and MSA Chief Executive Rob Jones were in attendance alongside the double World Champion to present the £4000 cheques which the teams can now use to purchase filming equipment to further their creative endeavours.
 
Increasing the reach of the initiative, Sky Sports F1 filmed the judging process and presentation, and the competition will form an integral part of a feature on road safety in tonight's (11 September) F1 Show from 8pm-9pm (GMT).
FIA President Jean Todt said: "The MSA competition is a great example of what we should be doing to promote the FIA Action for Road Safety and I'm pleased to see it growing and evolving. These young people are our ambassadors and it's them who will make the real difference in the future – I'm sure this amazing experience will have inspired them to spread the word."
 
Lewis Hamilton said: "Big congratulations to all the winners – it was great meeting everyone after seeing how good their videos were! It's a fantastic initiative to be involved with and a really good way to engage people with this issue. As racing drivers we need to be ambassadors for safe driving on the roads, I'm genuinely shocked every time I see the stats about accidents and I hope projects like this will raise awareness and make a real difference."
 
MSA Chief Executive Rob Jones said: "The FIA Action for Road Safety is a very important initiative and one that we are delighted to support.  This MSA competition is aimed at young people, a section of the community where accident statistics are of particular concern. We are sure that competitions like ours will help raise awareness of vital road safety messages. Thank you to Jean Todt and Lewis Hamilton for their invaluable support."