Jean Todt attends the European Bank for Reconstruction and Development's High Level Conference on Global Sustainable Development Goals on Road Safety
Speaking at the European Bank for Reconstruction and Development's High Level Conference on Global Sustainable Development Goals on Road Safety, Jean Todt underlines the positive work of Multilateral Development Banks around the world and the need for greater urgency and improved coordination amongst road safety stakeholders in order to achieve the UN Sustainable Development Goals on road safety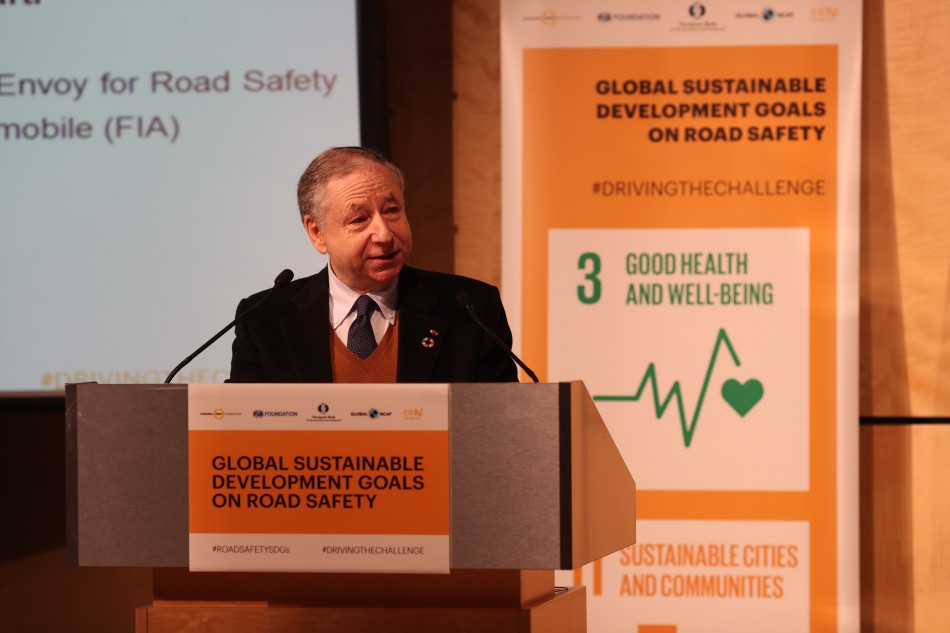 Today, the European Bank for Reconstruction and Development (EBRD) hosted the 'High Level Conference on Global Sustainable Development Goals on Road Safety'. The event brought together international road safety organisations to focus on regional capacity building and looked at ways Multilateral Development Banks (MDBs) can work with other stakeholders to help achieve the United Nations Sustainable Development Goals 3.6 and 11.2.
FIA President Todt, who is also the UN Secretary General's Special Envoy for Road Safety, gave the opening statement. He mentioned that MDBs around the world have played a leading role in addressing road related fatalities. Institutions such as the World Bank, the EBRD and the Asian Development Bank have increasingly made road safety a priority when working with client countries through more diligent funding rules. By doing so, MDBs have been working to mainstream road safety and sustainable mobility within their transport operations.
Jean Todt said, "These measures and others being taken by MDBs around the world send a very strong message to client countries on the importance of safe and sustainable mobility. That is, from the earliest stages, road and transport projects must comply with standards that ensure human lives are prioritised, now and into the future."
Jean Todt also spoke of the FIA High Level Panel for Road Safety and the important work that MDBs such as the Inter-American Bank of Development have contributed to this FIA initiative. In particular, the 'Movernos Seguros' (Move Safe) project, which focuses on improving automotive insurance policies in the Latin American region. Three pilot projects are soon scheduled for Peru, Mexico and the Dominican Republic, and greater regional uptake will be targeted with the publication of a best practices report following these pilots.
The conference was co-hosted by the FIA Foundation and the Eastern Alliance for Safe and Sustainable Transport (EASST).