Jean Todt advocates for Road Safety at ITF Conference
On 5 April, FIA President Jean Todt, who also serves as the UN Secretary-General's Special Envoy for Road Safety, gave an opening speech at the International Transport Forum (ITF) Conference on "Global Transport Security and Safety for a Century" in Riga, Latvia, along with Minister of Transport Uldis Augulis and ITF Secretary General Young Tae Kim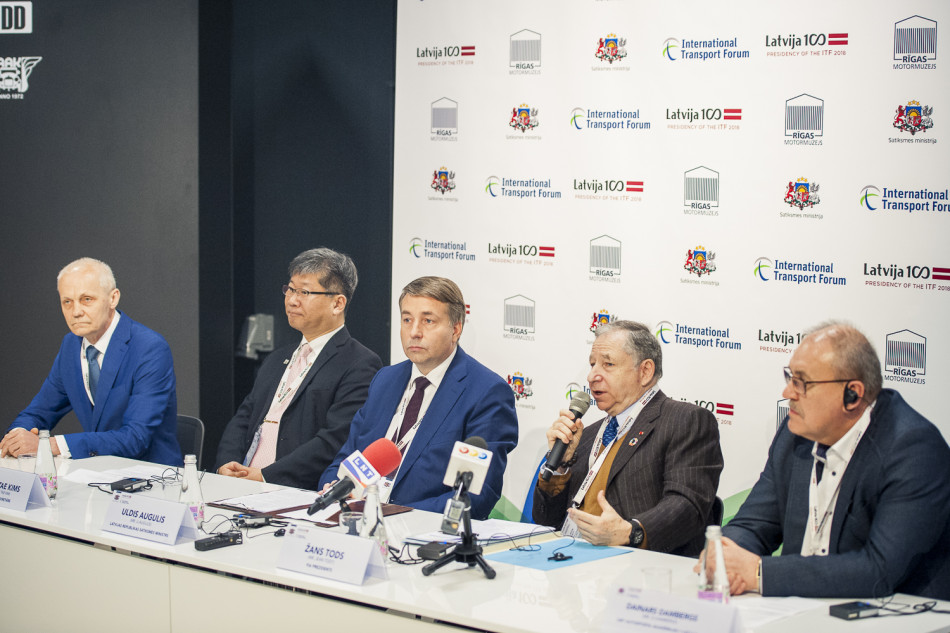 During the Conference, President Todt commented on the road safety situation in Latvia. According to the WHO, the country suffers from 205 estimated road traffic fatalities per year. Latvia has made strong efforts since 2004 to reduce road fatalities, which has seen the country halve their road toll. Yet the road traffic fatality rate remains at 8.1 deaths per 100,000 – the third highest in the EU. 
Jean Todt congratulated the country on recent efforts in this area, particularly the establishment of a road traffic safety programme and the enforcement of strong laws on drink-driving, child seats and seat belt use. He encouraged Latvia to take a step further in their fight for road safety, urging further ratification of UN road safety conventions. 
In his Opening Address, the FIA President underscored the importance of the 'Vision Zero' principle: that "it can never be ethically acceptable that people are killed or seriously injured when moving within the road transport system". He highlighted the FIA's commitment to promoting this principle, citing determined efforts towards the establishment of the UN Road Safety Trust Fund (that will be officially launched on 12 April at the UN Headquarters in New York), the creation of road safety regional observatories, and the in-country missions in Myanmar, Azerbaijan, Mexico carried out by the FIA High Level Panel for Road Safety. 
He also shed light on discussions the FIA is currently having with vehicle manufacturers on minimum global vehicle safety standards and on the #3500LIVES global road safety campaign, which has been displayed in more than 75 countries thanks to the support of JCDecaux. 
The ITF Conference was also the occasion to talk about sustainability issues. Jean Todt presented the FIA Formula E Championship, along with the FIA Smart Cities Initiative, aiming to help cities meet growing demands on transport systems and tackle existing urban mobility challenges.