The FIA supports the fifth United Nations Global Road Safety Week
From 6-12 May, Members of the FIA Community joined forces to support #SpeakUp, the fifth United Nations Global Road Safety Week, calling for more "Leadership for road safety".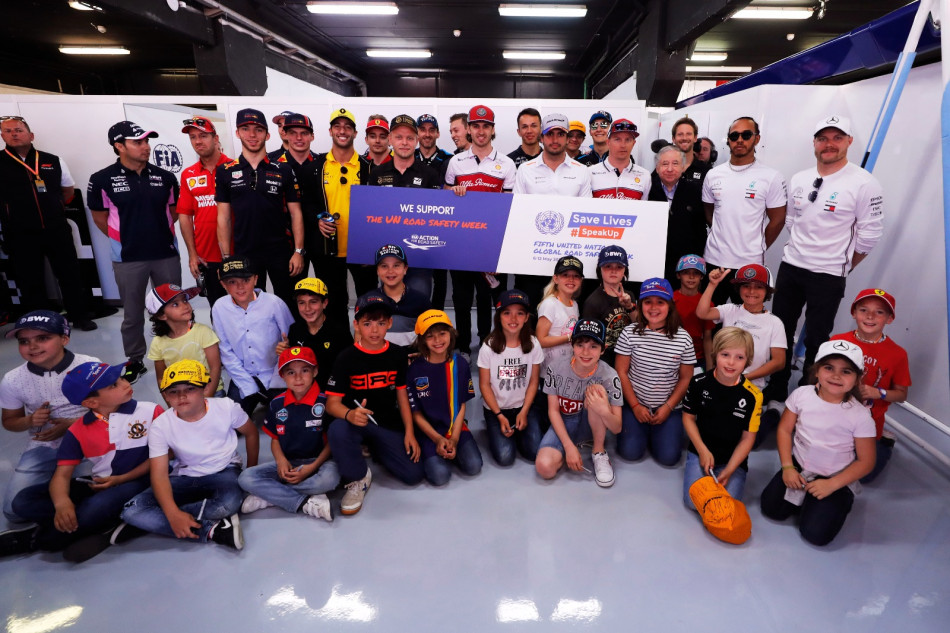 Once again, the FIA expressed its support for the week through a variety of actions reminding that speaking up for road safety on a daily basis is crucial to tackle the global crisis of the rising number of fatalities on the road.    
A strong advocate for the promotion of the FIA's messages on road safety, the motor sport community supported the fifth United Nations Global Road Safety Week as FIA Formula One drivers competing in the Spanish Grand Prix gathered for a family photo before the start of the race in Barcelona. Earlier this week, they had already acted as ambassadors for road safety with the release of the "F1 Drivers Advocate for Road Safety" video shedding light on some of the key FIA's Golden Rules for Road Safety.
FIA Members actively promoted the UN initiative with specific projects supported through the Global Action stream of the FIA Road Safety Grants Programme, which receives funding from the FIA Foundation.
Following a dedicated call for proposals inviting FIA Members to organise activities to advocate for actions to reduce the risks to which vulnerable road users are exposed, the Programme supported 40 initiatives. Most of the latter involved children and aimed at making their journey to school safer. Other categories of vulnerable road users, such as elderly people, cyclists, and people with disabilities were also targeted. 
Other projects advocated for better law enforcement concerning the prohibition of the use of mobile phones while driving or the requirement for vehicles to be equipped with a minimum set of safety features.
In order to reach out to country leaders, some FIA Members also organised press conferences and meetings with government representatives, or conducted surveys with the aim to share conclusions with the authorities to raise awareness on local road safety issues.