FIA CROWNS FIRST FIA SMART DRIVING CHALLENGE WINNER
Yesterday, in Paris, Anders Lindström from Sweden won the inaugural FIA Smart Driving Challenge, a worldwide challenge that rewards smart, safe and eco-friendly skills at the wheel.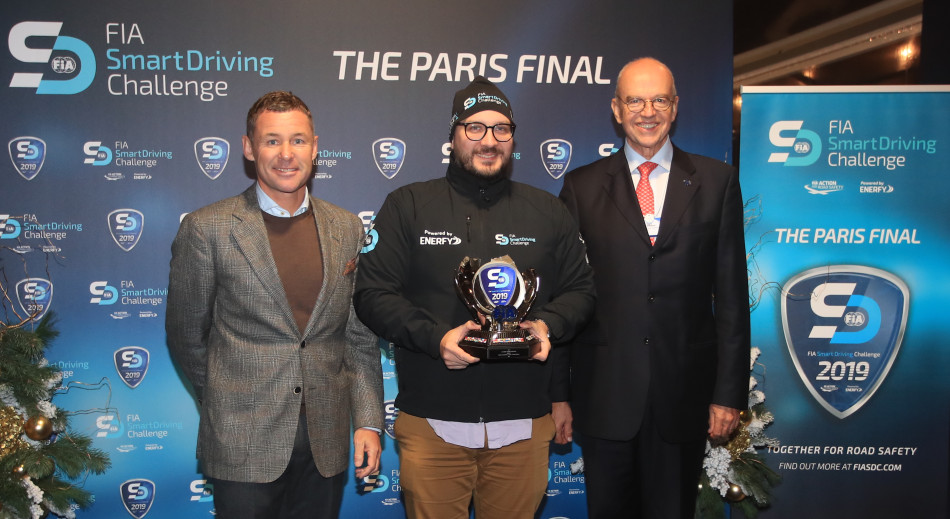 The first season of the FIA Smart Driving Challenge (FIA SDC) started earlier this year and was organised around 14 heats, each a week-long. During the heats, the regular motorists, who joined the challenge through their Motoring Club or online, saw their driving patterns assessed in real time thanks to an AI-based phone app, powered by Enerfy, transforming real trips into a digital score. 

The eight best drivers qualified to participate in the final of the FIA SDC that took place yesterday. Starting in the morning, the finalists from France, Great Britain, Qatar, Sweden and Singapore had to complete a predetermined 4km route around Paris and drive in the smartest and safest way. Each finalist had four attempts at the route, with the driver recording the best efficiency average winning the FIA Smart Driving Challenge. In the end, Sweden's Anders Lindström, who is a Member of the Kungliga Automobil Klubben (KAK), was announced as the winner of the challenge.
 
The trophy was handed over by FIA Deputy President for Automobile Mobility and Tourism Thierry Willemarck and FIA Drivers' Commission President, FIA World Championship Winner and nine-time 24 Hours of Le Mans winner Tom Kristensen.
 

Winning Feeling
 
As part of the prize, Anders Lindström has been invited to the exclusive FIA Prize Giving ceremony taking place on Friday to see racing's World Champions receive their trophies. 
 
FIA Deputy President Thierry Willemarck, commented: "Congratulations to our first FIA Smart Driving Challenge winner who is today rewarded for his safe and eco-friendly driving skills. We believe such initiatives can improve driver behaviour and invite more FIA Clubs to join the challenge and lead that change."
 
Tom Kristensen declared "Concentration, cleverness and focus are critical in order to deliver the best performance. The FIA Smart Driving Challenge is a great development promoting these skills. I recognise the involvement of 20 team leaders, including FIA World Champions from all racing disciplines, and look forward to supporting the next season."
 
Anders Lindström said: "It's been great to refine my skills on the road all year long, being a smarter, safer and more efficient driver. I have learned a lot, not only from the Enerfy app, but from my fellow competitors and my team leader. I've really enjoyed the challenge and look forward to continuing to be a smart driver. I've got to live up to my title now!"
 
Lindström's team Leader and FIA World Rallycross Championship star Kevin Hansen, added: "Anders did a very good job and I'm really proud of him for winning the challenge. It has been very interesting to see drivers from across the world join the challenge and adopt smarter and more efficient driving behaviour."
 
FIA Smart Driving Challenge spokesperson Tina Thörner said: "The eight finalists have been excellent. They have been true ambassadors of smart driving, not only today but throughout the year. Congratulations to Anders for becoming the first FIA Smart Driving Challenge winner!"
 
The 2020 season of the FIA Smart Driving Challenge will start in February, and applications are already open for new competitors. Drivers signing up now will have a chance to practice their smart driving using the Enerfy artificial intelligence mobile app ahead of next season.