The Fédération Internationale de l'Automobile and JCDecaux launch the first worldwide outdoor campaign on road safety
The President of the Fédération Internationale de l'Automobile (FIA), Jean Todt, and the Chairman of the Executive Board and Co-CEO of JCDecaux, Jean-Charles Decaux, are in Paris today to launch the first worldwide outdoor campaign on road safety.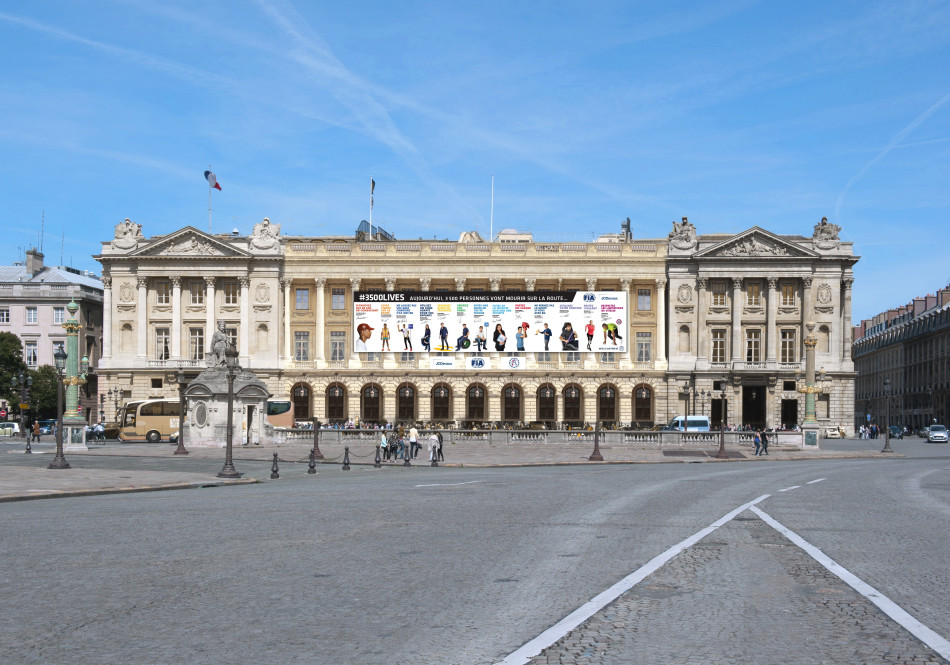 Supported by famous ambassadors, the campaign promotes simple and universal messages to save lives on roads. Road crashes are responsible for 3,500 deaths a day worldwide.

Campaign webpage: www.fia.com/3500lives
Campaign hashtag: #3500LIVES
A public health issue
Everyday, 3,500 people die in car crashes worldwide, which means 1.25 million every year. A particularly alarming situation for 15-29 year-olds, for whom traffic related fatalities are the first cause of mortality.
If this trend goes on, by 2030 car crashes could become the first cause of mortality worldwide with nearly 2 million deaths a year. As a genuine public health issue, road safety is a major challenge and a priority issue for every state and citizen around the world. Pope Francis has offered his support to this campaign, and to the cause, when he met with Jean Todt at the Vatican on 25th February 2017.
An engaging, optimistic and universal campaign 
Through a concrete and positive approach, the #3500LIVES campaign aims to raise awareness and prompt all road users to adopt simple, easily applicable and efficient rules.
The campaign promotes 10 "Golden Rules"[1] embodied by 13 famous ambassadors:
athletes like Yohan Blake, Haile Gebrselassie, Antoine Griezmann, Vanessa Low, Rafael Nadal, and Wayde van Niekerk;
drivers like Fernando Alonso, Marc Marquez, Felipe Massa and Nico Rosberg; 
artists like Pharrell Williams and Michelle Yeoh, and;
politicians like Anne Hidalgo. 
They all decided to defend this cause personally and voluntarily (Link to YouTube videos). Those messages will also be endorsed by international institutions like the International Olympic Committee. On 20 February 2017, the FIA and IOC signed a formal agreement to promote the campaign messages across their shared platforms and ahead of sporting events.
Through its signature "Sign up, stay safe, save lives", this campaign underlines the role that each and everyone can play to make road safer for all users. Members of the public are also invited to sign a ten point manifesto (www.fia.com/3500lives), which calls on all governments to make road safety a priority and introduce effective legislation on key risk factors on the road.
Translated in 30 languages, the campaign #3500LIVES is as of today live in 30 cities worldwide and will be rolled out in more than 70 countries by the end of 2017. It is estimated that on the launch the campaign will be seen 1 billion times.
The FIA and JCDecaux: a strategic partnership around a shared vision 
The partnership between the FIA - which represents 245 sport and mobility clubs around the world - and JCDecaux - which offers its advertising displays all around the world to ensure a significant visibility - makes this campaign an unprecedented campaign.
"I encourage everyone to promote and share the campaign's key messages and sign our manifesto for government action. Too many people lose their life unnecessarily in road crashes daily." said FIA President Jean Todt. "We are proud to have worked together with JCDecaux on this campaign, and also with 13 fantastic Ambassadors, each of which is a role model, especially for young people, the group worst affected by road crashes.
"Outdoor advertising is at the core of all sorts of mobility and we are thrilled and proud to contribute to spread these messages around the world through the impact of our locations", explained Jean-Charles Decaux, Chairman of the Executive Board and Co-CEO of JCDecaux. "This commitment is also aligned with our company's social responsibility policy and, all the JCDecaux employees, who work on a daily basis to improve urban life quality, are delighted to get involved in the promotion of this cause of public interest: road safety for citizens around the world". 
ABOUT THE FIA
The Fédération Internationale de l'Automobile (FIA) is the governing body for world motor sport and the federation of the world's leading mobility organisations.
Founded in 1904, with headquarters in Paris and Geneva, the FIA is a non-profit organisation. It brings together 245 Mobility and Sport Clubs from 143 countries on five continents. Its Member Clubs represent over 80 million road users and their families.
The FIA promotes safe, sustainable and accessible mobility for all road users around the world.
ABOUT JCDECAUX
JCDecaux, the number one outdoor advertising company worldwide, plays a major role in transforming urban landscapes. The Group is present in more than 75 countries and 4,280 cities with over 10,000 inhabitants. It holds advertising street furniture concessions in more than 220 airports with 260 contracts in metros, buses, trains and tramways. It all started in 1964 when Jean-Claude Decaux installed his first advertising bus shelters in Lyon, driven by his desire to provide cities with street furniture free of charge in exchange for exclusive advertising rights in premium locations.
For more than 50 years, the products and services offered to cities by JCDecaux have been considered the benchmark in quality, aesthetics and functionality. Thanks to the expertise of its employees, the quality of the Group's services, notably its upkeep and maintenance, are recognized by cities, airport and transport authorities and advertisers around the world. JCDecaux is the leader in outdoor digital communication and a major player in the development of smart cities. The Group is participating in the emergence of an increasingly connected, open and sustainable city.  
Actively involved in many humanitarian and charitable activities, JCDecaux is pleased to offer the FIA its support by advertising its road safety campaign free of charge in all of the countries where the company operates. This is the first time that the Group is supporting a major cause by offering simultaneous delivery of marketing communications around the world.
ABOUT THE CAMPAIGN
Photographer: Vanessa von Zitzewitz
Vanessa von Zitzewitz is known for her portraits of famous people and underwater shots of horses. Beyond her prestigious collaborations, she is highly involved and participates in many solidarity actions with the Red cross, especially causes that are close to her heart like the fight against cancer and road safety.
Creation: Meanings 
Created in 2004, combining the stories and experiences of its founders, Bruno Scaramuzzino and Manuel Lagny, - joined in 2014 by Armelle Weisman and Marie Georges -, Meanings is an independent and integrated corporate communication agency. It works towards finding relevance, getting as precise as possible on signs, and demonstrate a real interpersonal sensitivity.
Massive outdoor poster on the Concorde Square: From March 10th to March 13th 2017, for the launch of the campaign, a 218 square meters' wall wrap (28 m long on 7.80 m height) is rolled out on the facade of the Automobile Club de France on the Concorde square by JCDecaux Artvertising.
[1] Obey the speed limit, Never drink and drive, Use a child safety seat, Always pay attention, Buckle up, Don't text and drive, Stop when you're tired, Wear a helmet, Check your tires, Stay bright.
 
Press contacts:
FIA
Astrid Paul – Little Wing
astridpaul@little-wing.fr
06 64 53 92 11
JCDecaux 
Agathe Albertini
agathe.albertini@jcdecaux.com
01 30 79 34 99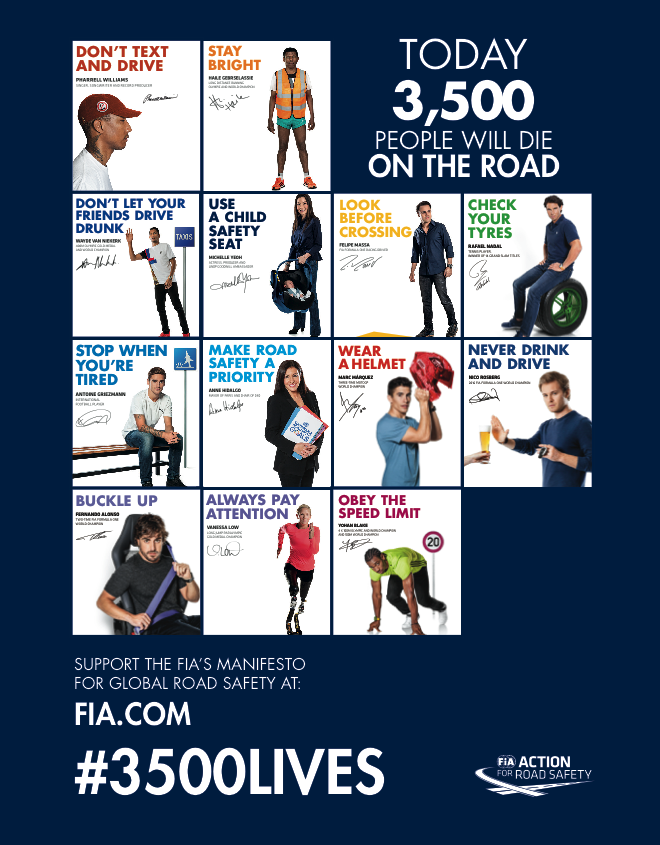 La Fédération Internationale de l'Automobile et JCDecaux lancent la première campagne mondiale de communication extérieure dédiée à la Sécurité Routière 
Jean Todt, Président de la Fédération Internationale de l'Automobile (FIA) et Jean-Charles Decaux, Président du Directoire et Co-Directeur Général de JCDecaux sont à Paris aujourd'hui pour lancer la première campagne mondiale de communication extérieure dédiée à la sécurité routière. Portée par des ambassadeurs de renom, elle fait la promotion de messages simples et universels pour lutter contre ce fléau, responsable de 3.500 décès par jour dans le monde.

Page web dédiée à la campagne : www.fia.com/3500lives
Hashtag de la campagne : #3500LIVES
Un enjeu de santé publique 
Tous les jours, 3.500 personnes meurent dans le monde dans des accidents de la route  soit plus de 1,25 million tous les ans. Une situation particulièrement alarmante chez les 15-29 ans pour qui les accidents de la route constituent la première cause de décès.
Si la tendance se confirme, d'ici à 2030, les accidents de la route pourraient devenir la première cause de mortalité dans le monde avec près de 2 millions de morts par an. Véritable sujet de santé publique, la sécurité routière constitue un enjeu et une priorité pour tous les États du monde et leurs citoyens. En ce sens, le Pape François a exprimé son soutien à la campagne, et à cette cause, lors de son entrevue avec Jean Todt au Vatican le 25 février dernier.
Une campagne engageante, optimiste et universelle 
À travers une approche concrète et positive, la campagne #3500LIVES vise à sensibiliser et à encourager cyclistes, piétons, motocyclistes et automobilistes à adopter des règles simples, facilement applicables et à l'efficacité prouvée.
La campagne présente dix « règles d'or[1] » incarnées par 13 ambassadeurs de renom :
-        des sportifs comme Yohan Blake, Haile Gebreselassie, Antoine Griezmann, Vanessa Low, Rafael Nadal et Wayde van Niekerk
-        des pilotes comme Fernando Alonso, Marc Marquez, Felipe Massa et Nico Rosberg
-        des artistes comme Pharrell Williams et Michelle Yeoh, et
-        des personnalités politiques comme Anne Hidalgo.
Tous se sont engagés pour défendre cette cause personnellement, et bénévolement (Lien vers les vidéos YouTube). Ces messages seront également portés par des institutions internationales comme le Comité International Olympique (CIO). Le 20 février 2017, la FIA et le CIO ont signé un protocole d'accord concernant la promotion de campagnes de sécurité routière communes sur leurs plateformes partagées et en amont des événements sportifs.
Cette campagne souligne à travers sa signature « Sign up, stay safe, save lives » [2], le rôle que chacun peut jouer pour rendre la route plus sûre pour tous ses usagers. Ces derniers sont par ailleurs appelés à signer un manifeste (www.fia.com/3500lives) visant à inciter les gouvernements à faire de la sécurité routière une priorité, par la mise en place effective de législations sur les principaux facteurs de risques routiers.
Traduite dans près de 30 langues, la campagne #3500LIVES est visible d'ores et déjà dans 30 villes du monde et sera déployée dans plus de 70 pays en 2017. Dès le lancement, la campagne générera un nombre de contacts estimé à plus d'1 milliard.
La FIA et JCDecaux : un partenariat stratégique autour d'une vision partagée
Le partenariat entre la Fédération Internationale de l'Automobile, qui représente 245 clubs, et JCDecaux, qui offre ses espaces dans le monde entier afin de lui assurer une visibilité maximale, fait de cette campagne un dispositif de prévention d'une ampleur inédite.
« J'encourage chacun à promouvoir et partager les messages clés de cette campagne, ainsi qu'à signer notre manifeste en faveur de l'action des gouvernements » a indiqué Jean Todt, Président de la FIA. « Nous sommes fiers d'avoir collaboré avec JCDecaux sur cette campagne, ainsi qu'avec 13 ambassadeurs remarquables et exemplaires dans leurs domaines, en particulier pour les jeunes, première population touchée par les accidents de la route ».
« La communication extérieure est au cœur de toutes les mobilités et nous sommes heureux et fiers de contribuer grâce à la puissance de nos implantations à la diffusion de ces messages à travers le monde », explique Jean-Charles Decaux, Président du Directoire et Co-Directeur Général de JCDecaux. « Cet engagement est également cohérent avec notre Responsabilité Sociétale d'Entreprise et, l'ensemble des collaborateurs de JCDecaux qui œuvrent quotidiennement pour la qualité de vie en ville, sont heureux de s'engager dans cette cause d'intérêt général : la promotion de la sécurité routière des citoyens du monde ».
A PROPOS DE LA FIA
La Fédération Internationale de l'Automobile (FIA) est l'instance de gouvernance du sport automobile et la fédération des principales organisations automobiles du monde entier.
Fondée en 1904, et ayant son siège à Paris et Genève, la FIA est une organisation à but non lucratif. Elle regroupe 245 Clubs mobilité et Clubs de sport automobile dans 143 pays sur cinq continents. Ses Clubs Membres représentent plus de 80 millions d'usagers de la route ainsi que leurs familles.
La FIA promeut une mobilité sûre, durable et accessible pour tous les usagers de la route, partout dans le monde.
A PROPOS DE JCDECAUX 
JCDecaux, N°1 mondial de la communication extérieure, joue un rôle majeur dans la transformation des univers urbains. Le Groupe est aujourd'hui présent dans plus de 75 pays et 4 280 villes de plus de 10.000 habitants et détient des concessions publicitaires dans plus de 220 aéroports et ainsi que 260 contrats de transport dans les métros, bus, trains et tramways. Tout a commencé en 1964 lorsque Jean-Claude Decaux installe les premiers abribus publicitaires à Lyon, motivé par la volonté d'embellir les villes en y installant gratuitement du mobilier urbain en échange de l'exclusivité de son exploitation publicitaire à des emplacements privilégiés.
Depuis plus de 50 ans, les produits et services proposés aux villes par JCDecaux sont considérés comme la référence en matière de qualité, d'esthétique et de fonctionnalité. Grâce au savoir-faire de ses collaborateurs, l'excellence des réalisations du Groupe, notamment en matière d'entretien et la maintenance, est reconnue mondialement par les villes, les autorités aéroportuaires et de transports, ainsi que les annonceurs. Pionnier en matière de communication extérieure digitale et acteur majeur de la ville intelligente, JCDecaux participe à l'émergence d'une cité connectée toujours plus humaine, ouverte et durable.
Engagé activement auprès de nombreuses associations humanitaires et caritatives au service de la lutte contre la maladie ou la préservation de l'environnement, JCDecaux est heureux de s'engager aux côtés de la FIA en affichant gracieusement sa campagne sur la prévention routière dans l'ensemble de ses pays.
A PROPOS DE LA CAMPAGNE 
Photographe : Vanessa von Zitzewitz
Vanessa von Zitzewitz est connue pour ses portraits de stars ainsi que pour ses photos de chevaux sous l'eau. Au-delà de ses collaborations prestigieuses, elle est très engagée et participe à de nombreuses actions solidaires avec la Croix Rouge notamment pour des causes qui lui tiennent à cœur comme la lutte contre le cancer ou la sécurité routière.
Création : Meanings
Créée en 2004, à la convergence des histoires et des expériences de ses fondateurs, Bruno Scaramuzzino et Manuel Lagny, - rejoints en 2014 par Armelle Weisman et Marie Georges -, Meanings est une agence conseil en communication corporate, indépendante et intégrée. Elle travaille à la justesse du sens, à la précision des signes, et s'efforce de témoigner d'une réelle sensibilité relationnelle.
Affichage événementiel place de la Concorde : du 10 au 13 mars 2017, à l'occasion du lancement de la campagne, une toile événementielle de 218m2  (28 m de long sur 7,80 m de haut) est déployée sur la façade de l'Automobile Club de France sur la place de la Concorde par JCDecaux Artvertising.
[1] Respecter les limitations de vitesse, ne pas prendre la route quand on a bu, utiliser un siège adapté pour les enfants, rester vigilant sur la route, attacher sa ceinture, ne pas envoyer de sms en conduisant, faire une pause en cas de fatigue, porter un casque, vérifier ses pneus, être visible sur la route
[2] "Engagez-vous, restez prudents, sauvez des vies"

Contacts Presse:
FIA
Astrid Paul – Little Wing
astridpaul@little-wing.fr
06 64 53 92 11
JCDecaux 
Agathe Albertini
agathe.albertini@jcdecaux.com
01 30 79 34 99