F4 - Local UAE teams share maiden victories as Team Motopark dominates the standings
German squad wraps up championship with an event still to run, while two new drivers take to the top step in Abu Dhabi.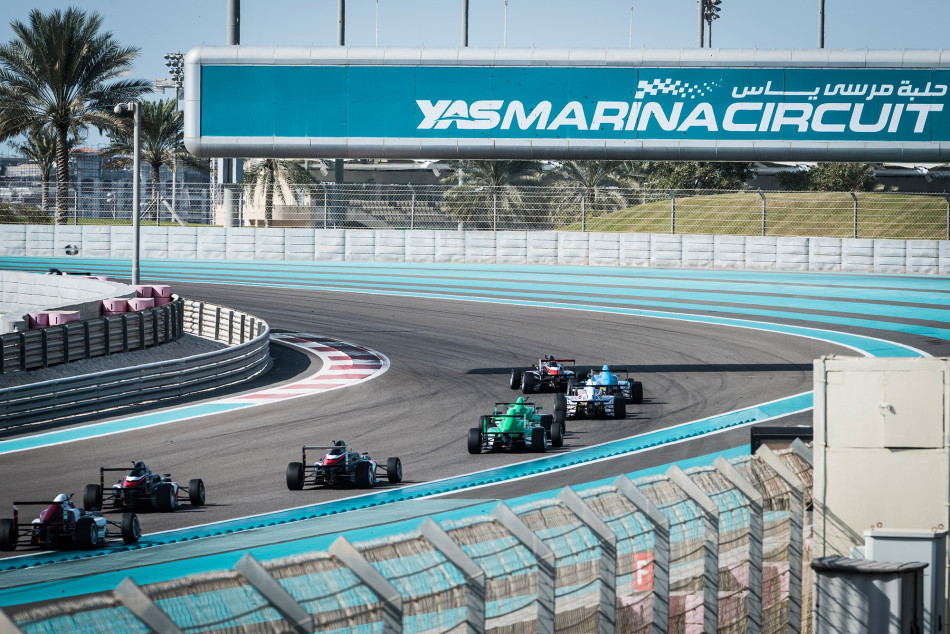 Two local Formula 4 UAE teams have joined the winners circle this weekend (10-12 February), after claiming maiden race wins during Round 4 of the championship at Yas Marina Circuit, preventing points leaders Team Motopark from securing a clean sweep for the first time this season.
Dubai-based Energy Dubai F4 Racing Team and Abu Dhabi-based Rasgaira Motorsports – both new to running Formula 4 race cars this season – earned their first race wins with star drivers Sean Babington (in Race 12) and Fabio Scherer (Race 14) respectively, sharing two of the four race victories on offer.
Babington (#4) – a four-time British karting champion – only made his circuit racing debut four months ago but had amassed six podium finishes prior to the weekend's event in the UAE capital. While Swiss racer Scherer (#13), a former race winner in the ADAC Formel 4 Championship in Germany, won on debut in the Middle East this weekend while also claiming a second-place finish earlier in the day.
Championship leader and South African racer Jonathan Aberdein (#21) from Team Motopark dominated the remaining two races ahead of teammate Logan Sargeant (#23), both helping the Germany-based operation to seal the F4UAE Teams Championship one round early.
Mohammed Ben Sulayem, President of ATCUAE and Emirates Motor Sports Foundation, congratulated the local teams on being able to claim victory during the inaugural season of the Middle East's newest open-wheeler championship.
"Congratulations to everyone at Energy Dubai and Rasgaira for racing so strongly against the other very experienced drivers, and we are very proud to see the UAE teams on the top step of the podium this weekend," said Ben Sulayem. "We have one more event at Yas Marina Circuit next month and we are sure that all the drivers will deliver the best racing of the year to finish our first F4UAE Championship."
Sean Babington (England), Energy Dubai F4 Racing Team (#4) said: "It's a massive relief to get that win, especially after being hounded for the whole of the race; you can see the Motopark guys and Fabio [Scherer] all the time in the mirror behind. Into the very slow corners everyone closes up so much and the gap you think you have is suddenly gone, so the pressure to hold on at the front was hard to manage. And the level of competition is getting harder and harder so the whole team is ecstatic to get this win. We've worked really really hard all year so a massive thanks to the team for making the right setup changes to get me onto the top step."

Fabio Scherer (Switzerland), Rasgaira Motorsports (#13) said: "We improved a lot from qualifying and I saw I had the pace so I was just relaxed and I think that was the key to the race. Towards the end I saw Jonathan [Aberdein] coming after me and I pushed a bit more but never I thought I was needing to go to the limit. I like the reverse grid races because you need to be good in the battles, not just with speed, so it's really nice to be at the end of the weekend in the best position."

Richard Cregan, Team Principal of Rasgaira Motorsports said: "It's a great day for us as Rasgaira, we've been on the podium many times before but it was our first win and nothing is as sweet as a win. Fabio did a great job and was very professional, and you could see his experience coming through as well, having done the German championship last year. David [Malukas] also did well with two fourth places, and I think the partnership again with US Racing from Germany works exceptionally well so for us. As a whole, it shows we have the right resources to help these young drivers improve their racing experience and that this is the championship for young drivers who want to go to Europe and do well."