DRIVE AND MAKE A CHANGE: FIA LAUNCHES 2023 SEASON OF FIA SMART DRIVING CHALLENGE, POWERED BY GREATER THAN
The FIA Smart Driving Challenge is a global challenge that encourages everyday motorists to adopt smarter, cleaner, and safer driving behaviour.
A collaboration between FIA and Greater Than, the FIA Smart Driving Challenge analyses real-time driving behaviour using Greater Than's pattern AI technology. 
Participants in the 2022 Season achieved an average CO2 saving of 12.3% vs the global average.*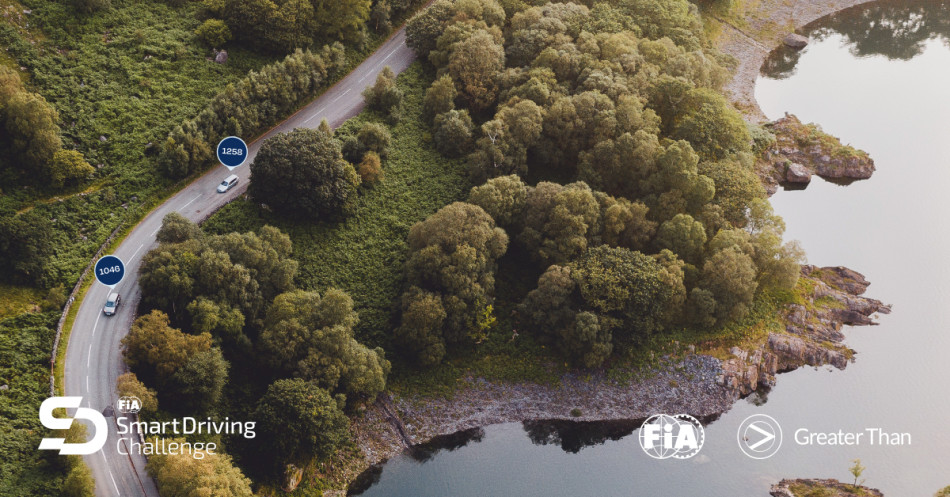 The Fédération Internationale de l'Automobile (FIA) and global provider of driver crash probability and climate impact intelligence Greater Than have launched the 2023 Season of the FIA Smart Driving Challenge (SDC). The FIA SDC is an initiative that aims to foster the adoption of smarter driving behaviour and contribute to improving safety on the roads and reducing the environmental impact of mobility. 
To join the 2023 Season, participants just have to download the FIA SDC app on their smartphone and connect it to their car via Bluetooth. They will then be invited to join the 2023 Season and compete to be the "World's Smartest Driver." The 2023 Season consists of seven heats, each lasting four weeks. Three qualifying drivers from each heat, along with qualifying drivers from four "pop-up challenges" will be entered into online playoffs in November, followed by a live head-to-head finale in December in Baku, Azerbaijan. 
"At the FIA, we promote access to safe, sustainable and inclusive mobility as a right for all. The FIA SDC is an important initiative as it supports this commitment globally by empowering everyday drivers to take greater control over their impact on safety and the environment when at the wheel," said FIA Deputy President for Automobile Mobility and Tourism Tim Shearman. "I encourage FIA Member Clubs and everyday drivers to join the 2023 Season and contribute to driving change." 
The start of this new season coincides with multiple FIA SDC app design updates to enhance user experience, including a new interactive leader board and design refresh. Participants can now see their CO2 impact in absolute terms, with CO2savings displayed in grams as well as percentage. Drivers of Electric Vehicles will see the energy they saved in % instead of the CO2 information. This measure will give them a better evaluation of their energy efficiency. The updates were introduced to further empower drivers to take ownership of their driving impact. 
These insights will be provided thanks to Greater Than's revolutionary pattern AI technology. By converting GPS driving data into crash probability and climate impact analysis and comparing results with a database of over 7 billion DriverDNA profiles, the technology provides FIA SDC participants with a FIA SDC smart score. This score enables them to properly assess their driving and improve their "smart" performance on the road.
"The FIA SDC is such a great way for everyday drivers and organisations to stand up and make a difference in road safety and sustainability," said Johanna Forseke, Chief Business Officer at Greater Than. "With ESG pressures rapidly increasing and driver health and well-being now firmly recognised as corporate management priorities, there's no better time to invite drivers to join this mission to help make driving safe and sustainable." 
Drivers representing 79 nationalities took part in the 2022 Season, with significant growth in distance covered compared with the previous season. As a result of smart driving, the participants achieved an average CO2 saving of 12.3% vs the global average.* 
The FIA SDC is supported by 17 FIA Member Clubs in 15 countries including AKK Finland, the Autoclub Of The Czech Republic, the Automobile Association of Namibia, the Automobile Association Philippines, the Automobile Association of Singapore, the Automobile Association of South Africa, the Hong Kong Automobile Association, Kungliga Automobil Klubben, Mobilité Club France, Norges Automobil-Forbund, Polish Automobile and Motorcycle Federation, Qatar Motor and Motorcycle Federation, Royal Automobile Club de Belgique, Royal Automobile Club Of Norway, Svenska Bilsportforbundet, Union Des Automobilistes Bulgares and the Zambia Motor Sport Association.
The Challenge is free and open to drivers using all types of vehicles (electric, hybrid or fuel). 
The FIA SDC app is available for download on both iOS and Android.
*The percentage of CO2 savings is calculated based on Greater Than's AI technology. The data of each trip is analysed and transformed into a unique DriverDNA profile that is then compared to a database of over 7 billion DriverDNA profiles to evaluate CO2 savings.