CTAF focuses on 'Difference of Radius between Inner Wheels for Vehicles' project
In order to strengthen the risk awareness of road safety, the Chinese Taipei Automobile Federation (CTAF) cooperated with the Feng Chia University, which has the largest number of students in the central region of Taiwan, and organised promotional activities for freshmen to convey the crisis of blind spots of large vehicles and difference of inner wheels.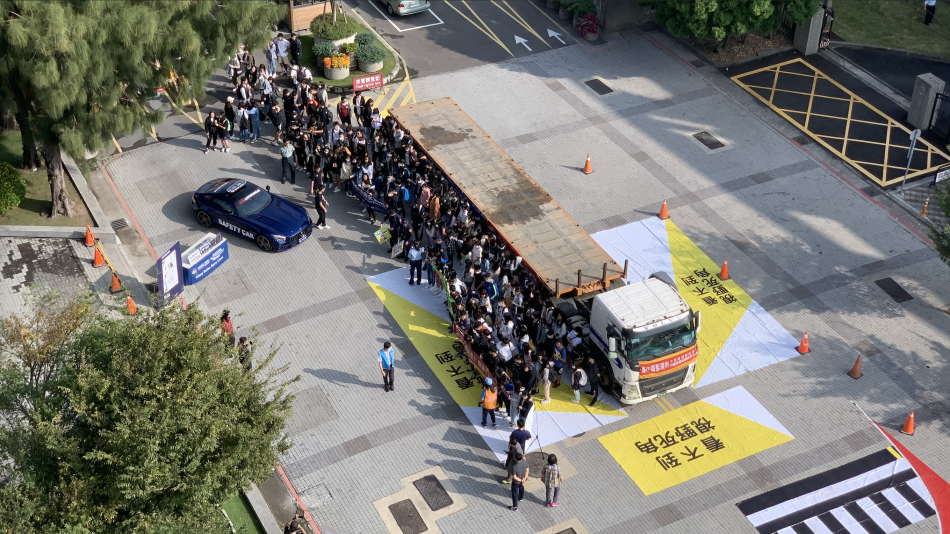 During the activities, a 18-meter-long truck and a limited edition Mercedes-AMG GTC sports car were used as teaching support, to provide students with a special road safety class and make them recognize the correct sitting posture.
To help students understand the issues of the 'Difference of Radius between Inner Wheels for Vehicles', large areas of color blocks were laid on the road, clearly marking the difference of radius between inner wheels danger zone and blind area, and a human-shaped balloon simulating a pedestrian was left in the difference of radius between the inner wheels range. 
When the truck turned, the balloon was run over and shattered. The thrilling scenes make the students fully understand the terrifying point of the inner wheel gap.
According to the Police Department, 1,849 people died in traffic accidents in Taiwan in 2019. It is highest record in the past five years. Among them, 5,143 were oversize vehicle accidents, and the number of injured and dead was about 6,000, which was the highest record in recent three years. Young people are the majority. 
The Chinese Taipei Automobile Federation also used the safety car to conduct a prize-winning quiz on road safety tips throughout the campus. Students who answered correctly could sit in the cockpit and learn the correct driving posture, attracting students who have just received a car driver's license or are about to take an exam. 
The event was held in cooperation with Taichung City Transportation Bureau, the Traffic Police Brigade of the Police Department, the Central District Supervision Office, the Taichung Automobile Freight Commercial Association.
CTAF is committed in promoting FIA road safety messages among students and in helping reduce car crashes rate in Taiwan.