BMF hosts 2017 medical seminar
Bahrain Motor Federation organized their ninth medical seminar under the patronage of Minister of Health Faeqa bint Saeed Al Saleh at the Crown Plaza on April 9.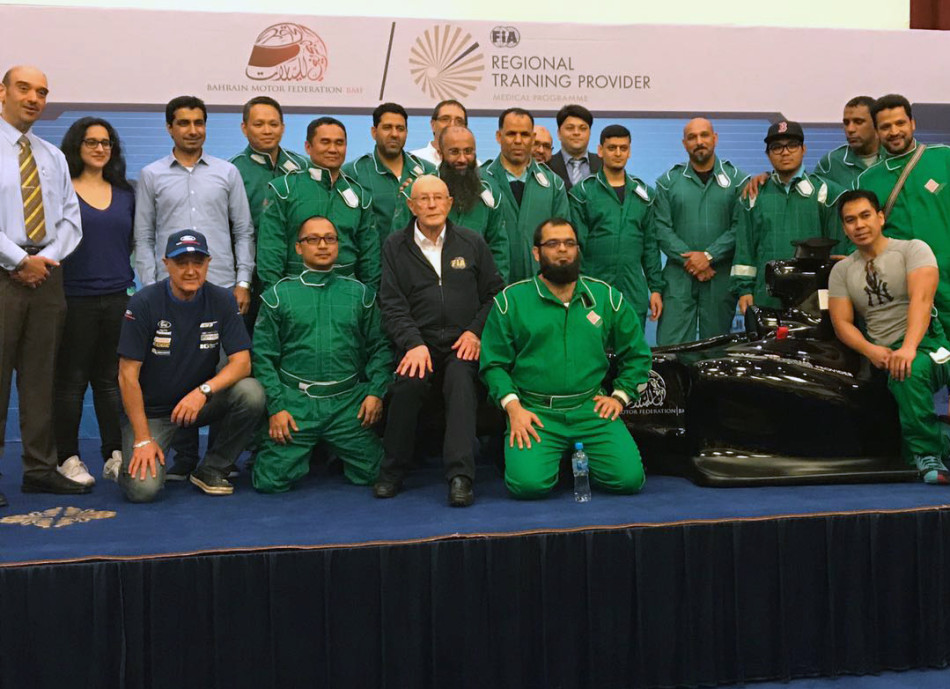 The assembled medical team at the ninth seminar to be organised by the Bahrain Motor Federation was visited by FIA Senior Medical Doctor and Honorary President of the FIA Medical Commission Dr Jean-Jacques Issermann.
On the first day of the seminar, Dr Issermann conducted extensive extrication training for the Bahrain Formula One Medical Team in the medical centre at the Bahrain International Circuit. The full-day programme covered Formula One extrication, closed car extrication, rapid extrication and urgent extrication were covered both theoretically and practically.
After this first day of activity dedicated to Formula One, more than 120 participants took part in the general seminar at the hotel the following day.
The seminar was opened with a speech by Bahrain Motor Federation official Abdulaziz Al Thawadi, followed by a speech by BMF Motor Sports Marshals Club President, Fayez Ramzi Fayez and another by Chief Medical Officer of Bahrain Formula One Dr Amjad Obeid.
The seminar focused extensively on trauma overview and included an outstanding presentation by guest speaker, Chief Medical Officer of Canada Professor Rob Seal who covered updates on the use of video laryngoscope on track. This was followed by an insightful talk by Dr Issermann on the art of extrication and the updates to extrication for the coming years of Formula One.
The seminar also contained a session by DCMO Dr Rami Al Ansari on emergency skills that medical team might need to perform on track, and concluded with a talk on the latest updates on resuscitation on-track by senior consultant of intensive care Dr Sana Al Khawajah.
Attendees were given hands-on training of airway management on mannequins, an overview of basic life support, and an advanced training of cardiac support, as well as practical extrication training on Formula One, Radical cars and closed cockpit cars.
All the proceedings held were under the supervision of Dr Issermann who was very pleased with the progress of the medical team of Bahrain and the extrication team, who achieved excellent extrication times in their practical sessions.