AUTOMOBIL CLUB DIN MOLDOVA CONTRIBUTES TO MAKING PEOPLE WITH DISABILITIES FEEL SAFER ON CHISINAU'S ROADS
Supported by the FIA Road Safety Grants Programme and the FIA Foundation, FIA Member Club the Automobil Club din Moldova (ACM) implemented the "Equal Road Rights" project in Chisinau, Moldova, in partnership with the Eastern Alliance for Safe and Sustainable Transport (EASST), Universal Access Ltd, LUMETH, the Center for the Rights of Persons with Disabilities (CDPD) and Chisinau City Hall.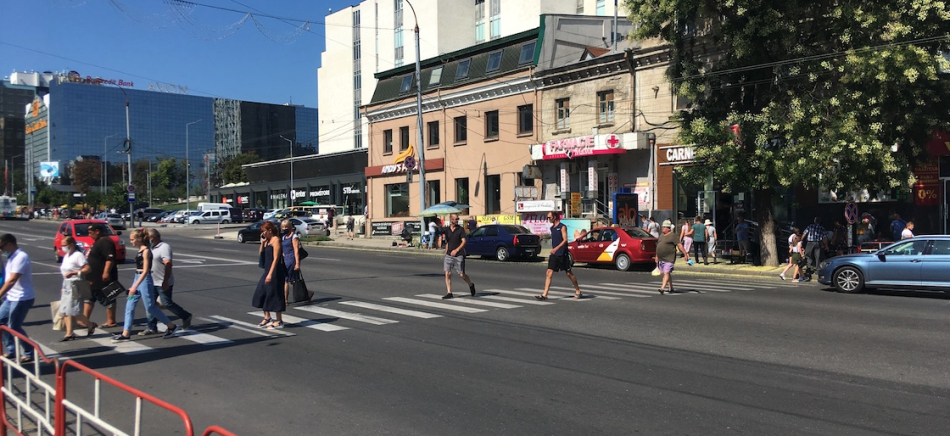 As part of the project, the ACM conducted a survey which found that seven out of ten people with limited mobility in Chisinau do not feel safe when walking around the city – particularly when crossing the street.
The research identified three of the main challenges which contribute to people feeling unsafe. These include:
A lack of infrastructure tailored for people with disabilities at pedestrian crossings, such as lowered curbs, acoustic traffic signals, and tactile paving.
Obstacles in front of pedestrian crossings, including (but not limited to) steps on the sidewalk, bollards and parking meters, uncovered sewer wells, and parked cars.
Problems with the organisation of road traffic, meaning quick changing traffic lights not leaving enough time to cross the road.
As a result of this research, three intersections in Chisinau have been upgraded.
The project ensured active consultation with people with disabilities. People with visual impairments were invited to test out the acoustic signals to ensure that the volume and operating schedules being used were fit for purpose.
A follow up survey at each of the three crossings found a huge improvement in perceptions of safety. 34% respondents said they felt that safety was 'acceptable' and 58% reported feeling safe or very safe. This is hugely significant when compared to other intersections in the city where only 2% respondents reported feeling safe.
The project has led to calls for more intersections to be upgraded, with specific recommendations to improve lighting and disabled access to underground crossings, and create more parking areas to move parked cars off the streets. Another significant issue to be addressed relates to the number of drivers that ignore the signals and continue to drive through when the crossing is 'green' for pedestrians.
These recommendations have been presented to the Transport Department of Chisinau and a proposal for a pilot transformation is currently being discussed with the Department and Traffic Police.
The full report is available here.