Santiago de Chile wins FIA Smart Cities Award
FIA President Jean Todt and ACU President and FIA Region IV President Jorge Tomasi Crisci presented the award at the first Montevideo e-Mobility and Smart Cities Forum in Uruguay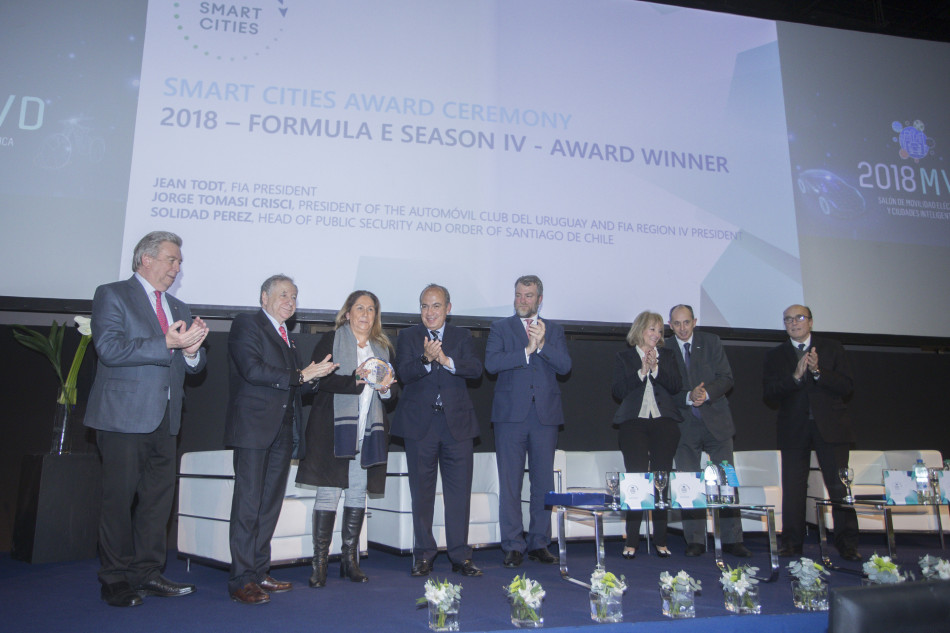 Following a hugely successful year of FIA Smart Cities Forums taking place around the world, the 2018 Montevideo e-Mobility and Smart Cities Forum hosted the Season 2 FIA Smart Cities Award ceremony, which recognises the city that, over the course of this year's events, has demonstrated innovative solutions to the challenges facing modern mobility systems. 
Utilising the high-profile platform of the FIA Formula E Championship, the FIA Smart Cities initiative provides a platform to discuss how innovation can help tackle urban mobility issues by bringing together city authorities, mobility experts, international organisations, entrepreneurs and other key stakeholders in the urban mobility ecosystem. The FIA Smart Cities Award pillar focuses on innovative projects implemented by the cities hosting a round of the fourth season of Formula E: Hong Kong, Marrakesh, Santiago de Chile, Mexico City, Punta del Este, Rome, Paris, Berlin, Zurich and New York City. 
Examples of innovative policies or services in urban mobility systems were collected in partnership with Sciences Po Paris to strengthen knowledge-sharing between cities and promote the scalability of successful selected initiatives.
Before the award was presented, a final FIA Smart Cities discussion was hosted by Felipe Calderón, FIA Environment and Sustainability Commission President and former President of Mexico. Panellists included Jean Todt, FIA President, Daniel Martínez, Mayor of Montevideo, Carolina Cosse Garrido, Uruguay's Minister of Industries, Energy and Mining, Gonzalo Casaravilla, President of UTE Uruguay, Jorge Tomasi Crisci, President of the Automóvil Club del Uruguay and FIA Region IV President. 
The discussion covered a range of topics under the theme of "Smart Mobility in Cities of the Future", with FIA President Todt commenting, "There are two big issues — one is to make mobility in cities feasible and practical — we are struggling with congestion in big cities all over the world, and this needs to be addressed urgently. Then, we must make sure that the vehicles are environmentally friendly. For this, the electric car is absolutely essential." 
Following the conclusion of the panel discussion, the winner of the FIA Smart Cities Award was announced by FIA President Todt. Santiago de Chile took the honours from a highly-competitive list of cities. The winning project — Plan Integral de Santiago — brings a new quality of life to the city centre of Santiago. It is an intermodal system of transport where non-motorised means of transport are complementary to traditional ones helping to reduce pollution, congestion, and the lack of public space. The award was collected by Soledad Perez, Head of Public Security and Order of Santiago de Chile. 
Ms Perez said, "We are very proud to receive this award on behalf of Santiago de Chile, and I'm pleased to be representing the head of the regional government of Santiago. Our country is working hard on sustainable mobility; we want to develop alongside other leading countries. We were very proud to host Formula E in February of this year, and we hope to be able to welcome the championship again in the future."