Reducing Climate Impact: RACC Achieves 3-star FIA Environmental Accreditation
FIA Member, the Reial Automòbil Club de Catalunya (RACC), has obtained 3-star accreditation as part of the FIA Environmental Accreditation Programme. 
This achievement recognises RACC's continuous commitment to making sustainability one of its top priorities.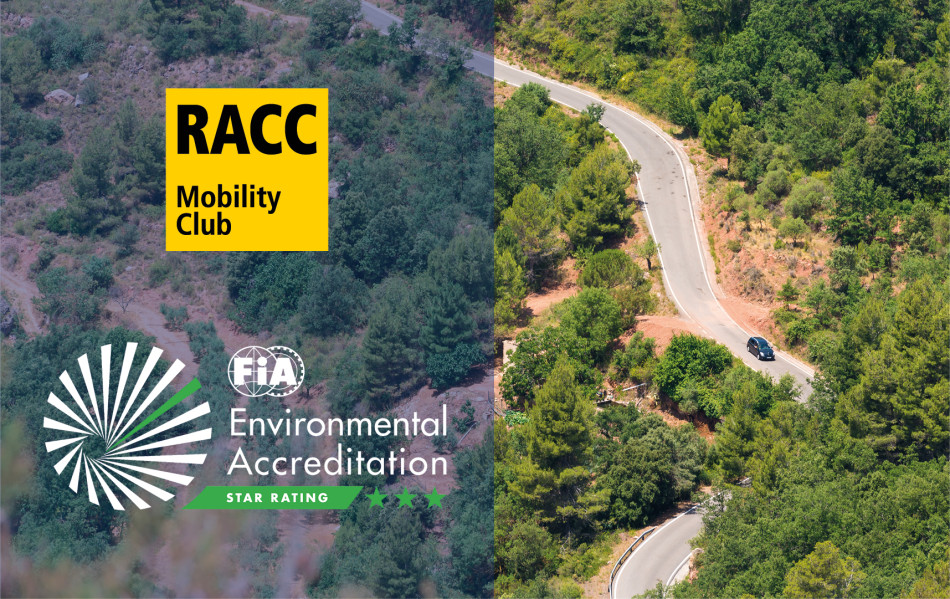 The 3-star FIA Environmental Accreditation adds to the two milestones already reached by RACC in recent years in the field of sustainability management: the ISO 14001 Certification obtained in 2017, and the Environmental Quality Guarantee Distinction awarded by the Catalan Government (Generalitat de Catalunya) in July 2022 for its fleet of roadside assistance vehicles. 
In order to receive the FIA's top-level accreditation, the RACC has focused its efforts on implementing initiatives aimed at making its activities increasingly sustainable.
This process began in 2016 with the calculation of the carbon footprint of the roadside assistance fleet and the environmental diagnosis of the RACC Group.
At the same time, since 2016, the Club has been progressively renewing its fleet with electric or hybrid vehicles, as well as reducing fuel consumption. Since 2020, RACC has also been promoting constant training of mechanics in efficient driving and continuous monitoring of the consumption of the entire fleet.
The RACC's commitment to sustainability has led the Club to carry out both internal and external audits during the period from 2017-2023, achieving ISO 14001 Environmental Management Certification in 2017. At the same time, the RACC has worked to raise the environmental sensitivity of all its employees through various awareness-raising actions.
Another initiative that has contributed to reaching 3-star accreditation was the incorporation of proprietary fleet geopositioning technology to reduce fuel consumption and greenhouse gas (GHG) emissions in 2021, while increasingly incorporating predictive artificial intelligence systems that help to improve assistance efficiency.
The RACC is also regularly designing plans to reduce energy and water consumption and minimise environmental impact. Among other initiatives, RACC's supplier approval plan includes environmental guidelines that partners must meet in order to supply products to the Club.
Upon receiving the accreditation, RACC General Manager Xavier Pérez said: "As part of its commitment to sustainability, the RACC has focused its efforts constantly and transversally on reducing the impact of its activity. Achieving the highest environmental accreditation from the FIA, a benchmark in our sector, is the best recognition of this journey. At the same time, it is an incentive to continue working along the same lines based on the excellence and quality of service that characterises us".
About the RACC
The RACC offers its high-quality services to more than 800,000 members in order to meet their needs. Its main areas of activity are mechanical, personal, medical and emergency assistance, as well as home maintenance; insurance and driver training, with the most important network of driving schools in Spain. It is also present in the car maintenance and home repair sector.
The RACC, which has gone from being a motorists' club to a Mobility Services Club, helps people when they move around, on foot, by bicycle, on scooter, on public transport, in a car or on a motorbike, offering them a wide range of products adapted to new ways of travelling
As an organisation at the service of society, the RACC promotes a new culture of mobility that is safer, environmentally friendly, affordable and competitive. In this sense, it is committed to defending the rights of users and works in the field of research to provide knowledge based on analysis, rigour and the international vision that arises from its presence in organisations worldwide. In the world of motorsport, the Club supports young riders and drivers by promoting their racing skills and the human values of sport. It enjoys international prestige as a rigorous organiser of events counting towards the Formula 1, Moto GP, Rallycross and Rallycross World Championships