Powering Collaboration: Road Safety on Top of the Agenda at the 2023 FIA Region II Roundtable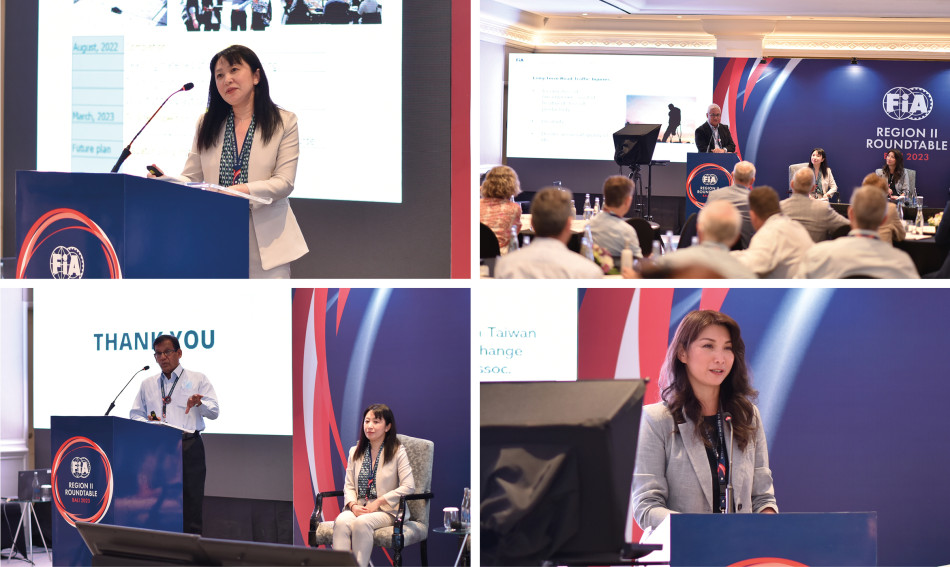 Collaboration is key 
The first session of the Roundtable dedicated to road safety saw Automobile Association Vietnam Program Director Quy Linh Nguyen, AIP Foundation Programs Manager Nga Duong and Australian Automobile Association Managing Director Michael Bradley take the floor to present Region II collaborative road safety projects.
Quy Linh Nguyen presented the project to implement the #ISeeYou campaign developed by FIA Region I and ACTA Sub Region in Asia-Pacific by providing reflective sashes to children travelling to school and people working in perilous conditions. She explained how the campaign has been adapted and is now being piloted in Vietnam and Cambodia by AA Vietnam and the Automobile Association of Cambodia with the support of the FIA Road Safety Grants Programme funded by the FIA Foundation. This pilot phase's goal is to test the campaign and prepare its expansion to the whole region.
Nga Duong introduced the FIA Region II Helmets for kids project that started in August 2023 and that aims to educate students and teachers on the importance of traffic safety and encourage them to be safer road users and that relies on the distribution of safe helmets to kids. Carried out in collaboration between the AIP Foundation and the Royal Automobile Association of Thailand (RAAT), the project will be deployed in two schools in Bangkok, Thailand. She also highlighted new developments of the "HeadsUp!"campaign that will enter its phase 2. Aiming to raise awareness on the importance of helmet wearing and the use of high-quality helmets, especially among young drivers, and to build capacity for participating Region II Members on quality helmet use programmes and implementation of road safety awareness campaigns, phase 2 highlight will be the development of a youth-led awareness campaign. Both the Helmets for kids project and HeadsUp! are supported by the FIA Road Safety Grants Programme funded by the FIA Foundation.
Michael Bradley then presented the Australian Automobile Association (AAA) Road Safety Research Programme and the 16-month research cycle that the Club has put into place to carry out studies on different road safety issues. He also talked about the ongoing research led by AAA on fatigued driving, distracted driving and vulnerable road users.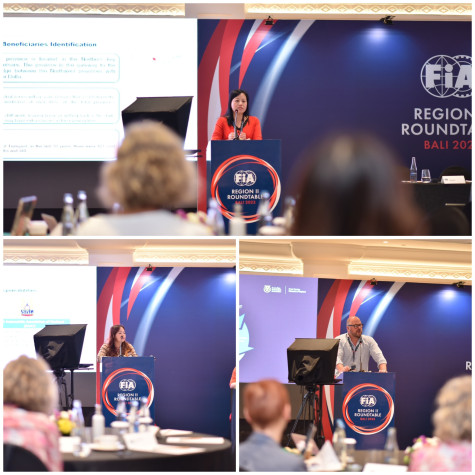 Working in Partnership for Progress
Another session of the Roundtable moderated by FIA Road Safety and Global Advocacy Director Stefano Ammirati focused on how to leverage partnerships and multi-stakeholder engagement in road safety initiatives. FIA Foundation Director of Partnerships Rita Cuypers and Raise Partners Co-founder and Partner Mimi Vu shared their experience on managing and developing partnerships and gave concrete examples of successful collaborations. They provided Delegates with insights on how to approach partners and promote engagement in favour of road safety.
The FIA Foundation also informed attendees on the different programmes it is deploying in Asia-Pacific. Programmes Director Aggie Kranolucka presented the three areas in which the Foundation is active in the region: child safety, motorcyclist safety, and adolescents and youth safety. She presented the campaigns such as the "1.8 billion young people for change", and projects the Foundation is leading in these areas. She also explained that its actions to promote motorcycle safety are articulated around five pillars: motorcycles in safe and sustainable transport policy; helmet standards, testing facilities and enforcement; effective training, anti-lock braking systems; motorcycles in road design.
Delegates also heard about iRAP programmes' latest developments and its robust evidence-based approach to prevent unnecessary deaths and suffering on the road with iRAP Global Programme Director Greg Smith. A special focus was also made on its Star Rating for School (SR4S) methodology with AIP Foundation Development Manager Alex Ward presenting the projects they are developing with iRAP to build the capacity of Region II Clubs to implement speed management and other school zone safety measures. The programme is open to Region II Clubs and, in its first phase, will consist on training sessions on the online SR4S module.
The Star Rating for School (SR4S) methodology is also the basis of the FIA School Assessment toolkit of the FIA Road Safety Grants Programme funded by the FIA Foundation. At the Roundtable, Nepal Automobiles' Association Joint Treasurer Kamala Chettri presented the recently completed pioneering campaign called 'Safe School Zone' – a first-ever Star Rating for Schools (SR4S) campaign that the Club deployed in Nepal with the support of an FIA Mobility Grant and that allowed to improve safety in several school zones in the country. Learn more here.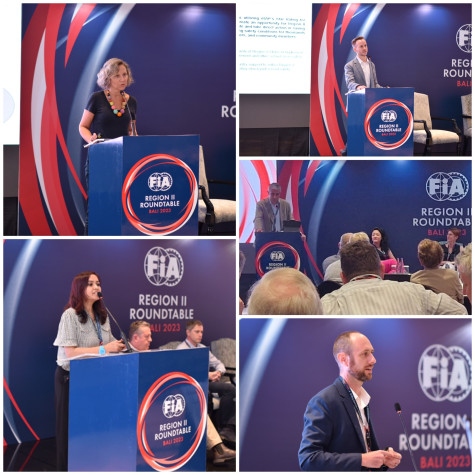 Leveraging Regional Strength
FIA Deputy President for Automobile Mobility and Tourism Tim Shearman and FIA Senate President Carmelo Sanz de Barros took the floor to discuss how to develop regional road safety partnerships with global partners and increase regional empowerment. 
The session aimed to start a discussion among Region II Members for them to join forces at the regional level to secure the support of global partners and ensure road safety is on top of the policy agenda in the region.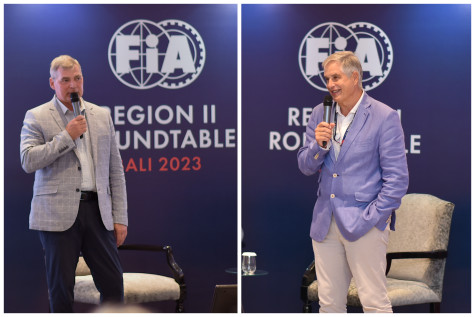 Experience-Sharing, a major strength of the network
The Roundtable featured two sessions dedicated to Clubs' success stories in road safety. Delegates heard about:
Automobile Association of Ceylon's post-accident first aid programme;
Automobile Association Philippines' advocacy campaigns on helmet use, reflective clothing wearing and distracted driving with the 'Drive in the Moment' toolkit supported by the FIA Road Safety Grants Programme funded by the FIA Foundation;
Automobile Association Vietnam's Autosobriety Training Programme supported by the United Nations Institute for Training and Research (UNITAR)
Japan Automobile Federation (JAF) and Chinese Taipei Automobile Federation's joint project on traffic safety for inbound visitors;
JAF's project on self-driving safety for overseas travel of right hand drive;
New Zealand Automobile Association collaboration with New Zealand police to improve children's safety around schools;
National Roads & Motorists' Association evidence-based road maintenance and safety treatments following flooding events;
Nepal Automobiles' Association road safety activities, including to promote the development of safer public transport in the country;
Royal Automobile Club of Queensland e-scooters research partnerships to address the safety challenges and development opportunities they are creating;
Western India Automobile Association collaborative road safety advocacy programme;
Experience-sharing is key to make FIA Members stronger, make the most of the FIA network and learn from each other. 
The road safety focus of the Roundtable will continue after its closing with a two-day Delft University Road Safety Course which will offer public policy training to Region II participants.