Jean Todt meeting Dilma Rousseff in Brasilia
President of Brazil pledges support for FIA Action for Road Safety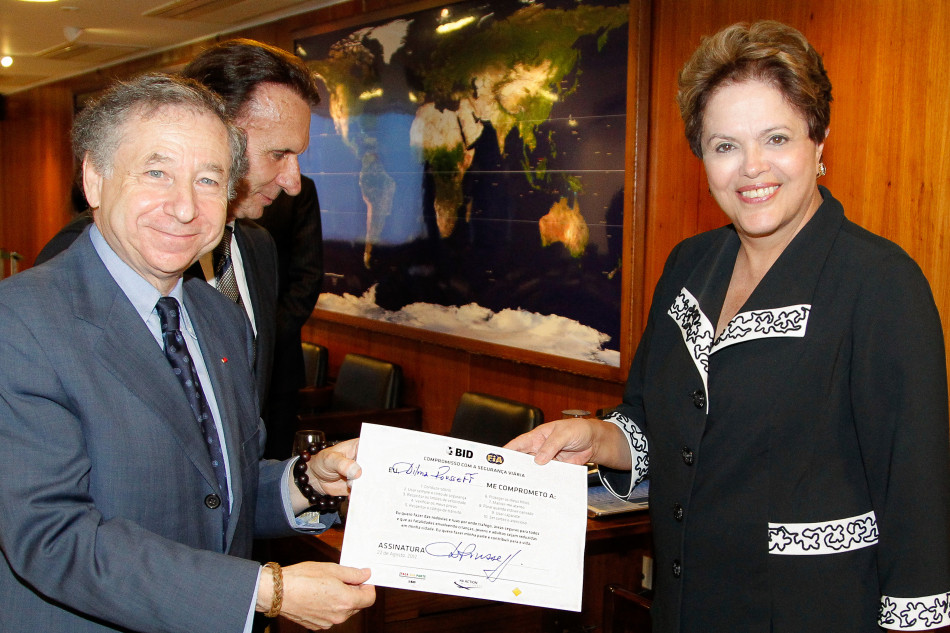 At a meeting with FIA President Jean Todt yesterday, Brazil's President Dilma Rousseff committed to support the goals of the federation's Action for Road Safety campaign in a bid to reduce the number of road accidents in the country and also to the creation of a road safety plan for Brazil. 
 
A day after reaching a joint agreement in São Paulo with the Inter-American Development Bank to promote road safety in Brazil and across Latin America and the Caribbean, President Todt journeyed to the nation's capital Brasilia where, at the Planalto Palace, he was greeted by the President Rousseff.
 
Accompanied by two-time Formula One champion Emerson Fittipaldi, President Todt explained the goals of FIA Action for Safety to the Brazilian leader and also presented details of the 'Paving the Way to Road Safety' initiative launched in São Paulo the day before. He suggested that Brazil consider the development of an action plan to reduce the number of deaths and injuries on the country's roads. Last year, 40,000 people were killed and 370,000 people injured in road traffic incidents in the Latin American state. 
 
Following the discussions, President Rousseff signed a commitment to support the aims of FIA Action for Road Safety and the two leaders also agreed to hold further talks on the design of a road safety programme for the country in the near future. 
 
Hailing the meeting a success, President Todt said he looked forward to working "closely" with the Brazilian government on the project.