FIA SMART CITIES FORUM GOES DIGITAL
In an ever more virtual world, the FIA Smart Cities Forum will be held online for the first time. For Season 4, a series of three eForums dedicated to Europe (22 July), Asia (23 September), and the Americas (12 November), will gather key players in smart and sustainable urban mobility from all regions of the world to discuss how transport is being reshaped in times of a global pandemic.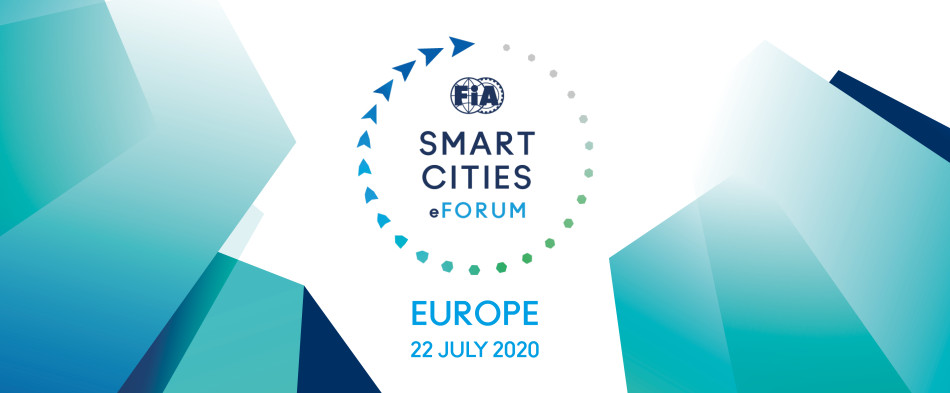 The impact of COVID-19 has been felt across the entire urban mobility space with many services temporarily paused or reduced, and alternative modes of transport increasing. This abrupt intervention represents an opportunity for urban mobility actors to rethink public policies and, ultimately, the way we move around cities.

From public transport to shared services, and the rise of micro and active mobility, the impact of COVID-19 on the transport sector in cities has been rapid and far reaching. However, this new reality has the potential to bring smarter urban mobility alternatives to the forefront. 

In this context, the first eForum for Season 4 of the FIA Smart Cities initiative will focus on Europe and look at how changes such as improved and open data sharing, as well as closer collaboration amongst all stakeholders can contribute to making urban mobility safer, more sustainable and more accessible for all road users. 
 
Thought leaders from international organisations, the public and private sectors, and the FIA Community, will share their insights on the use of real-time data to measure shifts in road user behaviour caused by the global pandemic, and how this data can better guide decision-making processes.
  
The eForum will also feature fluctuo, independent third-party data aggregator specialised in shared-mobility services, who won the European editionof the FIA Smart Cities Global Start-Up Contest Season 4. The start-up based in Paris will pitch their innovative urban mobility project to the audience.

"Innovations in Smart Mobility & Transfer of Technology in Motor Sport" will be another unique feature of the eForum, giving participants the chance to meet FIA Member Clubs, FIA Smart Cities Partners and Formula E teams in the event's designated exhibition section.
To learn more about the programme of the event, visit the dedicated page.