FIA reveals what data is being tracked and how the public reacts to connected cars
On 24 November, FIA Region I, a consumer body representing 111 Motoring and Touring Clubs whose office is based in Brussels, revealed exactly what data new vehicles are able to track and transmit.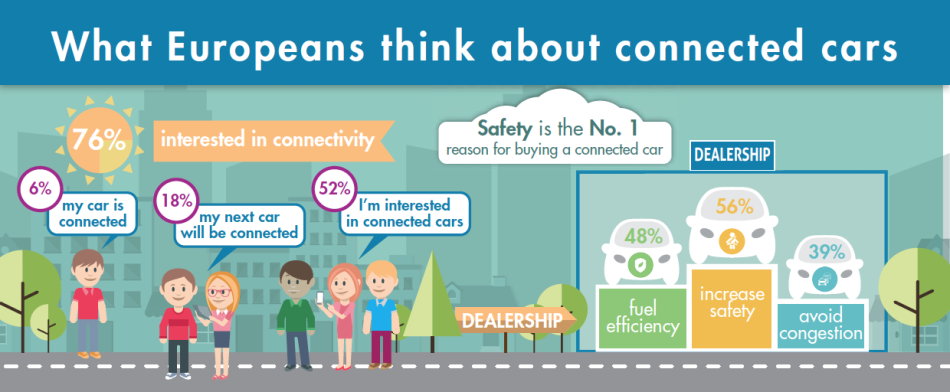 The investigation of two vehicles, a conventionally-fuelled vehicle and an electric vehicle found that, in addition to the creation of driver profiles, vehicle location, trip length, personal information synced from mobile phones are tracked and can be transmitted back to the manufacturer (1). A public survey (2) looking at the public's familiarity with connected vehicles shows a high level of interest for connectivity. However, the respondents, from 12 European countries, also issued a clear message: 90% say that vehicle data belongs to the owner or driver of the vehicle. This message was relayed to MEPs at during the launch event. Citizens are most concerned about the disclosure of private information (88%), commercial use of personal data (86%), vehicle hacking and vehicle tracking. 95% of people surveyed believed that there was a need for specific legislation to protect their rights to their vehicle and driver data.
Thierry Willemarck, FIA Region I President said: "There is a clear disconnect in what is being tracked and what citizens are willing to accept when it comes to car data. Not only strong data protection, but informed consent and free choice of service providers need to be addressed. Connected cars are already on the market, tracking and able to communicate private information about consumers. Now is the time for policymakers to take a strong stand and defend consumers."
MEP Evelyne Gebhardt, said "Consumers have a right to know what data they are sharing when they drive their car. Currently, only vehicle manufacturers have access to this data. Europeans deserve to control their data and to which service provider they choose to share it with. They also must have the possibility to shut off communication."
Based on the data in these two studies, FIA Region I and its members across Europe are launching the My Car My Data campaign (www.mycarmydata.eu), to raise public awareness on vehicle data and to call for privacy legislation and a fair after-market for connected vehicle services. With connected vehicles, this campaign demands:
DATA PROTECTION
Legislation should ensure that drivers should retain ownership of the data and give informed consent on how it is used.
FREE CHOICE
Drivers should have the right to choose their preferred service provider.
FAIR COMPETITION
Service providers should have the right to develop safe products and functionalities.
The campaign and studies were launched at a cocktail hosted by MEP Evelyne Gebhardt, (S&D – DE) in the European Parliament Strasbourg on 24 November 2015.
(1) Tracked data uncovered in the technical tests carried out by the German Automobile Association, ADAC on behalf of FIA Region I, more results below.
(2) The public survey included 12,000 people in 12 European countries Austria, Germany, Belgium, France, Finland, Italy, the Netherlands, UK, Poland, the Czech Republic, Denmark and Spain approx 1000 replies from each country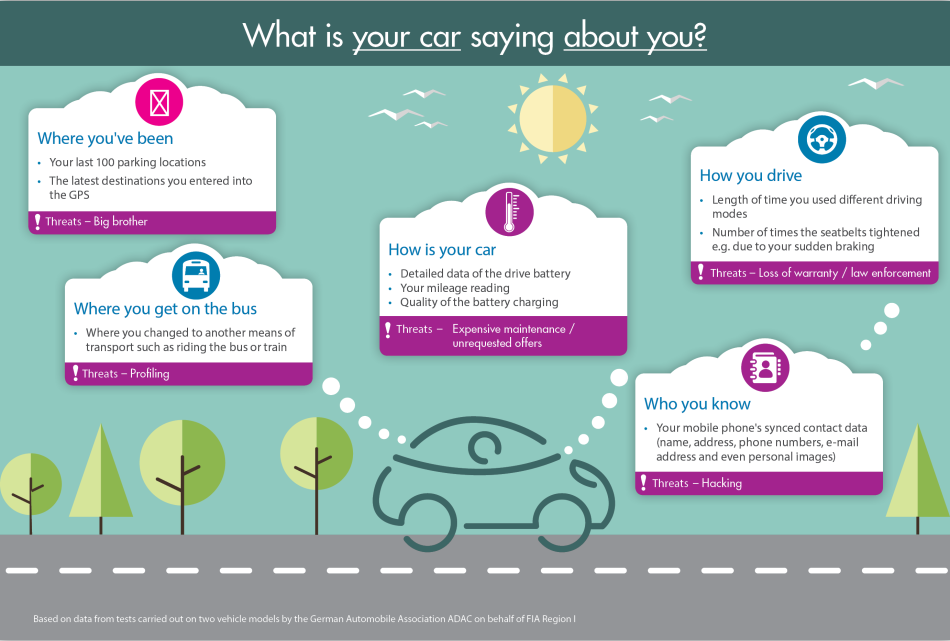 The FIA Region I office is a consumer body representing 38 million members from across Europe, the Middle East and Africa. The FIA represents the interest of these members as motorists, public transport users, pedestrians and tourists. The FIA's primary goal is to secure a mobility that is safe, affordable, sustainable and efficient. With these aims in mind, the FIA Region I work focuses on Road Safety, Consumer Protection, Environmental Protection, and the promotion of Sustainable Motoring. www.fiaregion1.com
Learn more about the campaign: www.mycarmydata.eu
See the results of the technical test (280.5 KB)
See the top results of the public survey (342.1 KB)
An introduction to access to data and your car: https://vimeo.com/82273714