This page contains archived information and may not display perfectly
FIA GT World Cup Preview
GT3 masters prepare for treacherous Guia circuit as FIA GT World Cup draws near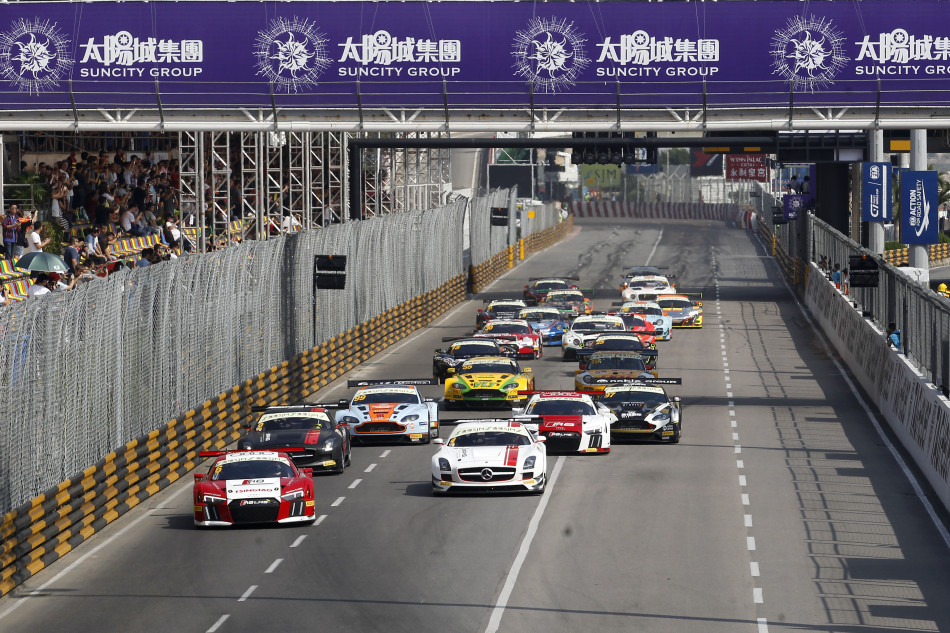 The FIA GT World Cup at the 63rd Macau Grand Prix has drawn a spectacular selection of GT3 drivers, marques and teams for the ultimate GT battle on the renowned Asian street track.
23 drivers from 16 nations, representing 16 teams are scrutineering with car set-up underway, in preparation for Sunday's rolling start for the year's highest GT prize.
Four manufacturers will contest for the FIA GT World Cup for manufacturer's – Mercedes-AMG, Audi, Lamborghini and Porsche.
A rare opportunity for GT drivers to set-up the car to their own specification and driving style for the 18-lap sprint, the race pushes the potential of the Grand Tourers.
Tight, technical corners, elevation and conditions changes, and a 280km/h top speed make experience at Macau's unforgiving Guia street circuit critical. With high walls and zero run-off, mistakes that might cost a second on a normal circuit can cost a race.
Mercedes-AMG Driving Academy aces Maro Engel and Renger Van Der Zande will pilot a pair of new Works Mercedes-AMG GT3s.  The two drivers have six years of Macau Grand Prix GT experience between them. The former is the reigning FIA GT World Cup Champion, winning both 2015 and 2014 GT titles in Macau.
With the Guia circuit his favourite track, Engel counts a victory at the 24 Hours of Nurburgring and a Formula E debut in his 2016 successes.
"All the other drivers are obviously going to push very hard to knock us off the top. But we're going there with the aim of defending our titles. For sure, it's possible but it's a long weekend, and Macau will truly throw some curve balls at us."
Lisboa corner, at the end of the main straight is the tracks major overtaking opportunity, bringing cars from 280km/h to 60.
"There's no circuit that's more exciting than Macau," said Engel. "My braking point? It's late. Hopefully later than all the other GT's."
The main threat to Engel's second World Cup, is Edoardo Mortara. Driving the Audi Sport Team WRT R8 LMS, the DTM series regular brings five years of Macau Grand Prix experience to the FIA GT World Cup.
With consecutive F3 Macau Grand Prix victories in 2009-2010 and victory in the Macau GT Cup in 2013, 'Mr. Macau' will seek to improve on a sixth place in 2015 with an better set up.
"Competition has never been as tough as this year. A lot of great drivers and great competitors," said Mortara. "No particular plan for this race. Just trying to do my best as always. Obviously qualifications are going to be very important and it will be important not to make any mistakes.
"For us in Audi, we will use the same car as we did last year. We will try to improve our 2015 base setup. We already made a few changes and think that we are better prepared. Let's see if this is going to be enough."
Mortara is not the only threat to a Mercedes victory. Cited by Engel as a man to watch, 2015 24 Hours of Le Mans winner Earl Bamber, makes his fourth visit to Macau. Driving the new Porsche backed 991 GT3R for Manthey Racing, the New Zealander believes the key is in qualifying.
"For me the key is to start at the front for the races so we are hoping to qualify well," said Bamber.
"We also have a new challenge as it's the first time the GT3R has run at this circuit… It's also great to have Manthey Racing joining the event with a Works program, with our goal of capturing the World Cup."
"The competition is really tough and it shows just how big this race has become not just in the region but around the world. It' a big challenge for us to learn the car in the practice sessions. Let's see where we end up after OP1."
Also making their Macau debut, the Lamborghini Huracan GT3 and driver Mirko Bortolotti will vie for the FIA GT World Cup for the manufacturer backed FFF Racing team, alongside 2000 Macau Grand Prix winner and Macanese local Andre Couto.
"The circuit seems to be quite bumpy and narrow so there's no room for mistakes," said Bortolotti.
"There's a mix of very fast sections and some slow speed corners. A good balance between aero and mechanical settings will be crucial. It will also be the first time ever for the Lamborghini Huracán GT3 at Macau so we can't wait to get started."
Bortolotti said that despite limited Guia circuit experience, he came for the cup.
"The FIA GT World Cup is a unique event and we definitely aim high. Racing on this street circuit for the first time won't be an advantage to start with but I'll give it all and I'm here to fight, I expect some good racing, on the edge."
Additional headline drivers include
FIA World Touring Car Championship race winner Nicky Catsburg
Former Super GT Champion Richard Lyons
2013 FIA GT Series Champion and 2016 Intercontinental GT Challenge winner Laurens Vanthoor
2015 GT Asia Series Champion Darryl O'Young
2015 Sauber F1 test driver and four-time podium place-getter in the 2016 Pirelli World Challenge season Adderly Fong
Multiple GT Asia Series race winner Marchy Lee
Multiple Porsche Carrera Cup Champion Kevin Estre
International GT Open 2015 Vice Champion and 24 hours of Spa 2015 Pro-Am winner Pasin Lathouras
The 63rd Macau Grand Prix begins on Thursday 17 November, with the FIA GT World Cup race to take place on Sunday 20 November. The FIA will host a livestream of the weekends race, with a full race schedule, driver facts and circuit details available here.