This page contains archived information and may not display perfectly
63rd Macau Grand Prix: Cheat Sheet
Numbers and need-to-knows for the FIA F3 World Cup and FIA GT World Cup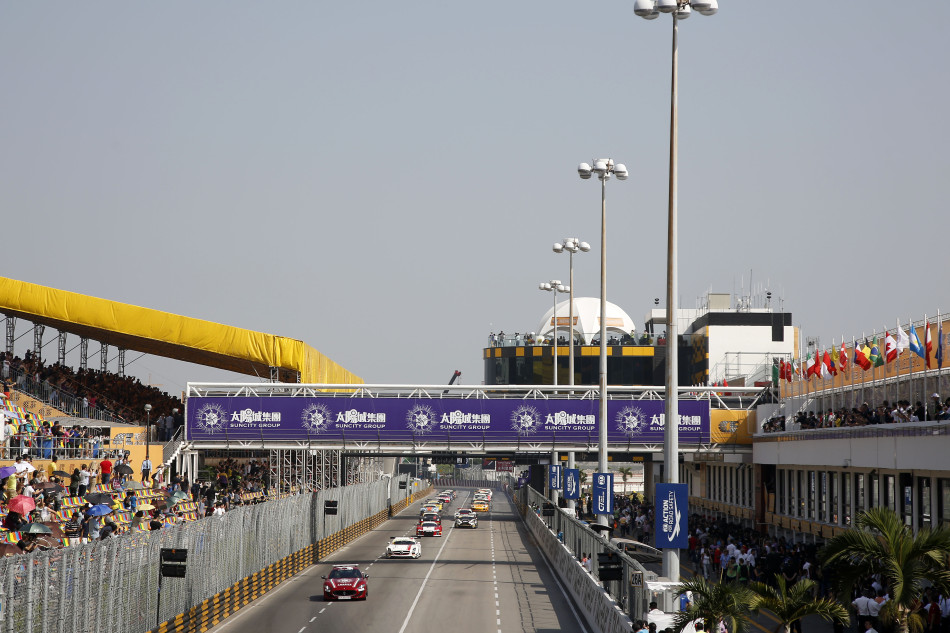 The 63rd Macau Grand Prix is scheduled for 17-20 November. The race is an end of year street-fight showcasing talent on a circuit likened to an eastern Monaco. Recognised for its star-finding power, 15 from 22 drivers in the 2016 F1 Championship have competed on Macao's Circuit Da Guia (Guia Circuit).
The first FIA F3 World Cup and second FIA GT World Cup are the marquee features of the Macau Grand Prix.
Single-seat gun Felix Rosenqvist aims to back up 2014 and 2015 wins with a history-making third Macau Grand Prix victory, which would see him simultaneously taking the inaugural FIA F3 World Cup. Rosenqvist faces a fierce field, with scores of championship wins and a huge depth of experience contained within the 29-car pack.
In the FIA GT World Cup, German GT3 ace Maro Engel will once more race for Mercedes, seeking a personal third consecutive win in GT cars at Macao and a second World Cup victory. Engel faces a world-class field – three-time Macau GT Cup winner Edoardo Mortara, Renger Van Der Zande, Laurens Vanthoor and Earl Bamber are just a few of the stars who will seek to demonstrate their potential in the single driver event.
TRACK: CIRCUITO DA GUIA
The Guia circuit is the defining feature of the Macau Grand Prix, offering a heady mix of challenging corners, altitude changes and high-speed sectors. Unpredictable conditions test the highest skill levels and best car set-ups, as the circuit's patent yellow-black barriers loom high and offer little run-off. Tight, rough and fast, yellow and red flags are never far away as the world's best seek to prove their credentials.
Location: Southern coast of People's Republic of China, 65 kilometres west of Hong Kong
Lap distance: 6.120km (street circuit)
Corners: 22
Sectors: Three
Elevation change: 30 metres
Minimum width: Seven metres (Melco Hairpin)
F3 lap record: 2:10.186 – Sergio Sette Camara – Dallara Volkswagen (2015)
GT Lap record: 2:18.930 – Stefan Mucke – Aston Martin Vantage GT3 (2015)
F3 WORLD CUP FAST FACTS
Drivers: 29 (full list)
Teams: 12
Countries represented: 14
Engine Manufacturers: Six (Mercedes, Volkswagen, Tomei, Toda, NBE, Toyota)
Chassis type: One (Dallara)
FIA titles: Two:
- FIA F3 World Cup for drivers
- FIA World Trophy for engine manufacturers
Engine: 2.0-litre N/A I4
Horsepower: 240
Weight: 565kg
Top speed: 275km/h
Start: Standing
Qualification race: 10 laps
World Cup race: 15 laps – 91.8 kilometres
Famous Macau Grand Prix winners: Ayrton Senna, Michael Schumacher, David Coulthard, Richard Patrese, Ralf Schumacher, Takuma Sato, Lucas Di Grassi

FIA F3 WORLD CUP SCHEDULE (Time zone: CST (China Standard Time) – UTC/GMT +8 hours)
Thursday 17 November
9:35–10:15 – FIA F3 World Cup – Practice
14:20–1500 – FIA F3 World Cup – Qualifying
Friday 18 November
09:35–10:15 – FIA F3 World Cup – Practice
14:55–15:25 – FIA F3 World Cup – Qualifying
Saturday 19 November
12:10–13:10 – FIA F3 World Cup – Qualification race (12 laps)
Sunday 20 November
15:30–16:30 – FIA F3 World Cup (15 laps)
FIA GT WORLD CUP FAST FACTS
Drivers: 23 (full list)
Teams: 16
Nationalities: 16
Manufacturers: Four (Audi, Lamborghini, Mercedes, Porsche)
Brands: Seven (Audi, Lamborghini, Mercedes, Porsche, Bentley, BMW, Ferrari)
FIA titles: Two:
- FIA GT World Cup for drivers
- FIA GT World Cup for manufacturers
Engine: Varies
Weight: 1200–1300kg
Horsepower: 500–600
Top Speed: 280km/h
Start: Rolling
Qualification Race: 12 laps
World Cup Race: 18 laps – 110.16 kilometres
Famous GT Cup competitors: Earl Bamber, Stefan Mucke, Edoardo Mortara, Mike Conway, Nicolas Lapierre
FIA GT WORLD CUP SCHEDULE (Time zone: CST (China Standard Time) – UTC/GMT +8 hours)
Thursday 17 November
12:30–13:00 – FIA GT World Cup – Practice
Friday 18 November
10:40–11:10 – FIA GT World Cup – Practice
14:55–15:25 – FIA GT World Cup – Qualifying
Saturday 19 November
12:10–13:10 – FIA GT World Cup – Qualification Race (12 laps)
Sunday 20 November
12:55–14:15 – FIA GT World Cup (18 laps)