Australian Prime Minister signs FIA Road Safety pledge
In Canberra this Monday the Australian Prime Minister, Ms Julia Gillard met with FIA President, Jean Todt and Australian Automobile Association (AAA) President, Ross Herron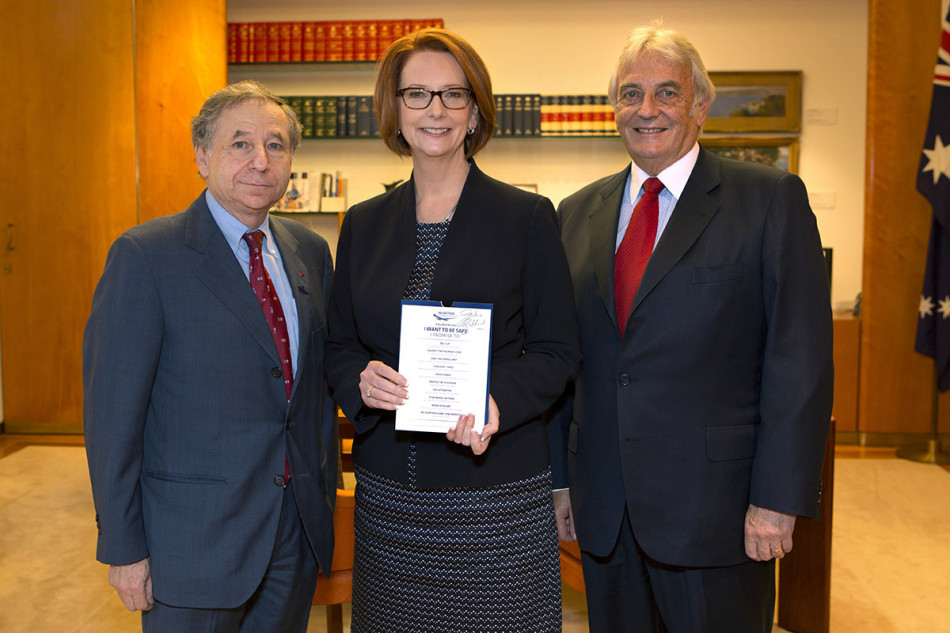 In Canberra the Australian Prime Minister, Ms Julia Gillard met with FIA President, Jean Todt and Australian Automobile Association (AAA) President, Ross Herron. Road safety was a key topic on the agenda and the Australian Prime Minister gave her enthusiastic backing to the FIA's Action for Road Safety campaign, signing a pledge in support of the Federation's 10 Golden Rules for Safer Motoring.
Ms Gillard expressed her concern about the dangers of texting while driving and was particularly heartened to see that the FIA is addressing this growing problem via Golden Rule 7 – PAY ATTENTION: Calling and texting make me dangerous.
The FIA delegation and Australian Prime Minister discussed the country's current efforts to lower the figures related to road deaths and injury. Each year around 1,300 people die and 30,000 people are injured on Australia's roads. These kinds of accidents have a serious impact both socially and financially, with recent figures estimating that annually road accidents cost Australian society $29-billion dollars.
The FIA President stressed the need for a determined and collaborative international effort to tackle the increasing global affliction that is road death and injury. He stated:
"As a developed nation Australia can play a leadership role in assisting emerging countries in the Asia-Pacific region to address key road safety concerns. It can also draw on its experience in this field to share information and ideas to enable neighbouring states to put effective strategies in place to educate the upcoming generations of drivers on the importance of safer motoring techniques."
While in Australia the FIA President attended the Australian Formula One Grand Prix in Melbourne, which saw drivers from all eleven teams participating in the FIA championship pose for a special photo in support of the Federation's Action for Road Safety campaign's Golden Rules for Safer Motoring. He was also a guest of the Confederation of Australian Motor Sport Ltd (CAMS) and its President, Andrew Papadopulos at the organisation's 60th anniversary celebrations.
In Canberra Jean Todt attended meetings with the AAA Board at Australia's Parliament House and, as well as meeting with the Prime Minister Gillard, he met the Federal Opposition Leader, Tony Abbott, various Ministers and Members of Parliament, highlighting the global road safety crisis and the need to bring this issue to the fore at government level globally.