SUCCESSFUL FIA REGION I SPRING MEETING CONCLUDES IN STRASBOURG, FRANCE
This year, 215 Club Delegates from Europe, Africa and the Middle East gathered in Strasbourg, France, for the FIA Region I Spring Meeting at the kind invitation of Mobilité Club France and the Automobile Club de France from 30 May to 1 June. 
The FIA Region I Spring Meeting was the occasion for Clubs from Europe, Africa and the Middle East to review past year's achievements, share experience and plan future developments through rich programme of meetings, a plenary assembly but also a match-making session, experience-sharing workshops and networking events. 
The Power of Branding
FIA Car Clubs? Mobility Clubs? Assistance Clubs? Clubs all face the same challenges when it comes to thinking about their brand or rethinking their brand strategies altogether. A dedicated thematic workshop gave the floor to three Club to present case studies on branding.
Mobilité Club France Director of Marketing & Development Malgorzata Depczynski talked about the Automobile Club Association's rebranding into "Mobilité Club France" – a process that started two years ago and is still ongoing. The rebranding will provide both commercial opportunities for the Club – in terms of attracting new commercial partners, and a better relationship with public institutions.
Automobile Association of South Africa CEO Willem Groenwald presented the Club's branding strategy and venture into a new media and broadcast channel business. AA South Africa is also working on a lifestyle app to attract a younger and wider demographic.
Automóvel Club de Portugal Director General Commercial and Marketing Luis Figueiredo, spoke about renewing the brand and empowering elderly members as the Club ventures into health assistance and elderly assistance services.

Safer Roads
Another thematic workshop looked at the synergies between road safety and Clubs' commercial activities. ANWB International Relations Advisor Aleid Lieshout talked about the ANWB's road safety data visualisation tool, that builds on the Club's connected insurance product to assist local authorities in identifying measures to fix infrastructure black spots.
FIA Head of Road Safety and Global Advocacy Luca Pascotto presented the FIA Road Safety Index which provides companies and organisations with a methodology to measure and improve their safety footprint throughout their entire value chain. Christian Scholly, who was involved in the Index's pilot phase with Mobilité Club France, shared his experience and highlighted how this new tool can help Clubs drive change and position themselves as key advocates in the field of road safety.
Recognising Achievements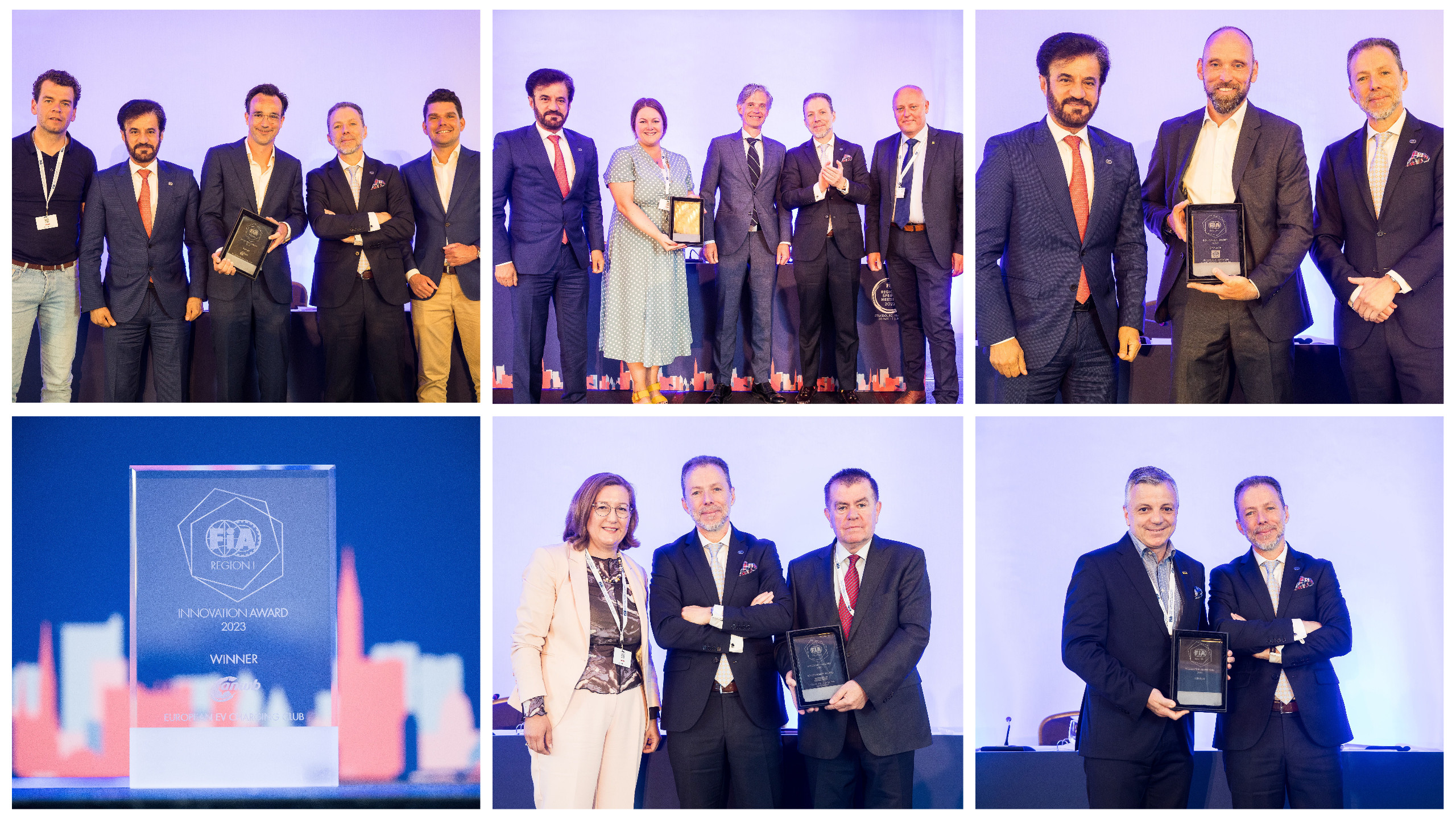 The FIA Region I Spring Meeting was also the occasion to recognise Club projects aiming to develop the best services to help their members navigate towards a safer and more sustainable mobility future. 
The FIA Region Innovation Award is a benchmark to promote and reward Clubs for their creative thinking in new projects and endeavours. 
During the Plenary Assembly, FIA President Mohammed Ben Sulayem and FIA Region I President Jorge F. Delgado officially handed over the FIA Region I Innovation Award that promotes and rewards Clubs for their creative thinking in new projects and endeavours. 
ANWB (The Netherlands) received the award for its European EV Charging Club project. The project establishes ANWB as an "eMobility Service Provider" (eMSP) in 2023 as ANWB actively operates its own public EV charging card/app for affordable and seamless charging solution 'everywhere'. The project seeks Club collaboration to build an unparalleled public charging proposition in Europe.
NAF (Norway) came in second place of the Innovation Award with El Prix – the World's Largest EV Test through which NAF aims to better inform electric car buyers by carrying out record-breaking EV test. including a range test in winter.
Third place went to the ÖAMTC (Austria) for its HV Battery Monitoring Device for EVs. The device is the first of its kind and offers a system that enables full-time monitoring of the battery temperature of a damaged electric vehicle. The monitoring device aims to avoid the fire of the lithium battery during towing or storage of the damaged EV, and the possible spreading of fire to the surroundings.
The FIA Region I Affordability Award was given to BIHAMK for its Interactive EV Charging Stations Map. The map aims to facilitate travel for foreign and domestic electric vehicle users within Bosnia and Herzegovina. All charging stations and locations in the country are featured on the map. 
ÖAMTC was voted the winner of the FIA Region I Excellence in Advertising Award with its "Child Seat Campaign". 
Watch the ÖAMTC Child Seat Campaign campaign below