ROAD SAFETY TAKES CENTRAL STAGE AT THE 2023 FIA AMERICAN CONGRESS IN ANTIGUA GUATEMALA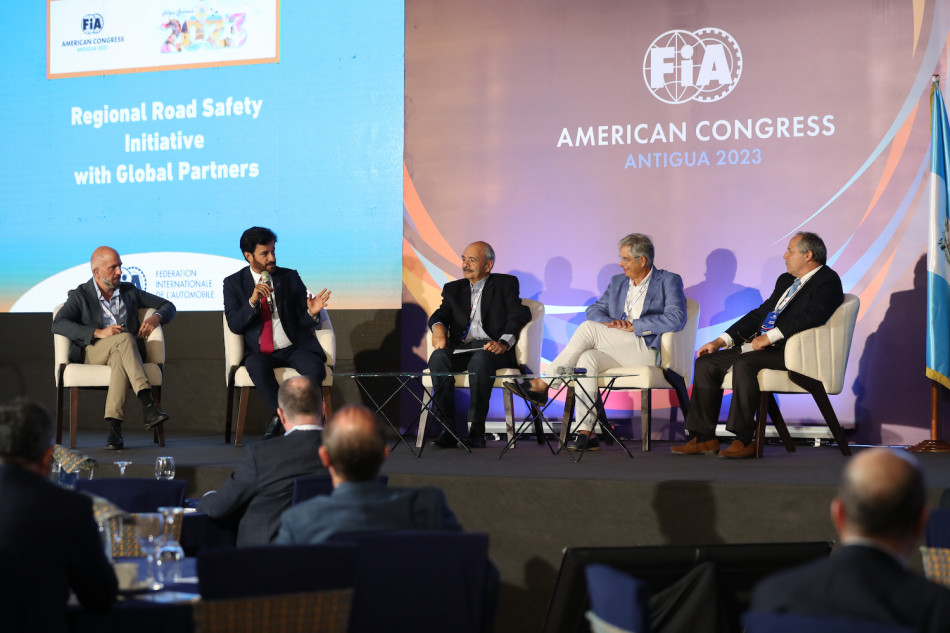 Joining Forces 
The first session of the Congress dedicated to road safety saw FIA Senate President Carmelo Sanz de Barros, FIA Region III President Frank Fotia, FIA Region IV President Ricardo Morales Rubio and Director of the Fundación RACE, of RR.II. y of the Circuito del Jarama Ignacio Fernandez take the floor to discuss how to develop regional road safety partnerships with global partners.
The session aimed to start a conversation between Region III and Region IV Members for them to work together to define a regional approach for long term impact on road safety. The collaborative effort initiated at the Congress stems from a need to develop coordinated actions and join forces to make sure road safety is on top of the agenda in the Americas. By working together, Regions aim to address road safety more efficiently and secure the support of global partners. 
Effective Tools
The second road safety session looked at "Global Framework Applied at Local Levels" and highlighted the tools and methods that Clubs can adopt and implement to improve road safety. 
FIA Head of Road Safety & Global Advocacy Luca Pascotto presented the FIA Road Safety Index, a methodology that allows organisations and companies to measure their safety footprint and take action to improve it. The Index is a groundbreaking advancement for road safety as it gives organisations and the private sector an easy-to-implement solution to reduce their impact on road safety and contributes to expand the number of stakeholders engaged in the effort for safer roads. 
It is available to all organisations and companies worldwide that wish to commit to reducing deaths and injuries on the road. They can use the Index to assess their performance and, if they wish, approach the FIA to get audited and obtain a level of achievement as part of the Index. Last June, TotalEnergies was the first private company to reach 3 stars, the highest level of achievement of the Index. The Index is also an important asset for FIA Clubs that can use it to onboard national companies and organisations in the promotion of road safety and assert their position as leaders in that field.
FIA Foundation Programmes Director Aggie Krasnolucka presented how the FIA Foundation is advocating for a safe and sustainable mobility with its 2021-2025 programme relying on several on five pillars: safe system, safe and sustainable motor sport, child and urban health, and climate and clean air. She highlighted some of the main actions and campaigns of the Foundation to promote adolescent health, child safety in school zones, or "Wheels of Change", an action agenda for mitigating surge in two wheelers' death and injury. The FIA Foundation is also strongly supporting FIA Members in making roads safer by funding the FIA Road Safety Grants Programme giving them access to effective tools such as the FIA School Assessment Toolkit based on iRAP's Star Rating for Schools methodology. 
Learning from Experience
The session was also the occasion for FIA Members from the Americas and beyond to share their experience and best practice. 
FIA Region II President Greig Craft, who is also President of AA Vietnam and the AIP Foundation, talked about the benefit of creating social enterprises to tackle road safety issues. Social enterprises are businesses that put the interests of people and the planet ahead of shareholder gain and that reinvest a majority of profits into creating positive social change. He then shared how the creation of such an enterprise called Protec in Vietnam allowed to effectively address one of the main challenges of road safety in the country: the proper use of good quality helmets. Craft established Protec in 2000, it was the first non-profit helmet making plant at the time. It now hires about 200 people, including workers with disabilities, and is expanding its operations with the aim of producing ECE 22.05 helmets for medium to high income markets.
Still related to the promotion of the use of good quality helmets, Touring y Automóvil Club del Perú (TACP) General Manager Gabriela Goñi explained how campaigning helped the Club carry out the important message to choose certified helmets to many Peruvian. Thanks to a network of partners, interviews in the press, social media campaigns with the support of influencers y promotion on the radio, the campaign "Casco 40" — a name referring to the 40% of risk of death reduction that good use of a helmet brings — reached more than 15 million people. Dedicated actions to raise awareness and educate also allowed to reach a more than 7 thousand people.
The importance of data was also raised during the session with the Canadian Automobile Association (CAA) Public Affairs Senior Director Kristine D'Arbelles giving valuable insights on how the CAA is using data when building its actions to promote road safety. She explained that the CAA's goals when campaigning is to encourage safe driving practices, utilise a positive messaging, and remain a trusted voice. She highlighted how, over the years, the Club has been conducting surveys, assessing public opinion and looking at international trends to adapt its campaigns and better reach its targets. Data and evidence-based advocacy have played a key role in building trust among the general public, strengthen relationship with government, and guarantee the safety message was properly conveyed.