RALLY AROUND THE WORLD #9
Latest news on the regional rally championships.
FIA MIDDLE EAST RALLY CHAMPIONSHIP – JORDAN RALLY, JORDAN (ROUND 2/5)
The Jordan Rally, round two of the 2019 FIA Middle East Rally Championship, got underway in the heart of Amman on Thursday evening with an impressive international field featuring ten nations.
At the wheel of his factory-built Volkswagen Polo GTI R5, Nasser Saleh Al-Attiyah is the clear favourite to take an eighth successive and an unrivalled 13th outright victory in the rally. The Qatari, navigated by Frenchman Mathieu Baumel, won all 11 special stages on his home event last month and heads into two days of rallying action in the Dead Sea and Jordan Valley areas, having never lost a timed test in the Volkswagen.
Three competitors in particular will be trying to hunt down Al-Attiyah and put a stop to his remarkable run of success. Four-time local champion Marouf Abu Samra, who teams up with former World Ju-jitsu Champion Malek Hariri, is relishing the challenge of competing against the three-time Dakar winner in a Ford Fiesta R5.
Abdulaziz Al-Kuwari shadowed Al-Attiyah to the finish of the opening round in Qatar and he and Marshall Clarke will compete in Jordan with a Škoda Fabia R5. The former FIA WRC 2 front-runner was the only driver able to come anywhere near Al-Attiyah's stage times last month and will be keen to overturn a nine-point deficit in the five-round championship.
Qatar's Nasser Khalifa Al-Atya finished as the runner-up in the regional series way back in 1993 and returned to action in Kuwait last year. He tackled his home event with Italian navigator Nicola Arena last month and finished fourth overall in a Ford Fiesta R5, the same car that he hopes will guide him to a podium finish on his return to the stages in Jordan for the first time since 1996.
 
Reigning champion Meshari Al-Thefiri is the man to beat in the FIA MERC 2 category and the Kuwaiti is looking for a strong start on the 21-stage event this weekend. He was the class of the field in Qatar and finished over 18 minutes ahead of his nearest rival in sixth overall. Lebanon's Henry Kahy is the clear favourite to win the FIA MERC 3 category in his Škoda Fabia R2.
All event info on the Jordan Rally website and MERC Facebook group.
---
FIA AFRICAN RALLY CHAMPIONSHIP – RALLY OF SOUTH AFRICA (ROUND 2/7)
Further down South, it will be round 2 of the FIA African Rally Championship, Rally of South Africa in Sabie.
Kenya's Manvir Baryan, the first non-South African to win the event, will be the man to beat this weekend in his Škoda Fabia R5, navigated by his British partner Drew Sturrock.
The winners of the 2019 opening round, Bandama Rally in Ivory Coast, will face strong competition with Zambia's Leroy and Ursulla Gomes, who have just acquired a Ford Fiesta R5 in an attempt to put a stop to Baryan's dominance over the past two FIA ARC seasons. Gomes will be fighting for a podium place this time round with his new beast.
There's also a battle to foresee with South Africa's Hergen Fekken, co-driven by Pierre Arries, and Ismail Shermohammed, navigated by Matt Kohler, who will challenge the R5 drivers with a Toyota Etios R4 - a first in the championship! - and a Toyota Yaris S2000 respectively.
The crews will battle it out over two days and fourteen stages for a total distance of 205.27 competitive kilometres on both tarmac and gravel.
Find more info on the championship's website.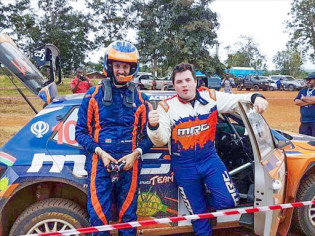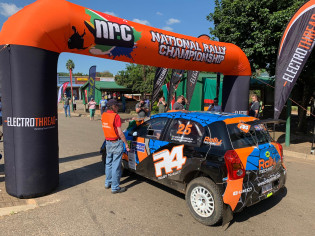 ---
FIA EUROPEAN RALLY TROPHY CELTIC – PIRELLI RALLY (ROUND 2/5)
This weekend will also see rally action in Great-Britain with the 2019 Pirelli International Rally, round 2 of the FIA European Rally Trophy Celtic after the West Cork Rally in March.
The rally will run on a very similar route to 2018 with two legs and eight stages featuring crests and high-speed straights for a total of 85 competitive miles.
British driver Desi Henry, navigated by his Irish partner Liam Moynihan, will set off in a top-spec Škoda Fabia R5 against a field of hungry rivals from Great-Britain and Ireland driving R2-specification machinery.
Previous winners of the Pirelli International Rally include all-time WRC legends like Colin McRae, Richard Burns and Ari Vatanen, while locally-based M-Sport team boss Malcolm Wilson has more wins on the Pirelli International Rally than anyone else.
Tune in to the event website for more info.