Rally around the world #23
Your latest news on Regional Rally championships.
Rally is back! In March, the world of motor sport has come to a still and engines progressively ceased to roar on every continent as a result of global developments linked to the COVID-19 pandemic. After several months of uncertainty, the FIA Formula One World Championship was the first series to restart early July with a double header at the Spielberg circuit in Austria.
The first FIA international-level rally followed shortly after on 23-26 July with Rally di Roma Capitale in Italy as the European Rally Championship's season opener and second round of the R-GT Cup, thanks to the tireless efforts and determination of its organisers and all involved stakeholders. A week later, Rally Rokiškis launched the European Rally Trophy's Baltic series in Lithuania with a strong entry featuring local crews and many from the surrounding countries Russia, Latvia, Finland and Poland – a sign that competitors were eager to be back and fight on the special stages!
Looking ahead this weekend, there will be rally action in Czech Republic with Rally Valmez, Round One of the ERT Central and on the Portuguese island of Madeira, with the second event in the ERT Iberian zone, Rali Vinho da Madeira.
This restart is a great achievement for the motor sport community, but it also comes with responsibility. On every rally, organisers have to define and implement strict sanitary measures and restrictions in response to the COVID-19 issues, based on national government regulations and the FIA Return To Motor Sport Guidelines, a comprehensive document detailing the guiding principles for the analysis and management of health risk at motor sport events. All those attending rallies must wash their hands regularly or use hand sanitiser, wear face coverings as required, respect social distancing, act responsibly and follow other rules on-site to help mitigate the risk and ensure the safe running of the events.
FIA EUROPEAN RALLY CHAMPIONSHIP – RALLY DI ROMA CAPITALE, ITALY (ROUND 1/8)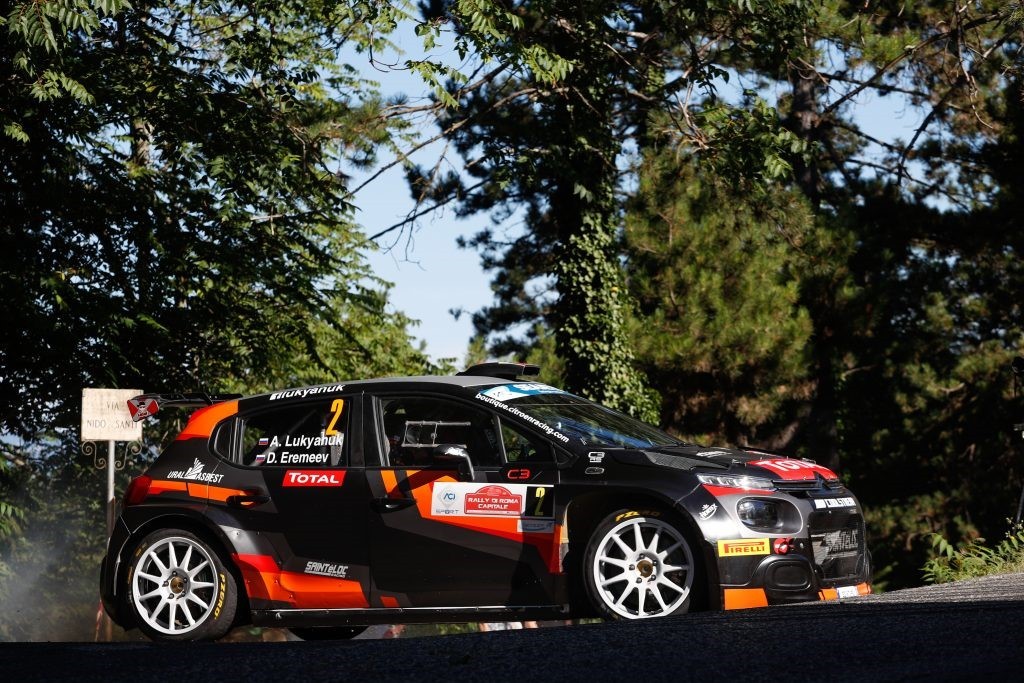 Milestone win for Lukyanuk in the ERC's season opener
International rallying returned with a bang on Rally di Roma Capitale (24-26 July) as Russian Rocket Alexey Lukyanuk charged to victory on round one of the delayed 2020 FIA European Rally Championship.
Partnered by new co-driver Dmitry Eremeev, the Saintéloc Junior Team ace led from start to finish in his Citroën C3 R5 to claim his second win in Rome and his 10th in the ERC by 16.1s.
"It's good points for the championship and of course winning in Rome is something special," said Lukyanuk, who hadn't driven a rally car for 255 days prior to a test on the Tuesday before the rally got underway.  "It was a long rally, very tough and very hot. It took a lot of effort to achieve the result and I'm delighted for the performance and happy for the team."
Giandomenico Basso, the two-time ERC champion who won this event 12 months ago, finished second with Oliver Solberg taking third and winning the ERC1 Junior category on his Roma debut.
Zelindo Melegari claimed a richly-deserved ERC2 victory on his first start since he and co-driver Corrado Bonato were hospitalised following a crash on Barum Czech Rally Zlín 11 months ago. Ken Torn won a frenetic battle for ERC3 and ERC3 Junior glory, as his rally-long rival Pedro Antunes crashed out of first place on the final stage.
For more info:
- Rally di Roma Capitale's photo gallery
- Provisional FIA ERC standings
- Visit www.fiaerc.com/
Rally Liepāja's high-speed, all-gravel stages in Latvia are next up on the ERC calendar on 14-16 August for some of the sport's leading drivers and top young talents.
Photo credit: A. Lukyanuk/D. Eremeev, 2020 Rally di Roma Capitale (photo ERC / Eurosport Events)
FIA EUROPEAN RALLY TROPHY BALTIC – RALLY ROKIŠKIS, LITHUANIA (ROUND 1/2)
Gryazin takes dominant win on competitive rally return
Hyundai Motorsport's WRC2 regular Nikolay Gryazin, navigated by Konstantin Aleksandrov, took a dominant victory at Rally Rokiškis (July 31-August 1) in Lithuania. In his first competitive start since Rally Mexico in March, the Russian won the opening three stages to establish himself in the lead, taking a 10-second buffer into the overnight halt.
He showed similar pace at the start of the Day 2. By winning five of the first six stages, he tripled his advantage and was able to hold this margin through the final loop to take the victory in his i20 Rally2 car.
Expected to attend Rally Liepaja, Round 2 of the ERC in Latvia next week, Gryazin said: "It was more like checking the car, making sure everything was good, working with the new co-driver, more a warm-up race. The stages are more soft and narrow in Lithuania compared to Latvia but it's gravel and it was easy to feel the car, the tyre, to check the set-up. It was interesting to check our pace against Vaidotas Žala and Teemu Asunmaa. In 2018 I was doing Rally Elektrėnai in Lithuania and I had a very tough fight with Žala. After that I went to Rally Poland for ERC and I was more confident to drive without big risks. This is also why I decided to go to this rally in Lithuania to drive against Žala to check our pace and prepare for Liepāja as well."
The Lithuanian-Latvian pair of Žala and Andris Mālnieks finished second in a Škoda Fabia, 4.5 seconds ahead of third placed Teemu Asunmaa  and Topi Luhtinen from Finland, competing in a Škoda Fabia Rally2 evo.
More info:
- Rally Rokiškis's photo gallery
- Provisional FIA Baltic Rally Trophy standings
- Event Facebook and website
Photo credit: N. Gryazin/K. Aleksandrov, 2020 Rally Rokiškis (photo: Samsonas Rally Rokiškis Facebook)
COMING NEXT
FIA EUROPEAN RALLY TROPHY CENTRAL – KOWAX VALAŠSKÁ RALLY VALMEZ (RD 1/3)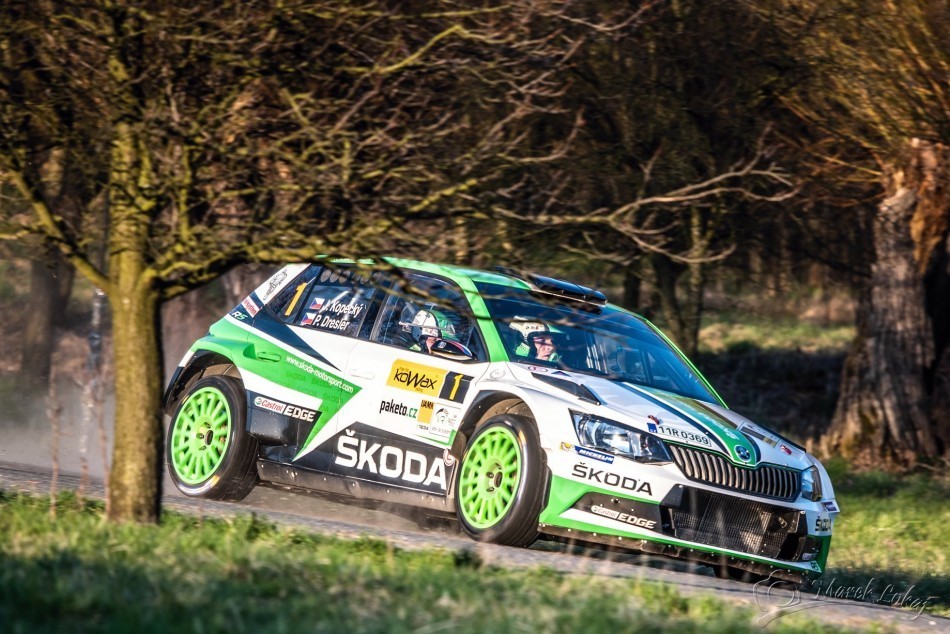 The ERT Central series gets underway this weekend on Kowax Valašská Rally Valmez in Czech Republic with a 10-car entry, topped by national favorites Jan Kopecký/Jan Hloušek in a Škoda Fabia Rally2 evo and Bisaha Ondřej/Těšínský Petr, winners of last year's European Rally Trophy, in a Hyundai i20 R5. One crew from Germany and one from Slovakia will be lining up alongside local competitors.
The ever popular "Valašská" will celebrate its 39th edition and will take the crews to the fast tarmac roads around Valašské Meziříčí and Kopřivnice over 134.18 competitive kilometres.
More info on the event's website.
Photo credit: J. Kopecký/J. Hloušek, 2019 Valašská Rally Valmez (photo: Marek Lokaj Photography)
FIA EUROPEAN RALLY TROPHY IBERIAN – RALI VINHO DA MADEIRA (ROUND 2/4)
On the Iberian Peninsula, it will be Round 2 of the Iberian Rally Trophy, following Rally Serras de Fafe which took place in February, just before lockdown came into force.
Pepe López and codriver Borja Rozada will proudly defend the colours of Spain in a Citroën C3 Rally2 against an otherwise all-Portuguese line-up of almost 40 cars! Competitors will battle it out on the mountainous asphalt stages around Funchal over 160.66 competitive kilometres.
More info on the event's website.
Photo credit: JP Fontes/I. Ponte, 2019 Rali Vinho da Madeira (photo: event organiser)