Rally Around The World #5
Latest news on the regional rally championships.
FIA EUROPEAN RALLY CHAMPIONSHIP – RALLY AZORES, PORTUGAL (ROUND 1/8)
Last weekend saw 2015 Polish rally champion Łukasz Habaj and his co-driver Daniel Dymurski claim a sensational maiden victory in the FIA European Rally Championship's season opener. The pair snatched top spot from reigning champions Alexey Lukyanuk and Alexey Arnautov during a dramatic final afternoon on Rallye Azores. Portugal's Ricardo Moura and António Costa tool second with a ŠKODA Fabia R5, 8.4 seconds behind the event winners, and Great Britain's Chris Ingram & Ross Whittock completed the podium in third, also with a Škoda Fabia R5 (+42.2s).
Read the full story and check out the photo gallery! The provisional FIA ERC standings can be consulted here.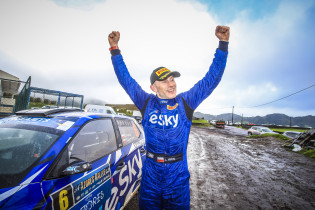 ---
FIA EUROPEAN RALLY TROPHY IBERIAN – RALLY SIERRA MORENA, SPAIN (ROUND 2/8)
In Spain it was Round 2 out of 8 of the FIA European Rally Trophy's Iberian series, Rally Sierra Morena.
Pepe López and Borja Rozada placed their Citroën C3 R5 on the top spot of an all-Spain podium on the rally's 37th edition, ahead of two Hyundai i20 R5 crews, Ruben Ivan Ares and José Antonio Pintor in second, and Pernia Surhayen and Alba Sanches in third.
The Madrid team was determined to set the bar high from the first hour and put in a solid performance on the tarmac roads around Cordoba, Andalusia, managing to overcome the pressure over the two days of the event to finish with a lead of 16.8 seconds.
The next round of the Iberian Rally Trophy will take place in Spain again on May 9-11 but this time on the Canarian island of Tenerife.
The provisional FIA ERT standings can be consulted here.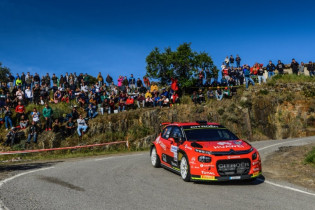 ---
FIA EUROPEAN RALLY TROPHY FINAL – RALLYE INTERNATIONAL DU VALAIS
And there's some exciting news for the FIA ERT's final, Rallye du Valais, on October 16-19 in Switzerland! It's a jubilee year for the event that will celebrate its 60th edition, and it looks set to be a party to remember. This year it will have a more international flavour than ever before, with a host of Switzerland's finest teams competing alongside their counterparts from abroad in a range of 2019 championship finals. And to cap it all, they will be joined by US superstar Ken Block, who will compete in the Rallye and  demonstrate his breathtaking manoeuvres!
The FIA ERT & R-GT on Swiss roads
Not only will Rallye du Valais be the Final of the FIA ERT, with the five best teams from four categories (ERT, ERT2, ERT3 and ERT Junior) from each of the seven regional ERT trophies (Alpine, Balkan, Baltic,  BeNeLux, Celtic, Central and Iberian), but it will also host the final round of the FIA R-GT World Cup, with teams competing in legendary beasts such as Porsche, Fiat, Abarth, and more. 
Gymkhana star Ken Block as a guest star!
And to bring the house down, US motorsport ace Ken Block will make the show! The indomitable Californian will be a huge draw for rally fans but is sure to delight also newcomers to the sport. Block will compete on the roads between Martigny and Sion with his trusty Ford racing car and will showcase his gymkhana skills and spectacular feats that have made him a force to be reckoned with.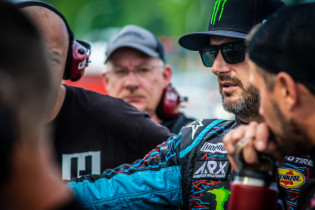 All info about the 2019 Rallye International du Valais on the event page.
---
UPCOMING: FIA EUROPEAN RALLY TROPHY CENTRAL – VALAŠSKÁ RALLY VALMEZ, CZ (ROUND 1/7)
To give you a last bite of the FIA ERT cake, here's what to expect for the weekend: the 38th Valašská Rally ValMez in Czech Republich will kick off the championship's Central European series. The Czech round will be followed by another one in the country (in Cesky Krumlov in May), followed by five other stops this year in Croatia, Austria, Poland, Slovenia and Germany.
Among the rally's favourites, national rally ace and FIA WRC 2 driver Jan Kopecký will drive a Škoda Fabia R5, navigated by Pavel Dresler. He will battle it out over 14 special stages against a strong field of contenders from Czech Republic, Poland and Slovakia.