OLLIE GRAY WINS SILVERSTONE FINALE TO KEEP SLENDER'S CHAMPIONSHIP HOPES ALIVE, AND GEORGI DIMITROV CLAIMS VICTORY IN REVERSE GRID THRILLER
Carlin's Ollie Gray won a thrice-interrupted final ROKiT F4 British Championship certified by FIA race of the weekend at Silverstone today [25 September] to keep his slim title chances alive.
Georgi Dimitrov (JHR Developments) scored a second victory of the 2022 ROKiT F4 British Championship certified by FIA season after winning an action-packed reverse grid race at Silverstone [25 September].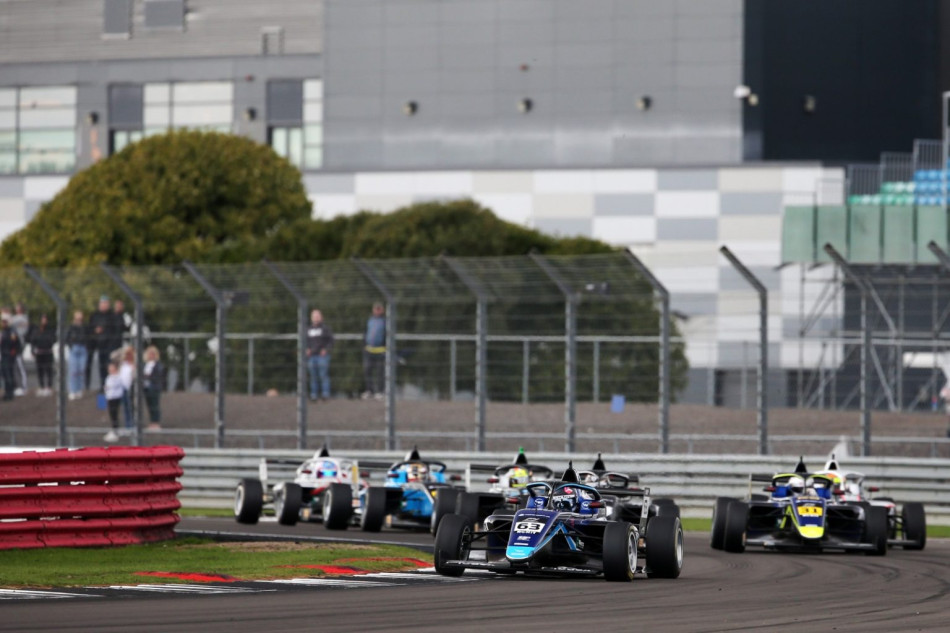 Starting from pole position, the Williams F1 junior made a good start to fend off Joseph Loake (JHR Developments) and championship leader Alex Dunne (Hitech GP) on the run down to Copse, but the race was almost immediately neutralized after Edward Pearson (Virtuosi) crashed into Louis Sharp's stalled Carlin.
Both drivers were unhurt, and the race shortly resumed, only to be halted twice more. The first was to recover the stranded JHR car of race two winner Georgi Dimitrov, and the other after Isaac Barashi and Daniel Mavlyutov span out at Copse.
With results earlier in the weekend still subject to appeal, and a maximum score of 103 points theoretically still available to Gray, should things fall his way, the champagne has been put back on ice for Dunne and Hitech GP, who finished third on the road behind Loake.
Phinsys by Argenti's Aiden Neate ended up fourth for the second race in succession, with Eduardo Coseteng a weekend-best fifth for Hitech GP. Ugo Ugochukwu (Carlin) cemented his Rookie Cup advantage over Daniel Guinchard (Argenti) in sixth and seventh respectively, the gap now 26 points between them with three races remaining.
Oliver Stewart was eighth, and duly rounded out the Rookie rostrum for Hitech GP, the top ten similarly completed by Marcos Flack (Fortec Motorsport) and Argenti's Adam Fitzgerald.
Noah Lisle took 11th in the other surviving JHR-run machine, with Jack Sherwood leading the line for Chris Dittmann Racing behind in 12th. James Higgins (Fortec) ended a promising debut weekend in 13th, half a second clear of Virtuosi's Michael Shin. Jaden Pariat took 15th, the classified finishers completed by Barashi and Mavlyutov.
ROKiT British F4 heads next to Brands Hatch's iconic Grand Prix circuit over the weekend of 7-9 October.
Click here to view the final race result.
Starting second, Dimitrov inherited the lead off the start after an issue for pole man Oliver Stewart (Hitech GP), and from there the British-Bulgarian racer had the legs on nearest challengers Eduardo Coseteng (Hitech) and Daniel Guinchard (Argenti).
When those two collided at Brooklands disputing the runner-up spot, Carlin duo Ugo Ugochukwu and Louis Sharp pounced to seize second and third on the road, and they were handed a lifeline in the race when the safety car was called to clear up both Virtuosi Racing cars, team mates Edward Pearson and Michael Shin crashing out together at Brooklands.
But Dimitrov held firm on the restart and successfully managed the gap back in the final four minutes to lead Ugochukwu home by 0.5 seconds and wrap up his second win of the 2022 season in Britain's FIA Formula 4 series. Phinsys by Argenti's Aiden Neate took fourth, with Joseph Loake (JHR) fifth.
Further back, there was a titanic scrap between Alex Dunne (Hitech) and Ollie Gray (Carlin) for sixth spot. With the result of Round 25 still ongoing after the two collided at Luffield on the opening lap of race one, they came to blows again at Becketts, Dunne moving through on the inside to annex sixth.
Their battle continued until the chequered flag – and after it – the two starting the debate early on the cool-down lap. Both were penalised post-race by the officials, with Gray docked five seconds to 10th, and Dunne five positions to 11th.
Their demotion elevated Eduardo Coseteng (Hitech) to sixth, and meant points for Jaden Pariat (Chris Dittmann Racing) and Isaac Barashi (Phinsys by Argenti) on their debut weekends in the category in seventh and eighth. Daniel Mavlyutov put in a stellar drive to take a season-best finish of ninth.
Marcos Flack (Fortec) was the leading Fortec Motorsport challenger in 13th, with his team mate James Higgins unlucky to have been taken out unwittingly in the all-Virtuosi clash. Higgins recovered from the half-spin in avoidance to take 16th as the final finisher, with Adam Fitzgerald, Guinchard (both Argenti) and Jack Sherwood (Chris Dittmann Racing) separating the pair.
To view the amended race result, click here.
Next round: Brands Hatch, 07-09 October!