NZAA Roadservice launches new towing vehicles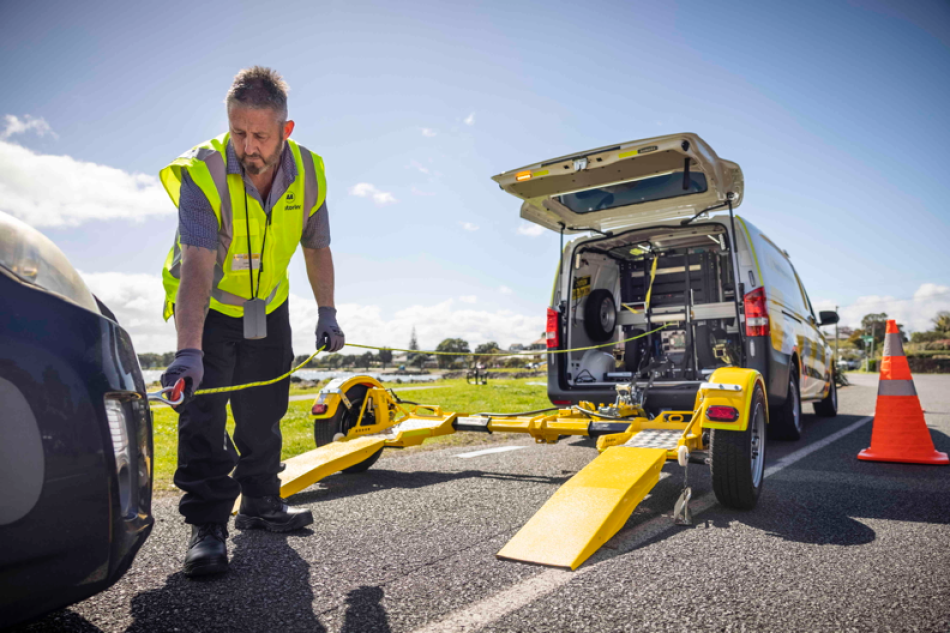 The Rapid Recovery Vehicles (RRV) have a purpose-built trailer that can lift all four wheels of a broken-down vehicle in just 10 to 15 minutes. 
The concept is not new, with motoring clubs in Europe and the UK operating similar retractable trailers for around 10 years. Australian motoring clubs are also conducting similar trials. 
The trailer the NZAA is using is a product from Intertrade Engineering in the UK, fitted into the vehicles by a New Zealand company.
NZAA General Manager Roadside Solutions Bashir Khan says the first RRV being trialled is custom built in the Mercedes-Benz factory to tow vehicles weighing up to 2.5 tonnes (covering most personal vehicles) using a Mercedes Vito van, which suits Auckland's urban environment. A larger Mercedes Sprinter van is also about to be deployed. It will be used in rural areas and for larger SUVs and utes weighing up to 3 tonnes.
The RRVs will be assigned to callouts with a high chance of requiring a tow, although the technicians will try to get the vehicle going at the roadside first. On a typical 10-hour roster, it's anticipated that each RRV may handle 10 jobs of which four could be tows. 
"Our aim is to improve Member experience with less waiting time when a tow is required. For the AA it also means we can reduce our reliance on third-party towing companies in Auckland," says Bashir.
If the pilot of the first two vehicles is successful, the NZAA plans to deploy another six RRVs in Auckland over the next 12 months and expand across the country by working with existing towing partners.  
To see how the RRV towing system works watch the AA's video on YouTube: AA Roadservice's new Rapid Recovery Vehicle - YouTube
NZAA also expanding mobile EV charging vans
The NZAA has also been piloting a mobile electric vehicle (EV) charging service for over a year and now has plans to expand the service. Using an EV charging unit in an AA roadside service vehicle, it can give most EVs 10km of range in just 25 minutes - enough for most EVs to be driven home or to an EV charging station. The service has been particularly useful in situations such as when EV owners have been caught in unexpected traffic or weather, which has drained their batteries more than the owners expected the trip would.