Monaco Grand Prix - 2014 Preview
Preview of the 2014 Monaco Grand Prix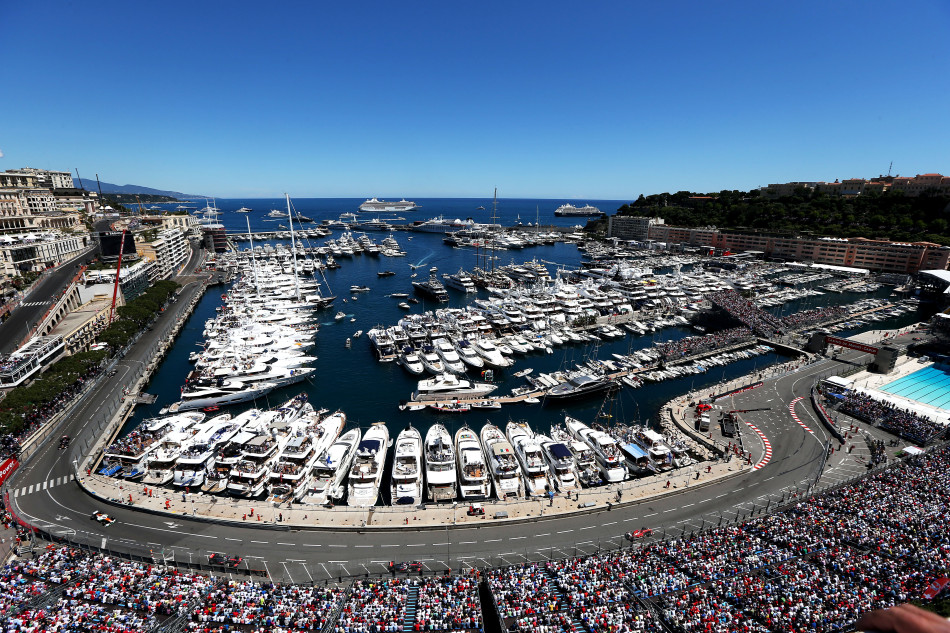 Race
Preview
2014 MONACO GRAND PRIX
22-25 MAY 2014
  
Glamorous, thrilling and unlike any other race on the calendar, the Monaco Grand Prix, round six of the 2014 FIA Formula One World Championship, is truly a race apart, and this year also has the potential to be one of the season's most fascinating.
 
So far this year, Mercedes has proved to be the dominant team, it's F1 W05 Hybrid car outstripping its rivals by a margin in terms of outright pace. In Monaco, however, that advantage will be reduced. With the circuit featuring the lowest average speed of the season (158kph/98mph) the Circuit de Monaco levels the power playing field and could give some competitiveness back to the Silver Arrows' rivals.
 
Their ability to take the fight to Mercedes will rest to some degree on their ability to meet the circuit's need for high downforce. Teams will therefore bring one-off developments to this race in a bid to obtain maximum aerodynamic grip. In terms of mechanical grip, Monaco's bumpy streets make car set-up tricky but a softer suspension helps in ensuring a good contact patch from tyres and thus improved grip.
 
To further aid the teams in their quest for grip on the winding roads, tyre manufacturer Pirelli is bringing the softest compounds in its range. The company's Soft tyre has been raced already in Australia, Bahrain and China but its Supersoft tyre is making its first appearance this weekend.
 
Elsewhere, cooling could be another point of interest. Heat has also been an issue at several races this season and Monaco may offer little respite, with cooling opportunities hard to come by on the tight streets of the Principality.
 
These are just some of the variables at play this weekend. Add in how the new power units respond to the low-speed nature of the track, the closeness of the barriers and the risk of costly driver error and this year's Monaco Grand Prix could turn out to be one of the most unpredictable for some time.

 

CIRCUIT DATA


  
CIRCUIT DE MONACO
   
Length of lap:
3.340km
Lap record
1:14.439
(M Schumacher, Ferrari, 2004)
Start line/finish line offset  
0.000km
Total number of race laps 
78
Total race distance  
260.520km
Pitlane speed limits  
60km/h in practice, qualifying and the race
   
CIRCUIT NOTES
  
► The track has been resurfaced from the exit of the Casino until the start of the tunnel. Additionally, small sections before the Nouvelle Chicane and Tabac (Turn 12) have been resurfaced.
► The entire pit wall and debris fence has been renewed.
► The TecPro barrier at Turn 12 has been more efficiently constrained. 
 
DRS ZONES
 
► There is a single DRS zone in Monaco, with the detection point located 80m after Turn 16 and the activation point located 18m after Turn 19.
 
 
 
 
 
 
 
 
 
Monaco GP
Fast Facts
► This will be the 61st grand prix of the Formula One era. The race, however, dates back to 1929 when the first event was won by William Grover-Williams.
► The driver with the most wins here is Ayrton Senna, with six. His first Monaco win came in 1987 at the wheel of a Lotus 99T. Two years later he began a streak of five straight wins in the Principality, all at the wheel of McLaren machinery.
► The next most successful drivers at the circuit are Graham Hill and Michael Schumacher, both of whom scored five wins. Hill scored a hat-trick of wins between 1963 and 1965 and then landed a double in 1968-'69. Schumacher began with a double in 1994-'95 and then won in 1997, '99 and 2001.
► The record for pole positions in Monaco is also held by Senna. The Brazilian started from the front of the grid five times: in 1985, '88, '89, '90 and '91. The next most successful in qualifying are Juan Manuel Fangio, Jim Clark, Jackie Stewart and Alain Prost, with four poles each.
► On the current grid there are six Monaco winners: Kimi Räikkönen (2005), Fernando Alonso (2006/'07), Lewis Hamilton (2008), Jenson Button (2009), Sebastian Vettel (2011) and Nico Rosberg (2013). Alonso scored his wins with two different teams, Renault in 2006 and McLaren in 2007.
► Three rookies will feature this weekend, McLaren's Kevin Magnussen, Toro Rosso's Daniil Kvyat and Caterham's Marcus Ericsson. Magnussen raced the circuit twice in Formula Renault 3.5. In 2012 he failed to finish and last year he finished fourth. Ericsson raced here in GP2 four times, starting in 2010 and has one podium finish to his credit, scoring second in 2012 in the feature race. Only Kvyat has no experience of the street circuit.
► With few overtaking opportunities, grid position is all-important here. On the evidence of the past 10 grands prix that would appear to be the case, with the race being won from further back than pole just once – Lewis Hamilton claiming victory from third on the grid in 2008. However look back at the 10 races prior to that period and the race was won from pole just twice – Michael Schumacher in 1994 and Mika Hakkinen in 1998.
► Olivier Panis holds the record for victory from the lowest starting position. In 1996, he won the rain-lashed race from 14th on the grid. You have to go back to 1970 to find the next lowest-starting winner, Jochen Rindt, who won from eighth. Prior to that the 1955 race was won by Maurice Trintignant from ninth.
► This year marks the 30th anniversary of McLaren's first win in Monaco. Alain Prost claimed victory ahead of Ayrton Senna and Stefan Bellof (whose was later disqualified) when the race was red-flagged after 31 laps because of heavy rain. Since then the team has won on 14 other occasions, making it the most successful here. Ferrari is second with eight wins.
Monaco GP
Race Stewards
Biographies
PAUL GUTJAHR
PRESIDENT OF THE FIA HILL CLIMB COMMISSION, BOARD MEMBER AND PRESIDENT OF AUTO SPORT SUISSE SARL
Paul Gutjahr started racing in the late 1960s with Alfa Romeo, Lancia, Lotus and Porsche, then March in Formula 3. In the early '70s he became President of the Automobile Club Berne and organised numerous events. He acted as President of the organising committee of the Swiss GP at Dijon between 1980-82. Between 1980-2005 he acted as President of the Commission Sportive Nationale de l'Automobile Club de Suisse and in 2005 he became President and board member of the Auto Sport Suisse motor sports club. Gutjahr is President of the Alliance of European Hill Climb Organisers and has been steward at various high-level international competitions. He was the Formula 3000 Sporting Commissioner and has been a Formula One steward since 1995.
JOSE ABED
FIA VICE PRESIDENT
José Abed, an FIA Vice President since 2006, began competing in motor sport in 1961. In 1985, as a motor sport official, Abed founded the Mexican Organisation of International Motor Sport (OMDAI) which represents Mexico in the FIA. He sat as its Vice-President from 1985 to 1999, becoming President in 2003. In 1986, Abed began promoting truck racing events in Mexico and from 1986 to 1992, he was President of Mexican Grand Prix organising committee. In 1990 and 1991, he was President of the organising committee for the International Championship of Prototype Cars and from 1990 to 1995, Abed was designated Steward for various international Grand Prix events. Since 1990, Abed has been involved in manufacturing prototype chassis, electric cars, rally cars and kart chassis.
DEREK WARWICK
FORMER FORMULA ONE DRIVER AND WORLD SPORTSCAR CHAMPION
Derek Warwick raced in 146 grands prix from 1981 to 1993, appearing for Toleman, Renault, Brabham, Arrows and Lotus. He scored 71 points and achieved four podium finishes, with two fastest laps. He was World Sportscar Champion in 1992, driving for Peugeot. He also won Le Mans in the same year. He raced Jaguar sportscars in 1986 and 1991 and competed in the British Touring Car Championship between 1995 and 1998, as well as a futher appearance at the Le Mans in 1996, driving for the Courage Competition team. Warwick is a frequent FIA driver steward and is President of the British Racing Drivers' Club.
Monaco GP
Championship Standings
(Drivers)
Monaco GP
Championship Standings
(Constructors)
Monaco GP
Formula One Timetable
& FIA Media Schedule
WEDNESDAY
Press Conference
 
THURSDAY
Practice Session 1
Practice Session 2
Press Conference
 
SATURDAY
Practice Session 3
Qualifying
Followed by unilateral and
press conference
 
SUNDAY
Drivers' Parade
Race
Followed by podium interviews and press conference
 
15.00
 
 
10.00-11.30
14.00-15.30
16.00
 
 
11.00-12.00
14.00-15.00
 
 
 
 
12.30
14.00-16.00
 
 
 
ADDITIONAL MEDIA OPPORTUNITIES
 
QUALIFYING
All drivers eliminated in Q1 or Q2 are available for media interviews immediately after the end of each session, as are drivers who participated in Q3, but who are not required for the post-qualifying press conference. The TV interview pen will be inside the paddock in front of the FIA hospitality unit.
    
RACE
Any driver retiring before the end of the race will be made available at his team's garage/hospitality.
In addition, during the race every team will make available at least one senior spokesperson for interview by officially accredited TV crews. A list of those nominated will be made available in the media centre.