Mighty FIA ETRC grid heads to the 'Ring
ETRC - 2017 Race of Nürburgring - Preview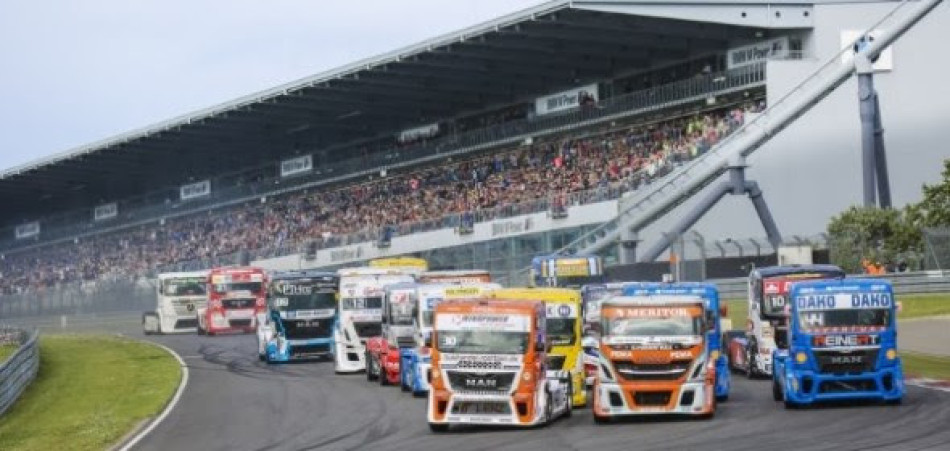 Following a five-week break the FIA European Truck Racing Championship is set to resume this coming weekend in Germany, with the highlight of the truck racing season – the famed ADAC Truck Grand Prix held at the Nürburgring
Title fight wide open
With two of nine events completed, the season is in full swing and the battle for the title is shaping up as one of the closest in recent years. The next chapter of this fascinating spectacle will commence at the legendary venue with the picturesque and challenging backdrop of the Eifel mountains – the mighty Nürburgring.
Reigning champion Jochen Hahn, starting a new chapter in his career this year with Iveco, is as formidable as ever. His new truck's teething problems ensured he had a tough, by his imperious standards, Misano event. That left him currently third in the standings with 72 points, yet there is no doubt that the German and his Hahn Racing team will bounce back to fight for a historic fifth FIA ETRC title.
"Now we're heading to our home race, it's a big event for us. For a driver the Nürburgring is one of the most exciting tracks, as we go from the first corner and directly in to the Mercedes-Benz Arena, where in these curves there are three ways to try an overtaking manoeuvre which is not the case so much at some of the other circuits we go to," – says Hahn.
"This is a real drivers' circuit. The atmosphere for the drivers is fantastic and believe me when I say that the crowds are so loud that we can hear them, even through our helmets, and this enthusiasm is really inspiring. I hope we can solve the problems from Misano and make a good show," concluded Hahn.
Steffi Halm, in her Reinert Racing-run MAN, is experiencing by far the most competitive season of her truck racing career to date and is very much in the title hunt with 80 points to her name in second overall.
"I'm German and it's the only German race of the year so I'm always happy to race here," she said. "There are more people, more friends turning up and giving me extra motivation. Hopefully the weather will be as good as it was at Misano, but as long as it won't rain, I'll be happy. I'm really looking forward to it."
Last year, Hahn and Halm took one win each, but it was Adam Lacko who triumphed twice on that occasion. Following a splendid weekend at Misano, decorated with three victories, Lacko is currently topping the standings, having collected 92 points. The Buggyra International Racing system Freightliner driver will experience an extremely tough challenge from a number of local aces determined to perform well on home soil this weekend, but if anyone can come away with more victories it is the talented Czech ace.
Another local driver amongst those to watch for is Gerd Körber, representing Team Schwabentruck Iveco, whose truck racing career kicked off at the very same venue all the way back in 1987. Körber is easily capable of scoring a victory on his home soil this weekend.
And let's not forget the likes of Norbert Kiss (Tankpool24 Racing Mercedes-Benz), Antonio Albacete (Truck Sport Lutz Bernau MAN) and Sasha Lenz (SL Trucksport MAN), who can all put together a race winning challenge. Kiss and Albacete are among the most strategically brilliant racers blending aggression and racecraft.
Kursim looks at Promoter's Cup lead
When Körber was making his name in truck racing, his compatriot André Kursim wasn't even born! But now the experienced racer and the 25-year-old Tankpool24 Racing Mercedes-Benz driver are rivals. For the latter one though the main focus is the new for this year Promoter's Cup, introduced for those drivers usually slightly lower down the grid.
Kursim currently sits second in the standings and will do his best to depose the current leader, Portugal's José Rodrigues in his Reboconorte Racing MAN, who is enjoying a nine-point advantage over the German youngster.
Bumper grid with new faces
As befits the highlight of the truck racing season, we will see the broadest field so far this year at the weekend.
The 21-truck-strong grid will feature ten drivers making their first appearance of the 2017 season plus three new brands of trucks, with Renault, DAF and Volvo bolstering the grid.
Anthony Janiec, Jeremy Robineau, Jose Manuel Vieira da Sousa, Steffen Faas, double-champion David Vrsecky, Heinz-Werner Lenz, Cees Zandbergen, Henry Tijhuis, Manuel Rodrigues Goncalves, José Fernandes Teodosio will all have their first taste of the 2017 FIA ETRC action this coming weekend.
While Janiec, Robineau, Vrsecky and Lenz Snr are well-known to the FIA ETRC, the six fresher faces will be introduced to the championship.
José Teodosio and José Sousa have been competing in the French Truck Racing Championship this year and are now keen for a visit to the FIA ETRC.
43 year-old Teodosio was ranked third in the overall French standings. Teodosio's team mate José Sousa – also racing a Renault truck – is also a frontrunner. Both have previously raced in the FIA ETRC.
Steffan Faas makes his FIA ETRC debut this weekend joining Team Schwaben-Truck in the IVECO which took Markus Altenstrasser to points scoring places at Red Bull Ring in May. Faas, who is also the reigning KTM X-Bow battle champion, is a well-known competitor at the 'Ring having also campaigned Seat and VW Touring Cars at the venue previously.
Cees Zandbergen and Henry Tijhuis make a welcome entry this weekend to make it three Dutch drivers on the grid, as they join regular campaigner Erwin Kleinnagelvoort in the field. Zandbergen has 12 previous ETRC starts to his name, while Tijhuis makes his first ever ETRC start.
Manuel Rodrigues Goncalves is another entrant who has come across from the French series this weekend and he will be racing the only Volvo in the bumper field.
The extra entries this weekend ensure that 12 drivers will be fighting for Promoter's Cup honours!
Plenty of off-track action
If the on-track action wasn't enough, the organisers as usual have arranged a full spectrum of off-track activities that will add up for a weekend to remember. There will be something for everyone, from kids zone to country music, to trucker camp and Germany's biggest truck and commercial vehicle fleet trade show where over 60 industry leaders show off their new products.
There will be thrills off the track as well as on it with a festival atmosphere that is completely unique to racing across the world.
There will be tens of thousands of fans immersing themselves in truck racing and trucking culture once again this weekend as the biggest live Truck show of the year gets ready to entertain.