This page contains archived information and may not display perfectly
Merli Victorious in Sun-Kissed-Trento Bondone Hill Climb
Local heroes triumph across the board in FIA European Hill Climb Championship and FIA Historic Hill Climb Championbship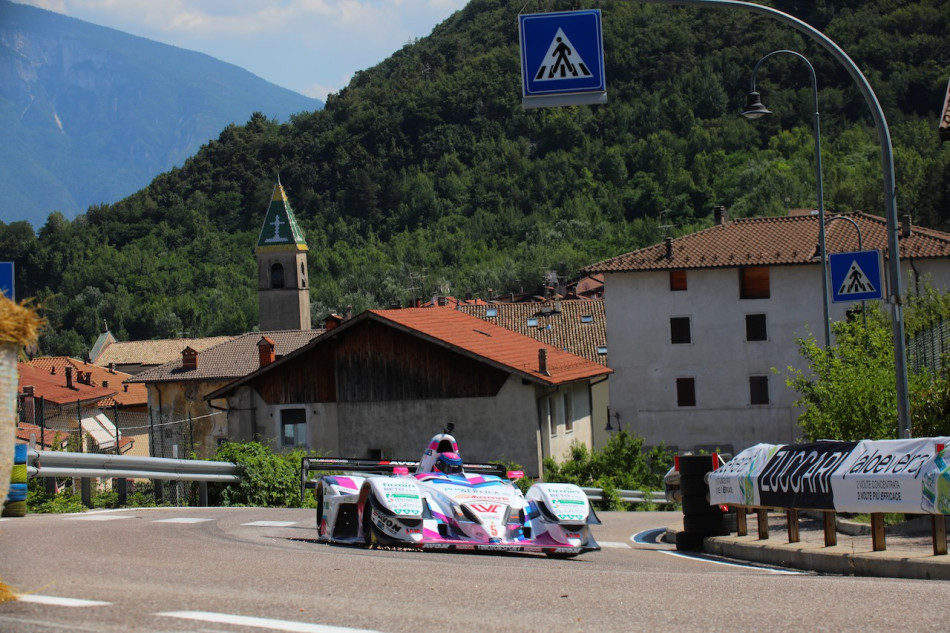 The 71st Trento-Bondone Hill Climb ended with Christian Merli maintaining his 100 per cent record of victories in this year's FIA European Hill Climb Championship. The Osella-mounted Italian started as the favourite on his home event, and delivered a sizzling 9m 24.627s run on the 17.3km ascent.
Fellow countryman Diego Degasperi finished second, campaigning a similar 3-litre Osella FA 30 to Merli, finishing 11.5 seconds behind his countryman, with another Osella FA 30 driven by Alexander Hin finishing third. While Merli maintains a perfect score after five rounds, Degasperi bursts into the top six in the standings of class D/E2-SS courtesy of his strong showing, with Hin also consolidating his second place in the category.
Merli also maintains his advantage in the overall Category 2 for bespoke performance cars. Czech driver Petr Trnka has been closest to the Italian's consistency this year but fell back after only finishing third in the CN/E2-SS class at the Trento-Bondone behind chief rival Sébastien Petit and Italian Achille Lombardi.
For Merli it was a satisfying day's action but while he continued his dominant form in the FIA European Hill Climb Championship, he remained second overall in the event standings, beaten by the similar Osella driven by Simone Faggioli, who added a record-breaking 11th career win at Trento-Bondone while competing in the supporting Italian national championship.
"I'm very happy for the maximum points in the FIA European Hill Climb Championship. Today another win in the European Championship is important but it's not easy to be the winner here overall," he said.
"I have a little problem in the acceleration out of slow corners and in Trento-Bordone there are many, many slow corners. I enjoy the event, I am happy to win at home but prefer the faster tracks for my car, the slow corners are not the best for me."
Category 1 for production-based cars saw a sensation in the senior and most modified Group 1. Coming to the Trento-Bondone, Austrian Karl Schagerl had only once been bested so far in 2022 at the wheel of his wild VW Golf Rallye, finishing second in Spain to the DTM Audi RS5 of local man Jose Antonio Lopez-Fombona.
This time it was another local hero who bested Schagerl, Manuel Dondi, whose Fiat X1/9 was so rapid that it was up amongst the sports-prototype machines. While Dondi received a hero's welcome, Schagerl recovered from engine problems in Saturday's practice to finish second, thereby building his championship lead in Group 1.
Within the overall Category 1 positions, the top positions remain unchanged after top-of-the-class Macedonian Vasilije Jaksic could also only manage to finish second to local man Rudi Bicciato in Group 4. This means that the Mitsubishi Lancer Evo-mounted Jaksic remains seven points clear of Schagerl and stretches his Group 4 lead still further.
Local men topped out in all three of the other categories within Category 1, with Giuseppe Aragona's Volkswagen Golf winning Group 2, Antonino Migliuolo won Group 3 in his Mitsubishi Lancer and Group 5 was claimed by the Renault Clio of Lukas Bicciato.
Competing alongside the FIA EHC was the FIA Historic Hill Climb Championship, which saw overall victory fall to Piero Lottini's Osella PA 9/90 by a margin of just 6.8 seconds from the flying BMW M3 of Maurizio Visintainer.
Both cars were also battling for honours in Category 4, with the Trio of Porsche 911s which finished behind them taking the honours in Category 3 (Salvatore Riolo) and first and second in Category 2 (Ildebrando Motti and Giampaolo Basso).
The Italian contenders were denied class honours in Category 1, where Austrian Harald Mossler's Daren Mk3 edged Giovanni Buganza's Chevron B16, while in Category 5 it was Frenchman Jean Marc Debaune who took the spoils in his Van Diemen RF82. Despite these losses, however, Italy remains firmly in command of the Nations Cup.
There are plenty of opportunities to watch the action as it unfolded with international viewers able to access highlights via the ACI Sport TV channel on Youtube. Italian broadcasters will be screening the event on the following schedule:
ACI Sport                        Highlights to be shown at 21:00 on July 7
MS MotorTV                 Highlights to be shown at 18:00 on July 8
Rai Sport                         Highlights to be shown at 23:30 on July 7
Replica                            Highlights to be screened at 16:00 on July 3
San Marino RTV           Highlights to be shown during ACI Sport at 16:35 on July 7
Welcome In                   Highlights to be shown at 21:15 on July 7
The next round of the FIA Historic Hill Climb Championship will be in Italy once again on July 8-10 at the Cesana Sestriere in Turin. The FIA European Hill Climb Championship will resume at Limanowa in Poland on July 29-31. For full results from Trento-Bondone please visit here (link: https://fiahillclimb.chronomoto.hu/ehc2022/onb/index.php?event=ehc_2022_05 )
Full standings in all the classes of the 2022 FIA Hill Climb Championship can be found here (link: https://www.fia.com/events/european-hill-climb-championship/season-2022/2022-standings)
Full standings in all the classes of the 2022 Historic Hill Climb Championship can be found here (link: https://www.fia.com/events/historic-hill-climb-championship/season-s2022/2022-standings