This page contains archived information and may not display perfectly
Storms Hamper FIA European Hill Climb During Buzetski Dani Practice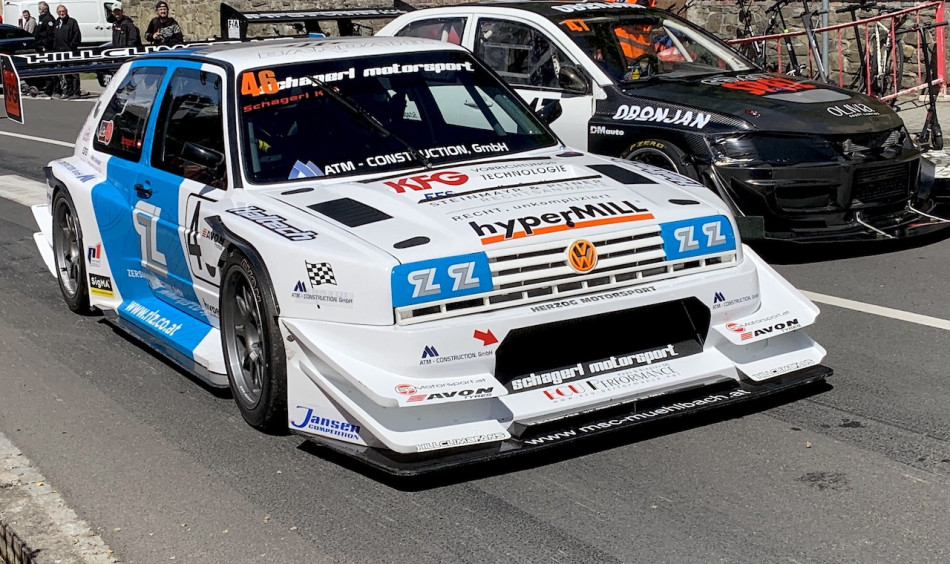 Final round of the 2022 FIA European Hill Climb Championship takes place in Croatia this weekend
Extreme weather prevented many cars from practicing, with several teams suffering damage to their service areas
Category 1 title battle set to go down to the wire
Category 2 champion Christian Merli aims for eighth win from eight events
Extreme weather conditions with high winds and driving rain meant that the official practice sessions for this weekend's Buzetski dani, the eighth and final round of this year's FIA European Hill Climb Championship, were somewhat under-subscribed.
A drop in temperatures overnight of 22 degrees ushered in severe storms to the northern Croatian hillsides. Such were the conditions that those entries which did tackle the 5km Croatian ascent were almost exclusively from Category 1 for closed cars, and most had the benefit of four-wheel-drive.
With the Category 2 title battle for open sports-prototype cars having been resolved at the previous round, there remains plenty to play for in Category 1. This factor meant that it was the closed car drivers who elected to go out and gain experience just in case the conditions do not change dramatically before their official runs on Sunday.
Fastest man on the hill was Karl Schagerl in his wild Volkswagen Golf Rallye, contesting the most potent Group 1 division and battling for the overall category title. The Austrian managed a time of 2 minutes 44.914 seconds on his second timed run, eclipsing the best of the sports-prototypes by more than three seconds.
Both Schagerl and the Group 3 points leader, Italian Antonino Migliuolo in his Mitsubishi Lancer Evo IX, are tied on points in the overall Category 1 standings behind Group 4 leader Vasilije Jaksic. The Macedonian had a rare off weekend at the penultimate round, the Slovenian Iliriska Bistrica, two weeks ago after a downpour during his timed run, which has put Schagerl and Migliuolo within striking distance.
For the majority of runners discretion was the better part of valour, with clear skies and a dry road surface promised for tomorrow's competitive action. A number of teams also had to battle to rescue their cars and equipment after storms flattened some of the temporary servicing areas that the teams had built for the weekend.
Following a meeting of the stewards it was decided that no additional allocation of time will be set aside for practice before the final timed runs on the basis that all drivers who elected not to practice have competed at the event previously.
This includes Category 2 champion Christian Merli, as he seeks to complete a 100% record of overall victories in the 2022 FIA European Hill Climb Championship, and all 30 of the contenders present in the supporting FIA Historic Hill Climb Championship.
For full information on the 2022 FIA European Hill Climb Championship please visit HERE (https://www.fia.com/events/european-hill-climb-championship/season-2022/2022-standings)
For full information on the 2022 FIA Historic Hill Climb Championship please visit HERE (https://www.fia.com/events/historic-hill-climb-championship/season-2022/2022-standings)