This page contains archived information and may not display perfectly
Mücke clinches pole for Aston Martin
The German set the fastest time in his Aston Martin Vantage GT3 followed by Mortara (Audi) and Engel (Mercedes-Benz) after a hectic qualifying session.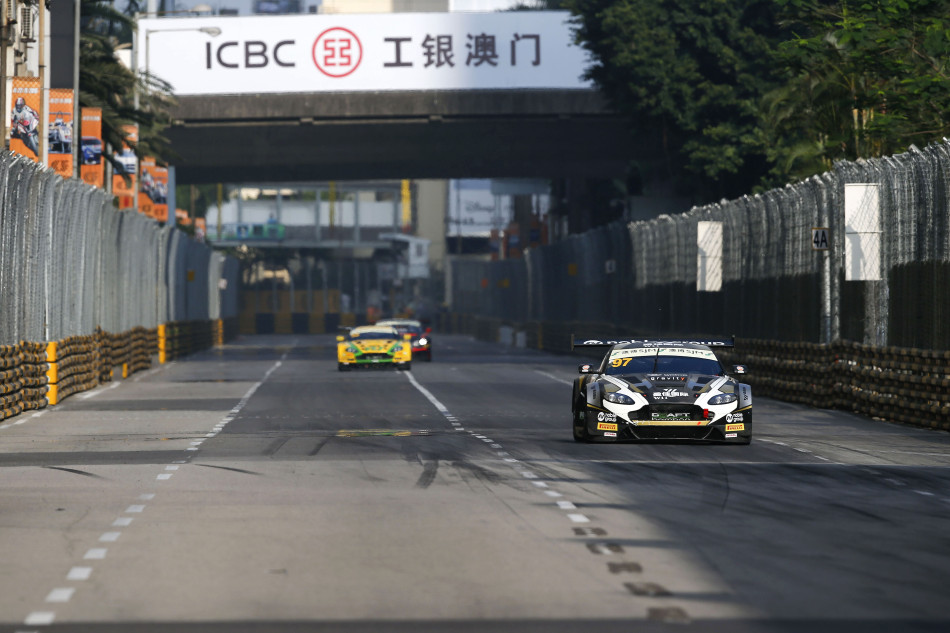 Turning potential into a result is often a big step, especially on such a demanding circuit as Macau where the slightest mistake can lead to disaster. The Mercedes-Benz team found this out for themselves this afternoon as their cars came to grief during qualifying for the FIA GT World Cup. On Thursday, the German machines dominated the first free practice and they continued in the same vein this morning in the second free session even if Stefan Mücke in his Aston Martin topped the time sheets. The two Mercedes-Benz SLS AMGs driven by Maro Engel and Renger van der Zande were the hot favourites in qualifying today. Finally, both ended up in the Guia guardrails!
Right from the word go van der Zande set the first benchmark time in 2m20.268sec. Engel hit back with a second lap in 2m18.168sec beating his team-mate. On the pit wall the team managers of their rivals had long faces. But the winner of the 2014 Macau GT Cup did not go much further. He lost control of his car in the tricky Mandarine corner. Once it had been removed the session restarted until the second Mercedes was eliminated in turn. The accident took place in the upper section of the circuit and van der Zande lost it in the Paiol corner. Second interruption.
When the pack was unleashed again, the Audi Sport Team Phoenix squad's car driven by Edoardo Mortara looked on course to set pole, but his lap was ruined by a third interruption caused by local driver André Couto whose McLaren bounced off the guardrail in the Mandarine corner destroying itself.
By the time the track was cleared there were only six minutes left and Engel was still quickest, but tyres like the drivers' temperaments were heating up so there was a fantastic battle for pole in perspective. Mortara thought he had clinched it with a lap in 2m18.144sec, but he was piped by Mücke in the Craft Bamboo Vantage GT3 who was on the razor's edge as he dialled in a superb lap in 2m18.032sec in what had been a thrilling qualifying session.
Tomorrow, the German will share the front row of the 12-lap qualifying event that will determine the grid positions for the 18-lap title race on Sunday with Edoardo Mortara. Engel on the second row will be determined to make up for his mistake in qualifying and alongside him will be one of the Macau first timers in the FIA GT World Cup, René Rast, who made a stunning debut on the Guia circuit in the Sport Team WRT R8 LMS. The third row consists of van der Zande, out for revenge like his team-mate, and Darryl O'Young in another Craft Bamboo Aston Martin Vantage GT3.
Stefan Mücke (Craft Bamboo – Aston Martin Vantage GT3 #97): I am very happy. Craft Bamboo gave me an amazing car today. It's my second time here, but the first time my race ended after one lap. I'm finding the track rhythm and it's just a great feeling. During the first practice session I was learning. In the second I found the rhythm and we thought it was possible to be in the top 4. Then the qualifications started, and when we saw that Mercedes was very strong in the first couple of laps we knew it would be tough, especially as our tyres were not working well at the beginning. So we made some adjustments to the pressures and suddenly we could switch them on. But we got 2 red flags, and then came the right moment: one last clear lap, everything perfect, so I'm really happy.
Edoardo Mortara (Audi Sport Team Phoenix – Audi R8 LMS #6): Congratulations to Stefan Mücke and Maro Engel because today they were very competitive. Maro crashed on his third run but he was very fast. To be honest, to do 2m18.1sec on his second flying lap is very impressive. Unfortunately for him he went off as I think today he could have been on pole position. For me, it was a very tough session. I think we could have gone a little bit faster. But with two red flags we could not really exploit our new tyres and in the end I did my lap time on a used set. When I crossed the line on my very last lap and saw I'd improved Maro's time, I was full of joy and thought it was done and dusted for P1. Then Stefan improved just one lap later. So we are a bit disappointed. Anyway, we did our best. Let's see tomorrow; there's a long race weekend ahead.
Maro Engel (Mercedes AMG Driving Academy – Mercedes-Benz SLS AMG GT3 #1): First of all, I have to apologize to the team because the car was amazing, the speed was amazing; we had the pace over the others and I should have clinched pole position. But I lost the car. It's quite disappointing. Obviously, I'm very angry with myself at the moment. The guys will have a long night ahead of them to repair the car. I will come back fighting again tomorrow. It would have made the weekend much easier to start on pole position instead of P3. We'll see in the race. We need to push, make up positions and get to the front. On the other hand, it's a qualifying race so you have to make sure you finish it. It's a bit of a compromise but it's the same for all of us. Everybody will have to deal with it. For me, the aim is to try to move the car to the front.
René Rast (Audi Sport Team WRT – Audi R8 LMS #7): I'm very happy. I think we had a good learning curve. Even though yesterday both the team and I had our very first laps of the Macau circuit, we improved ourselves quite a lot from session to session. The Audi was good today and I think we have a good package for tomorrow and Sunday. As a rookie here I still have to learn a lot, but every session I feel more comfortable so I'm really looking forward to the race. We know overtaking is quite difficult here, and for this qualifying race I guess no one want to take huge risks because there is a title to fight for on Sunday.
Richard Coleman (Group CEO of Craft Bamboo Racing): We are absolutely delighted. We were not really sure where we were through the practice sessions. Also the German marques were really strong here. We knew we had top five potential but it's really hard to know who is pushing when, so delighted to get that lap in the end because in a session with red flags it's really hard to get into the rhythm. So we are massively delighted to give ourselves the best chance for this weekend. For sure, we are looking with Stefan for a good start and a "boring" lights to flag victory! but obviously here anyone can trip up. We are also hoping Darryl and Richard will be able to pick up a couple of places in the qualifying race in order to give the team a good chance on Sunday.