Lebanon hosts successful MENA FIA Sport Regional Congress
50 participants representing 15 ASNs attend third MENA Sport Regional Congress held this year in Beirut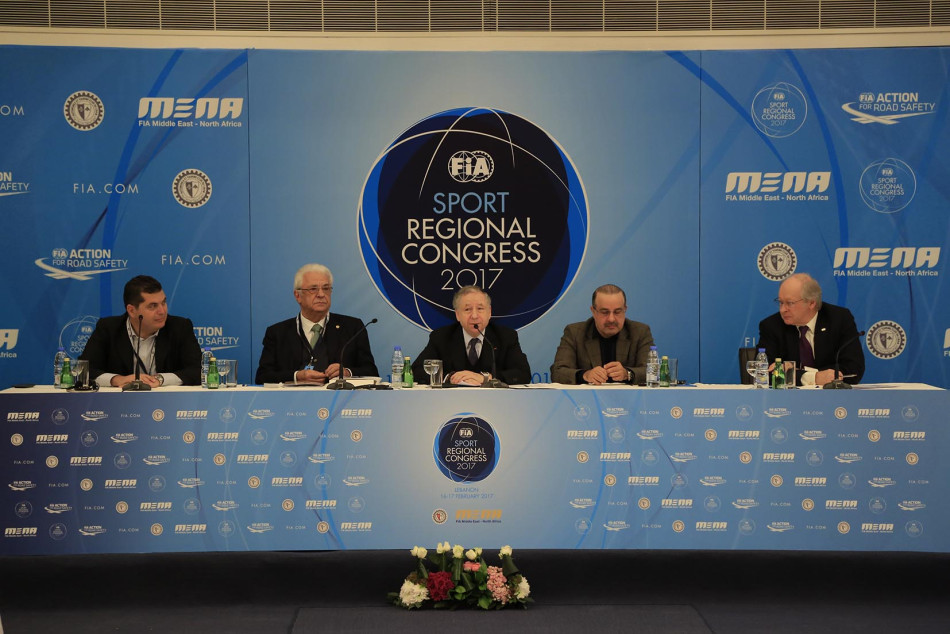 FIA President Jean Todt opened the third MENA FIA Sport Regional Congress, held last week (16-17 February) in Beirut, Lebanon, and hosted by the Automobile and Touring Club of Lebanon.
"I am very pleased to see this third edition of the FIA Regional Congress for the Middle East and North Africa in Lebanon," said Todt. "This country shares many qualities with the FIA: it has a wealth of diversity, which constantly drives it to innovate.
"I would particularly like to thank Cheikh Fouad El Khazen, President of ATCL, for his welcome. Thanks must also go to Imad Lahoud, who oversaw the coordination of this event with Nasser Al-Attiyah, regional Sport Vice-President, and to the FIA teams under the guidance of FIA Deputy President for Sport, Graham Stoker."
Discussions at the Congress considered issues relating to the continued proliferation of grass roots motor sport in Middle Eastern and North African countries, and also looked at the successes of headline FIA events which visit the region each year.
"In the Middle East and North Africa, motor sport continues to develop," added Todt. "In addition to the traditional, long established events on the FIA calendar – including the Formula One World Championship and World Endurance Championship – we saw in Marrakesh last year the region's first FIA Formula E race held. This round, which was part of the COP 22 climate change conference programme, was a success."
The unique environments of the MENA region provide some of the most challenging events in the motor racing world. Rally in particular is a strong part of the region's motor sport culture, and the Congress was an ideal opportunity for the ASNs to come together to identify and suggest solutions to the issues facing the discipline in the MENA countries.   
It was announced at the congress that the FIA will be sending experts to some of these rallies to test the Accident Data Recorder (ADR) system in order to better understand the specific features of accidents we see in desert events.    
The objective is to enable, over time, the development of new safety equipment, tailored to the particular characteristics of these renowned rallies. 
Delegates were also encouraged to build on the recent success stories which were made possible by the Sport Grant Programme. For instance, the Young Driver Training Programme implemented last year in Lebanon allowed 30 young drivers to hone their skills. As a result, four budding talents took part in a Formula 4 test, with one going on to compete in the British F4 Championship.
Other projects in Cyprus, Jordan and Oman have also benefited from these grants. 
"The FIA stands alongside Clubs in the MENA region to help in developing our sport," concluded Todt. "This Congress that brings us together in Beirut contributes to this dynamic and I have no doubt that the workshops offered will build on these efforts."