Jean Todt opens the 26th FIA Mobility Conference in Montevideo, Uruguay
FIA President welcomed over 160 delegates from 77 different countries to the 2018 FIA Mobility Conference, a three-day programme of keynote speeches, panel discussions and workshops on the theme of "Mobility in Transformation".
Read his full speech below.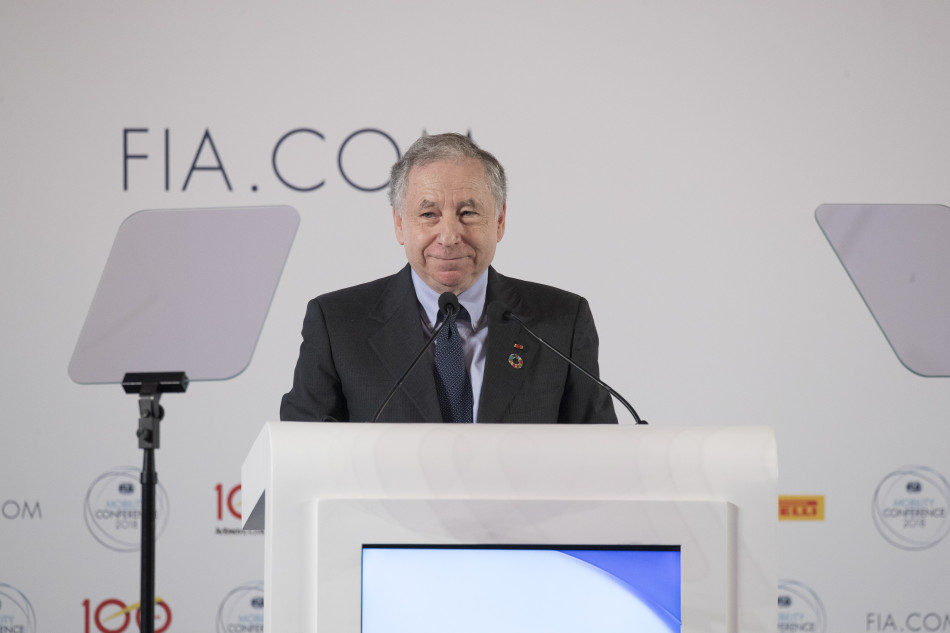 Carolina COSSE, Minister of Industry, electricity and mining for Uruguay,
Jorge TOMASI CRISCI, President of Automóvil Club del Uruguay, FIA Region IV President,
Thierry WILLEMARCK, FIA Deputy President for Automobile Mobility and Tourism, 
Graham STOKER, FIA Deputy President for Sport
Dear FIA delegates,
Dear friends,
I am very pleased to be with you today in Montevideo for our 26th FIA Annual Conference for Mobility.
It is a significant week in our calendar: this year more than 160 delegates from 77 Clubs have travelled from all around the world to be here with us. We are welcoming globally renowned experts & stakeholders as well as speakers representing Clubs from across all FIA mobility regions.
I am also pleased that this year's Mobility Conference is being held in Uruguay and hosted by the Automóvil Club del Uruguay, a long-standing member of the FIA family that is celebrating its 100th anniversary this year.
As the earlier video showed, the ACU has clear relevance to its members in Uruguay and plays a fundamental role in the whole mobility ecosystem of this nation.
Uruguay is a great country for sport - the first to organise and win the football World Cup in 1930 - and a great country for the Automobile - thanks largely to its well-known Club.
Our history is common: on June 12, 1918, at the Hotel Alhambra, the Constitutive General Assembly of the Automóvil Club del Uruguay met for the first time. Only three years after, on June 15, 1920, ACU was recognised by the International Association of Automobile Clubs, now called FIA.
The ACU offers a very wide range of benefits to its more than 70 thousand members, such as mechanical repairs, a driving school, travel agency, legal advice, and insurance. 
Last but not least, ACU also has the largest Automobile Museum in Uruguay, located in the Central Station of Colonia and Yi, and develops various campaigns and activities related to road safety, both directly and in support of various social programmes. 
Today, one century after its foundation, with my friend the current President, Jorge TOMASI CRISCI, the ACU is a reference point in the area of Mobility Support both in Uruguay and across all of South America.
I would like to express my thanks, and the thanks of everyone here, to Jorge and his team for their outstanding efforts in the preparation of this year's FIA Mobility Conference. I am sure you'll find your stay in Montevideo productive, memorable and enjoyable. Thank you, Jorge.
Dear Friends, 
This year's theme, "Mobility in Transformation", addresses the on-going challenges and opportunities for people with the need and desire to "move".
The FIA is well prepared and equipped to respond to these issues together with, and on behalf of, its Member Clubs. 
I have a vision: the future of mobility can be summed up in three words: safer, cleaner, smarter.
And I have a conviction: In these conditions mobility is changing, and that is a good thing. Our focus is also changing – we represent not just the automobile, but everything that will make our roads safer for all users.
So this Mobility Conference provides a great opportunity to follow our work on important issues, including data access, environmental performance, congestion in cities, road safety and opportunities for strengthened collaboration between Member Clubs.
It's important to see this in the context of the strategy that we are pursuing in road safety and sustainable mobility. 
As you know, the first ever United Nations Road Safety Trust Fund was launched on the 12th of April at the UN General Assembly in New York. Three members of the FIA High Level Panel for Road Safety have already committed to be "founding" donors. The FIA was instrumental in the establishment of the Trust Fund and these pledges by HLP members only reinforce the crucial role of the FIA in improving global road safety. 
Of course, this is also a development of great importance for me, in my capacity as the UN Secretary-General's Special Envoy for Road Safety. It is very heartening that there is a close alignment with the objectives that I am pursuing in this role and I warmly acknowledge the synergy that exists with all FIA Clubs in that regard.  
Further to this, several other activities are being carried out under the HLP and I would like to take a moment to share them with you. 
The FIA and the IDB have been collaborating on a project named "Movernos Seguros" to help reduce the loss of lives on Latin American roads. The project explored how car insurance could improve road safety. I encourage you all to read its findings, which were presented yesterday, and take action in your own region where appropriate.
Since 2017, the #3500LIVES campaign has been at the centre of our global advocacy efforts.It has already beendisplayed in multiple languages in 900 cities across 80 countries. I hope all of you have seen the banners downstairs and around the city of Montevideo.
Building on its success, two new ambassadors joined the #3500LIVES campaign this year: Michael Fassbender and Patrick Dempsey. Their generous support is greatly appreciated, and so is the engagement of FIA Member Clubs, which have organised public events across the world. Your direct involvement in promoting road safety campaigns is key, and it is thanks to you that the FIA is a global leader in road safety.
Since it was founded in 2012, the FIA Road Safety Grants Programme has supported over 320 pioneering road safety initiatives in more than 75 countries.
The Programme is dedicated to FIA Clubs from all of our Regions, and I congratulate the eight Region IV Clubs who have been awarded funding for 2018. 
The Grants Programme is currently accepting applications for Transformation stream projects, and I strongly encourage all FIA Members to apply. This Programme will continue to enable all of you to promote effective initiatives on the ground.
Road safety campaigns are normally more effective when developed in partnership. A concrete example of cooperation with leading international organisations is the "Benchmarking road safety performance in 10 Latin American countries" report. Produced in cooperation with the International Transport Forum, the study aims to identify the strong and weak points of each country and propose paths for improvement: it is my hope that such a tool can assist Region IV Clubs by bringing scientific evidence to the debate, strengthening road safety policy in this region. We should extend this model to all in the FIA Community. 
Finally, let me mention the ongoing cooperation with the NCAP programmes around the world. It is encouraging to see the first five-star cars in Latin America, although much work is still needed. Thank you Ricardo Morales: as a Chairman of Latin NCAP, you and all the Clubs involved in LatinNCAP, are doing impressive work to promote safer vehicles.  
A lot of progress has also been achieved in the area of Sustainable Mobility. 
Our new Environment and Sustainability Commission held its first session in March this year under the Presidency of the distinguished former President of Mexico, Felipe Calderón.  I am delighted that he is here with us now.
This joint Sport & Mobility Commission has an ambitious objective to ensure that sustainability is integrated in all strategic areas of the FIA. I am convinced that this Commission will strengthen the FIA's reputation as a leader in global sustainability and will create more synergies between Mobility and Sport. 
The FIA Smart Cities programme is another important achievement in this area. Three successful high-level Forums were held in Santiago de Chile, Rome and Zurich during the fourth season of the FIA Formula E Championship.
I am very pleased that Gloria Hutt Hesse, Minister for Transport of Chile is also with us and I thank her for making the trip.  
Innovative mobility solutions in cities change the way we reach our destinations, and it is important to lead the discussion on how to make cities of the future safer, more efficient and more accessible to all.
I encourage you to follow the FIA Smart Cities Programme next year in Season 5 of Formula E, starting with the first-ever race in Riyadh, Saudi Arabia, in December – where for the first time women are able to drive and to compete. 
The quality of urban mobility is often defined by traffic and transit conditions. Congestion is one of the most pressing issues in cities today that seriously impacts economic and environmental performance. It is the role of the FIA to help its Member Clubs address this serious problem, working together with the city authorities towards more efficient traffic management systems. In the coming months, we will be assessing a number of technological solutions to design a special tool that can enhance urban traffic. This innovative tool will be shared with the FIA network so that we may all join forces to improve this dramatic situation. 

Dear friends,
All these topics will be discussed during the sessions and meetings taking place throughout the week.
I would like to invite you to attend and actively participate in as many of these as possible. Not only because our colleagues have worked tirelessly to organise them, but because we need you to actively engage to share your views and experiences so that we may all move forward together. 
As usual it will be an opportunity for you to get to know your colleagues better. You will be surprised by how many common challenges you share and the variety of solutions Clubs have found which can help you. I hope you will take full advantage, so that by the end of the week you will have valuable new ideas to take back and implement in your Clubs. 
Thank you for your attention, and I declare the 2018 FIA Mobility Conference open.