Jean Todt and Anne Hidalgo discuss road safety challenges in cities at the Paris ePrix
FIA President Jean Todt, who also serves as UN Secretary General's Special Envoy for Road Safety, emphasised the importance of promoting smarter road safety policies around the world at a Smart Cities Talk, organized on 20 May on the occasion of the Paris ePrix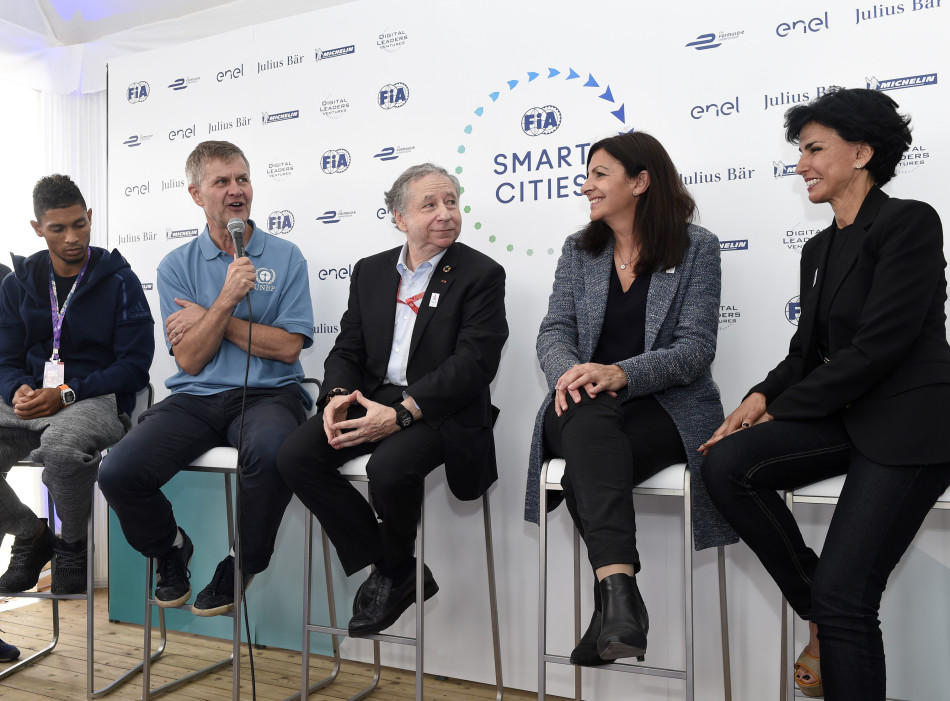 Jean Todt was speaking alongside the Mayor of Paris and President of the C40, Anne Hidalgo, at a special FIA Smart Cities Talk in the French capital as the sixth round of the 2016-2017 FIA Formula E Championship got underway.
According to Jean Todt, road safety is a major international health issue that rarely receives the attention it deserves. "We must use sport to be a worldwide loudspeaker for the environment and road safety," Mr Todt said. "That's why we are here. We are convinced that by working together we will be able to make a difference."
The FIA Smart Cities project focuses on pressing urban mobility issues, particularly road safety, environmental targets and traffic management.
"The objective is to make sure that there is global interest in this topic to stop people from being killed on the roads," Mr Todt said.
About 1.25 million people die every year as a result of crashes on the world's roads and road traffic injuries are the leading cause of death among people aged between 15 and 29 years, according to the World Health Organisation (WHO).
Globally, some 90% of fatalities on the roads happen in low and middle-income countries and pedestrians, cyclists and motorcyclists are most at risk, explained Mr Todt.
"The aim is to educate and communicate globally about this topic. Cities and global leaders have a part to play in spreading the message on road safety issues," he said.
The number of vehicles worldwide is expected to increase from 1 billion in 2010 to 1.6 billion by 2035, and exceed 2.1 billion by 2050, Mr Todt explained in a statement. The increase in vehicles will further strain the infrastructure of cities that are already struggling to combat rising pollution levels and congestion. Higher motorisation rates are also directly correlated with the number of crashes on urban rates. "Experience tells us that soon after motorized transport entered city streets, fatal crashes rose," he explained", warned Jean Todt.
While outlining critical issues in the area of road safety, renouned speakers have also reflected on existing successful solutions. Mr.Todt reminded about the the FIA's #3500LIVES campaign that highlights how 3500 people die in car crashes worldwide every day. The campaign is being rolled out in 30 cities across more than 70 countries, helping government officials to convey a message about risk factors on the road.
Wayde van Niekerk, 400m Olympic Champion and one of the 13 ambassadors of the #3500LIVES campaign, joined the Smart Cities Talk reflecting on road safety issues in his native South Africa "People have become quite reckless as a nation when it comes to drinking and driving. Hopefully we can bring about some awareness that can change peoples' minds and end up saving lives on the road".
During the Smart Cities Talk, it was also noted that further convergence between Sports and Mobility pillars of the FIA will activate new opportunities to promote road safety and sustainable mobility. In this context, Anne Hidalgo, Mayor of Paris and President of the C40, pointed out the importance of the single-seater electric car FIA Formula E Championship. She further mentioned that electric racing can help educating the public about more environmentally friendly mobility. "Formula E are boosting their research on electric mobility and that will allow the public to probably use batteries in vehicles that last a long time (in the future)," Ms Hidalgo said.
"We are moving towards electrical vehicles in cities very fast," said Erik Solheim, executive director of UN Environment, who also attended. He argued that technology would help improve peoples' lives in cities but also emphasised that there are many environmental challenges. "The biggest killer of all humans is now pollution, affecting our hearts, causing cancer and other diseases. So we need to fight pollution," he said.