Huge 2018 FIA ETRC entry list revealed
The 2018 FIA European Truck Racing Championship will feature 20 full season entries for the forthcoming season which begins at Misano, Italy next month.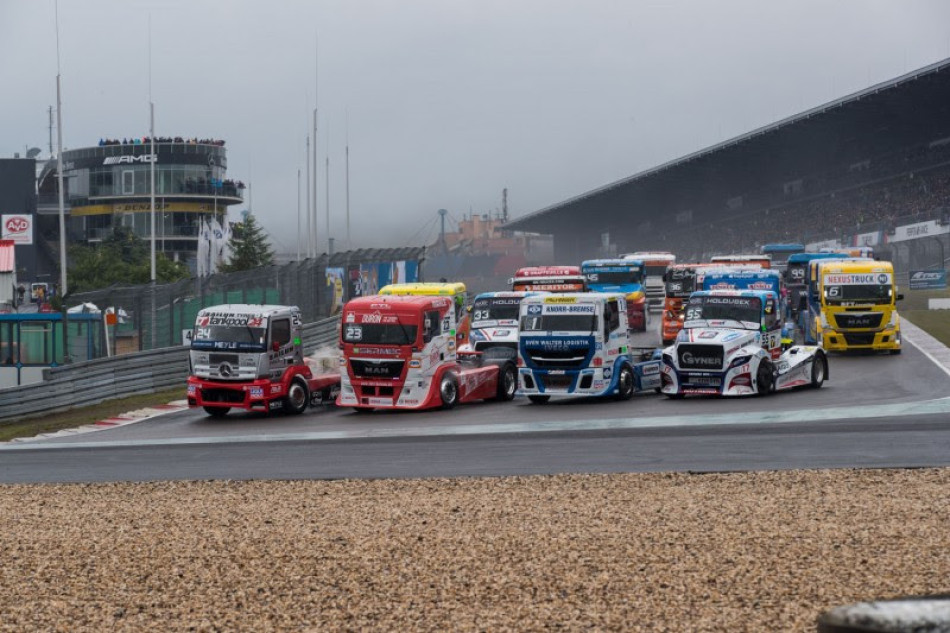 2018 sees the largest FIA ETRC season entry for over a decade and with a significant number of race-by-race entrants to follow, the grids will be healthier and more diverse than ever.

Heading the entry list is reigning champion Adam Lacko who will proudly display the No.1 on his Buggyra Racing system Freightliner.

The Czech ace captured a famous first title in 2017 and will be going all out to retain his hard-won championship this season.

Joining Lacko in the Buggyra team will be British driver Oly Janes who comes from the British Truck Racing Championship in search of added experience in this his first year at FIA ETRC level.

Three other champions join Lacko on the grid with Norbert Kiss (Tankpool24 Racing), Antonio Albacete (Trucksport Lutz Bernau) and Jochen Hahn (Hahn Racing) all targeting snatching back the title to add to their own impressive trophy cabinets.

Sure to also be a threat this season is Steffi Halm who makes the switch from Reinert Racing to Team Schwabentruck.

The multiple FIA ETRC race winner is one of the most successful female racing drivers currently competing and Halm is determined to start her new journey by adding to her race win collection.

Halm's former team boss and teammate, Rene Reinert, makes a welcome return to the FIA ETRC as he comes back from a sabbatical to re-engage with the famous blue No.44 truck which his Reinert Racing team runs.

A striking new truck and livery will renew Sascha Lenz's ambition to make it to the winners circle after achieving podium positions and a pole last season.

The young German has a newly built truck which he and his crew have been working night and day on in the off-season.

British interest will be heightened this season too as Ryan Smith undertakes a full season campaign in the Team OXXO Racing truck.

The combative driver who has won a pair of FIA ETRC races at Autodrom Most in the last two seasons believes he can fight at the front and gather more maximum points this season.

Making it a remarkable six Brits on the grid will be Shane Brereton, Terry Gibbon and Jamie Anderson.
A second Trucksport Lutz Bernau entry comes for Spaniard, Luis Recuenco.

Recuenco comes to the team having raced in the Seat Leon trophy and other Touring Car series in Spain for many years. He has also tasted success in the Spanish Cross Country Rally series.

Also running a second entry will be Tankpool24 Racing as Steffen Faas becomes a full-time member of the paddock after some promising performances at Nürburgring and Slovakia Ring last season with Team Schwabentruck.

A brand new vibrant team in the paddock this season will be the intriguingly named Don't Touch Racing outfit which is spearheaded by long-time truck racing backer and industry leader Sven Walter.

Andre Kursim, who took a break out victories at Zolder last season moves across from Tankpool24 Racing to the new squad this season.

As well as new teams and drivers there are also familiar and loyal faces on the grid as the father and son duo of Jose and Eduardo Rodrigues return for more action this season.

Dutchman Erwin Kliennagelvoort also commits to a season with his familiar white Scania truck.

"This years' grid is one of the most competitive and dynamic for a long while," said ETRA's Director of Events and Team Relations, Christoph Gerlach.

"This shows that since ETRA took over the organisation and promotion in 2016 that we are on the right track to ensuring that the FIA ETRC keeps and further enhances its fantastic reputation as the premier truck racing series in the world.

"To have four champions (Lacko, Kiss, Hahn and Albacete) that have taken ten titles between them over the last 13 years is surely unique in all of motorsport.

"Added to this will be a great selection of challengers from experienced drivers to new participants who will be representing a large variety of manufacturers.

"We are confident that the average grid size will be a good leap from previous seasons and with an emphasis on attracting industry and commercial partnerships this season we believe that we are on course for some exciting times now and in the future," explained Gerlach.

There will also be six entries in the 2018 FIA ETRC teams' title race. Buggyra Racing 1969 will be aiming to retain their title. Full entry details are in attachment below.

The 2018 FIA ETRC season will get underway at Misano in Italy over the weekend of 26/27 May.
 
Drivers that will compete in the 2018 FIA European Truck Racing Championship 

Adam Lacko
Oly Janes
Norbert Kiss
Steffen Faas
Jochen Hahn
Steffi Halm
Antonio Albacete
Luis Recuenco
Ryan Smith
Andre Kursim
Sascha Lenz
Rene Reinert
Terry Gibbon
Jose Rodrigues
Eduardo Rodrigues
Erwin Kliennagelvoort
Frankie Vojtisek
Shane Brereton
Jamie Anderson
Ray Coleman
 
Full-Season Entry List HERE