This page contains archived information and may not display perfectly
Gayoso Vazquez and Ledda Poised for Italian Showdown in Cross Car Academy Trophy
An all-action opening day at Maggiora Offroad Arena near Milan has seen championship leader Miguel Gayoso Vazquez rise from a first lap crash in timed practice to victory in the first heat of the penultimate weekend for this season's FIA Cross Car Academy Trophy.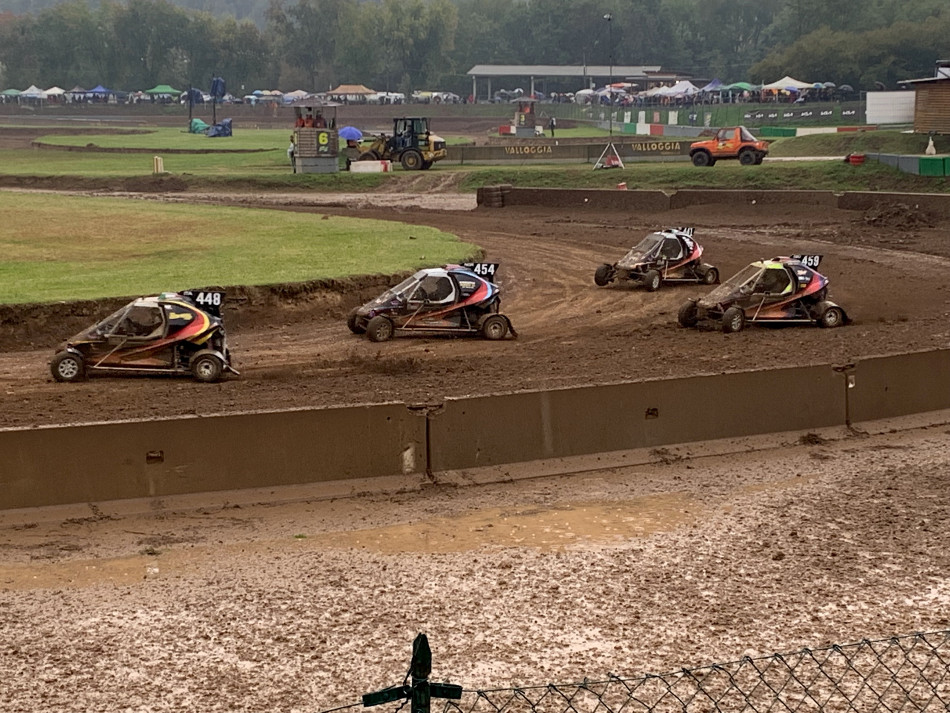 On his first ever visit to Maggiora, the value of track time was at a premium for the young Spaniard, but he failed to complete a lap of the first timed practice session after tangling with Cyprus-flagged female racer Tara Laconico.
Undeterred by the setback, Gayoso Vazquez then went fastest of all in the second session to claim pole position for the first heat. A drying track helped the points leader's cause, after the first session had been dominated by his title rival and local hero Valentino Ledda.
The Sardinian struggled to replicate his form as the track dried, however, and would qualify only fifth for the first race. Joining Gayoso Vazquez on the front row would instead be the two young Belgian racers, Emilien Allart and Romauld Demelenne.
Both of the Belgians had shown flashes of form in the three rounds previously, but struggled to break free of the midfield scramble on each occasion. With Ledda and fellow championship contender Stanislav Brousek immediately behind them however, the rush to the first corner was always going to be the key moment in the first heat.
Sure enough, the jostling for position off the line and into the first corner played into the hands of Gayoso Vazquez, who pulled into a clear lead from Demelenne as a degree of chaos struck the chasing pack.
"After the third corner I was sixth or seventh," said Ledda. "One in front of me spun so I had to brake, but then I retake my position and in the end I finish third. It's a good start for me but to try and catch Miguel in the championship I need to do no mistakes and I need to win."
With Allart and Germany's Samuel Drews finishing fourth and fifth respectively, the pressure on Brousek to remain in contention for the championship has grown after finishing sixth, putting him on the third row of the grid for the second heat on Sunday.
For points leader Gayoso Vazquez it was the perfect end to the opening day's action. "They were very bad conditions early in the day but with luck it all came good," he summarised.
"Tomorrow I hope will go as well as today, and it is very important for me to keep the championship lead. It is my first time at this track and I enjoy it so much – the two jumps and the flowing corners are very fun and enjoyable."
The action continues on Sunday with two more heats before concluding with the points-paying final.
The latest news and information from the 2022 FIA Cross Car Academy can be found here: https://www.fia.com/events/european-autocross-championship/season-2022/classifications
Full championship information can be found here  https://www.xcacademytrophy.com