This page contains archived information and may not display perfectly
AutoCross - Brousek and Gayoso Vazquez Win First Heats in FIA Cross Car Academy Trophy Finale
A full day of on-track action for the 11 competitors at this year's FIA Cross Car Academy Trophy finale in Mollerussa, Spain ended with championship contenders Stanislav Brousek and Miguel Gayoso Vazquez claiming one victory each in the first round of heats.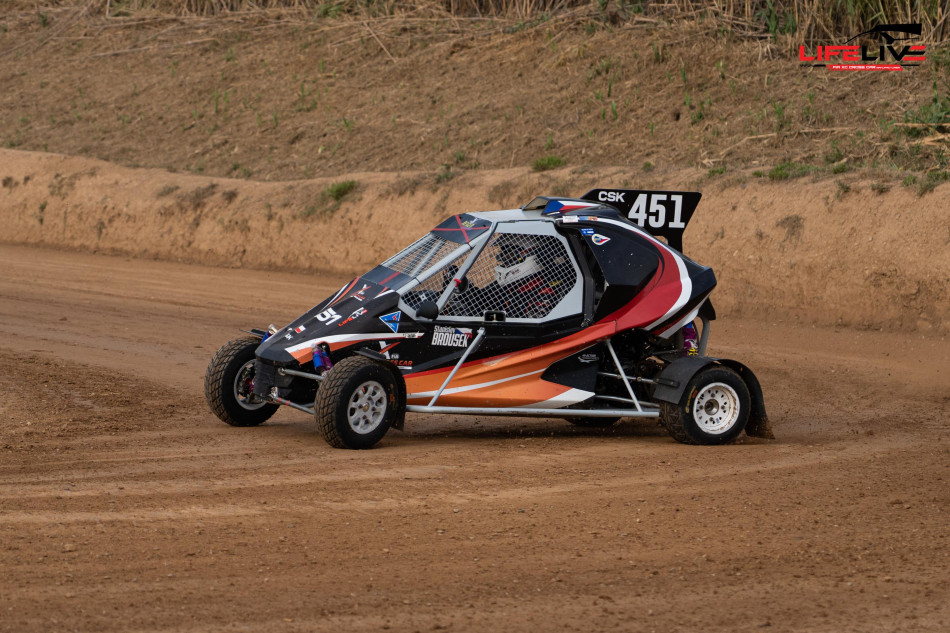 The Mollerussa circuit is smooth, fast and flowing, with few of the elevation changes and jumps that typify the majority of venues on the FIA European Autocross Championship calendar, of which the Cross Car Academy Trophy is one of the support classes.
This unique layout required a rapid learning process for many of the drivers, aged 13 to 16 years, on their first visit to the circuit, which is located 130km north-west of Barcelona. Another major change for many was the absence of mud on the course, which is formed of hard, dry earth that is covered with a layer of dust that hangs in the air during each race.
The expanded field of LifeLive TN5 buggies entered for this event, thanks to the addition of Kenyan youngster Amaan Altaf Ganatra and Spanish Motorsport Games hopeful Diego Martinez, was split into two groups for their practice and qualifying sessions as well as the heats.
On home soil for the final event of the season, championship leader Gayoso Vazquez topped the timesheets after both the morning warm-up and the timed practice to take pole for the first of two first-round heats. Czech youngster Brousek, third in the standings, topped his group to take pole for the second first-round heat.
It was a tricky start to the weekend for Italian Valentino Ledda, the closest rival to Gayoso Vazquez in the points table after winning his home event at Maggiora two weeks ago. Fourth fastest was his best effort, putting German youngster Samuel Drews between Ledda and his title rivals before the start of the first round of heats.
Gayoso Vazquez stormed to an unchallenged victory in his heat, heading home Drews, Norway's Eirik Steinsholt and Martinez. Brousek was similarly dominant in the second half of the round, with Ledda second and Belgium's Romauld Demelenne beating fellow countryman Emilien Allart for third.
Both Ledda and Brousek know that they have a tough day ahead on Sunday to get on terms with Gayoso Vazquez at a track that he knows extremely well. For Brousek nothing more than victory and a disaster for the Spaniard will see him snatch the title, but he remained optimistic about his performance after the opening encounter.
"I'm very happy with my day," Brousek said. "It is nice to win my heat and I am quite close to Miguel's speed so far. I just want to build from this start and enjoy the weekend."
Two more pairs of heats will be held on Sunday morning, followed by a semi-final and then the points-paying final. All of the drivers enjoy full support and coaching from the LifeLive team, which has been joined on this most important weekend of the season by 16-time FIA World Rally Championship event winner and five-time WRC vice-champion Thierry Neuville.
To find out more about getting a place on the grid please contact info@life-live.be
The latest news and information from the 2022 FIA Cross Car Academy can be found here: https://www.fia.com/events/european-autocross-championship/season-2022/classifications
Full championship information can be found here  https://www.xcacademytrophy.com