Formula Regional and Formula 4 weekend recap
Formula Regional Americas Championship Powered by Honda & Formula 4 U.S moved to Road America last weekend, where 2 drivers claimed 2 victories out of 3 races in both categories: Raoul Hyman from TJ Speed Motorsports & Matt Christensen from Velocity Racing Development.
In Formula 4 Nacam, Julio Rejón took 2 victories out of 3 races around the Autodromo Hermanos Rodriguez in Race 1 & 2. The third race went to Juan Felipe Pedroza from Team Ram Racing.
Formula Regional Americas Championship Powered by Honda & Formula 4 U.S Powered by Honda
"After a successful season premiere, Formula Regional Americas Championship Powered by Honda and Formula 4 United States Championship Powered by Honda moved to Road America for Round 2 of their six-round season. The weekend marked the third visit to Elkhart Lake for FR Americas, and the second time F4 U.S. competed at the iconic track."
Raoul Hyman at Road America with FR Americas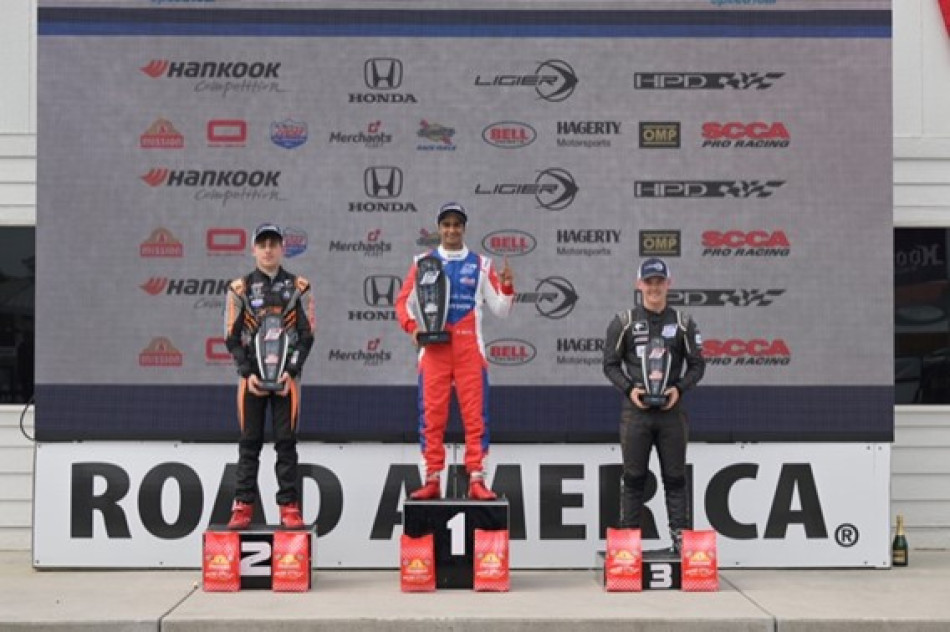 Raoul Hyman earned his second-career Formula Regional Americas Championship Powered by Honda win at Road America. After leading practice and qualifying, Hyman continued his weekend with a dominating performance in Race 1. 
"It wasn't easy; it definitely wasn't easy," said Hyman following the race. "I'm really happy to come away with a win. I can't take any of the credit; the team has done an amazing job. The pace we've had all weekend—you can see it across all three cars—but I can't do that if they don't put in the work and do an amazing job in terms of the setup. A huge thanks to TJ Speed [Motorsports] and I hope we can keep going." 
The race got off to a rocky start as Nico Christodoulou stalled from the second position. With cars scrambling to the left and right, Hayden Bowlsbey made contact with Christodoulou to bring out the safety car. 
The race returned to green on lap 3 with the field restacked. Hyman and Dylan Tavella took off, while Jason Alder, Ryan Yardley and Mac Clark jockeyed for the third position. Clark pushed his Hankook Tires to the limit, ultimately leaving Yardley and Alder to battle it out. 
At the checkered flag, Hyman led Tavella, Yardley, Alder and Nick Persing to the finish line.
Jason Alder Notches First Win of 2022 at Road America
Jason Alder, driver of the No. 77, earned his first Formula Regional Americas Championship Powered by Honda win of the 2022 race season at Road America. The Cooksville, Md., native put himself in the catbird seat to take over the lead with just two laps remaining in the race.
"It was definitely a tricky race for sure," said Alder from the podium. "It was very up and down. Sometimes it was looking really good, sometimes maybe not so much. We had a little bit of contact in Turn 1 on that restart that made us lose a position or two. Fortunately, we were able to come back up to the front, and when the opportunity presented itself, we were there to take advantage of that. So, I'm really happy that we were able to bring a one-two home for the team, and I'm really looking forward to trying to get a one-two-three with Nick [Persing] on here, as well. All-in-all, just grateful to win."
Initially, it looked like the race would be a carbon copy of Race 1 with a dominant start by Raoul Hyman from the pole position, who opened a sizable lead during the early laps. However, coming to two laps to go, Hyman bumped the wheels on entry to spin in Turn 14. Fortunately, given the lead he had built up prior to the spin, Hyman was able to regroup and rejoin the race in the second position.
Early in the race, there was an intense battle for second place with Alder battling his TJ Speed Motorsports teammate Nick Persing, Dylan Tavella and Ryan Yardley. However, as Persing spun off course and Yardley suffered a mechanical issue, it was Tavella who emerged to finish third.
TJ Speed Motorsports claimed all three podium positions for the first time this Formula Regional Americas Championship Powered by Honda season to extend their lead in the team championship standings. 
Continuing his show of dominance from pole position Raoul Hyman, driver of the No. 27, pulled away from the rest of the grid immediately from lights out. 
"I'm really happy, and to have all the guys up here, I mean everyone was working really hard on Nick [Persing's] car right until we had to go," Hyman said as he took his place at the top of the podium. "We finally put a smile on Tim's [Neff, team owner] face.  I'm really happy with that. I'd like to thank the boys, they've done a great job. Honestly, they have really put together three amazing packages."
Dylan Tavella fought and maintained the second position until a mistake in lap 6 ran him wide, opening the door for Jason Alder, to move up to second. Right behind, in third, Nick Persing fought his way through the pack from the seventh position into the final podium spot, while setting multiple fastest laps on his Hankook tires.
The battle for third continued throughout the race, as Tavella recovered to apply pressure to Persing. As the race clock ticked down, Tavella was starting to close the gap between himself and Persing. Going into the final lap, the gap between Persing in third and Tavella in forth was down to half a second. Ultimately, Persing defended his position against Tavella and claimed the final podium position to complete the TJ Speed Motorsports sweep. 
FR Americas' next event will be the Mid-Ohio SpeedTour, where they will complete Rounds 7-9 at the Lexington, Ohio circuit, June 23-26.
Matt Christensen Wins Race 1 at Road America in F4 U.S
Matt Christensen won his first race in Formula 4 United States Championship Powered by Honda competition on Saturday afternoon in Race 1 at Road America. 
After rolling off second in his No. 45 Ligier JS F4, Christensen initially fell in line behind Lochie Hughes in the No. 6. Christensen kept the pressure on Hughes and was able to overtake the top spot before the completion of lap 1. 
After a brief safety car period, the field was restacked to give another chance at the top spot. Christensen held the lead early, but a four-way battle ensued, and it was Hughes who overtook the point position before completing lap 4. 
As the laps ticked by, Christensen continued to apply the pressure on Hughes. It all came down to the last lap as the two raced side-by-side and Christensen ultimately made the pass on Hughes in Turn 13 to lead the field to the checkered flag. 
"It was a really good fight with Lochie," said Christensen as he climbed from the car. "I got him at the start in Turn 5 on lap 1, and then he passed me back. Then he pulled a little gap, then like he said he started to make mistakes and I just bounced him on the mistakes and caught him and then made that last lap pass." 
Alex Berg finished third, earning his second podium finish of the season, followed by Nicholas Rivers in fourth and Louka St-Jean in fifth. 
Matt Christensen Wins in Back-To-Back Races at Road America
Matt Christensen, driver of car No. 45, went back-to-back in Formula 4 United States Championship Powered by Honda competition, winning the opening two races at Road America. In a race with plenty of action, Christensen engaged in a heated battle with teammate Noah Ping, while the third step on the podium came down to a three-wide run to the checkered flag.
Christensen secured the pole position for Race 2 and got a good jump as the lights went out, but a five-car breakaway quickly formed to fight for the lead. As the race neared the halfway point, Christensen and Ping broke away to fight it out in their own battle for the lead, while Bryson Morris, Lochie Hughes and Alex Berg jockeyed for the third position. 
Christensen and Ping traded positions at least three times with Ping leading briefly just past the mid-way point, but Christensen overtook him in Turn 1 to regain the lead while working their way to the white flag lap. The two continued side-by-side all the way through the Billy Mitchell Bend in Turn 13 on the final lap before Christensen ultimately crossed the finish line on his Hankook tires to secure the race win.
The battle for third, however, remained intense all the way to the finish line. As Berg, Hughes and Morris took the white flag in that order. They tussled back and forth with Hughes leading the pack off Turn 14, but raced side-by-side to the finish line with Hughes on the inside, Morris on the outside, and Berg pulling ahead in the middle to take the final step of the podium. As they crossed the line, only 0.083-seconds separated the three drivers. With Berg third, Hughes took fourth, followed by Morris in fifth.  
"It was a really good race," said Christensen following the race. "Me and Noah started to pull away; I saw the gap and knew that at the end it would be a fight for the win. Overall, it was just clean passes and a really fun race. I'd like to thank all the VRD guys. The car is obviously fast; we checked out on all the field. I'd like to thank my family for coming out and supporting me, and Noah for being a good teammate and having a clean race with me."
Noah Ping Secures Win, VRD Sweeps Podium in Race 3 at Road America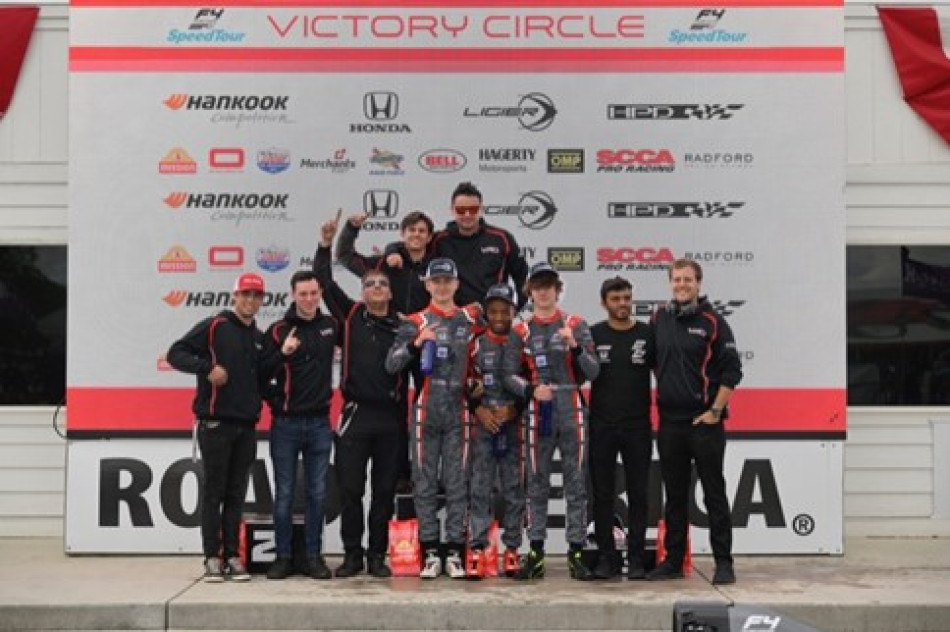 Noah Ping secured his first Formula 4 United States Championship Powered by Honda series win at Road America in Race 3 on Sunday afternoon. In commanding fashion, Ping led the field from lights out to the checkered flag in car No. 65. To make the race even more special, Ping was able to share the podium with his VRD teammates Matt Christensen and Nicholas Rivers, as it was a clean sweep for the Atlanta-based team. 
With Ping out front for the entire 20-minute race, the real action was behind him. 
Cars were gridded based on their fastest lap of the previous race, so despite winning the first two races of the weekend, Christensen lined up fifth for Race 3. He instantly found himself in a fierce battle with Alex Berg and David Burketh. Solidly hitting his marks, he was able to overtake both drivers to lock in the third position. From there, Christensen set his sights on teammate Rivers. 
Rivers was fourth at lights out, but a solid start and meticulous first lap catapulted him to the second position. He raced unchallenged until near the halfway point as Christensen closed the gap, setting fastest lap and besting his teammates lap by nearly one second. Christensen kept the pressure on high and was able to move past Rivers on lap 5. From there, the three VRD drivers ran single file to the finish. 
When the checkered flag waved, VRD completed the podium sweep with Ping, Christensen and Rivers, respectively. Lochie Hughes was fourth and Bryson Morris was fifth to round out the top five.
"It's a really great feeling to be here in F4 on top podium," said Ping after the race. "There's nothing quite like it. Shout out to the VRD guys; obviously our cars were pretty quick here to go one, two, three. Congrats to my teammates it's a big accomplishment for us."
F4 U.S.'s next event will be the Mid-Ohio SpeedTour, where they will complete Rounds 7-9 at the Lexington, Ohio circuit, June 23-26.
Formula 4 NACAM Championship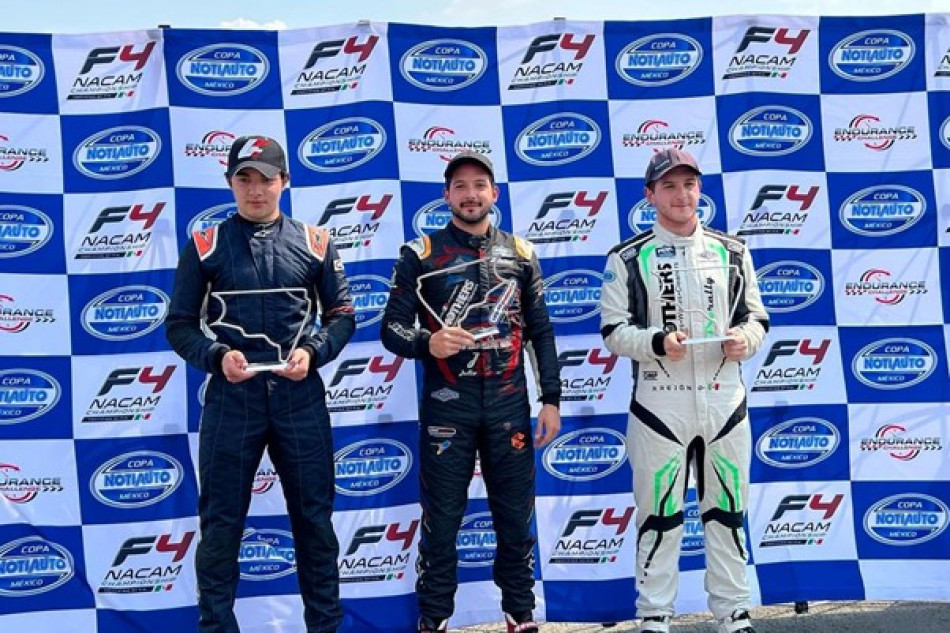 After a one-year break due to Covid restrictions, the F4 Nacam Championship is back in 2022 with a 6-round schedule in Mexico. For its sixth season, the Championship joined the Notiauto Cup race events.
The F4 Nacam Championship's second roun took place around the Autodromo Hermanos Rodriguez on a shortened version of the Formula 1 track on May 21 and 22 and saw two different winners in 3 races:
Mexican driver Julio Rejón from team Mothers ProRally won Races 1 & 2.
Juan Felipe Pedroza, Colombian driver from team Ram Racing won Race 3.
After the first two rounds, the Championship standings is the following:
1 Rejon 126 
2 Pedorza 88
3 Perez 77
4 Roza 73
5 R Rejon 48
6 E Alquicira 26
7 Emil Abed 24
8 Cristian Cantu 22
9 Rodriguez 20
10 Joe Sandoval 10
The F4 Nacam Championship's next round will be held on 25-26 June around the Autodromo Miguel E. Abed.