Formula 4 Weekend recap
British Formula 4 Championship saw three different winners this weekend: Alex Dunne, who claimed his sixth victory of the season, Mercedes junior Daniel Guinchard who won his first maiden single-seater victory & Louis Sharp who scored 3 podiums including a race win.
Spanish Formula 4 Championship saw Nikola Tsolov winning all three races in Valencia after having dominated the whole weekend.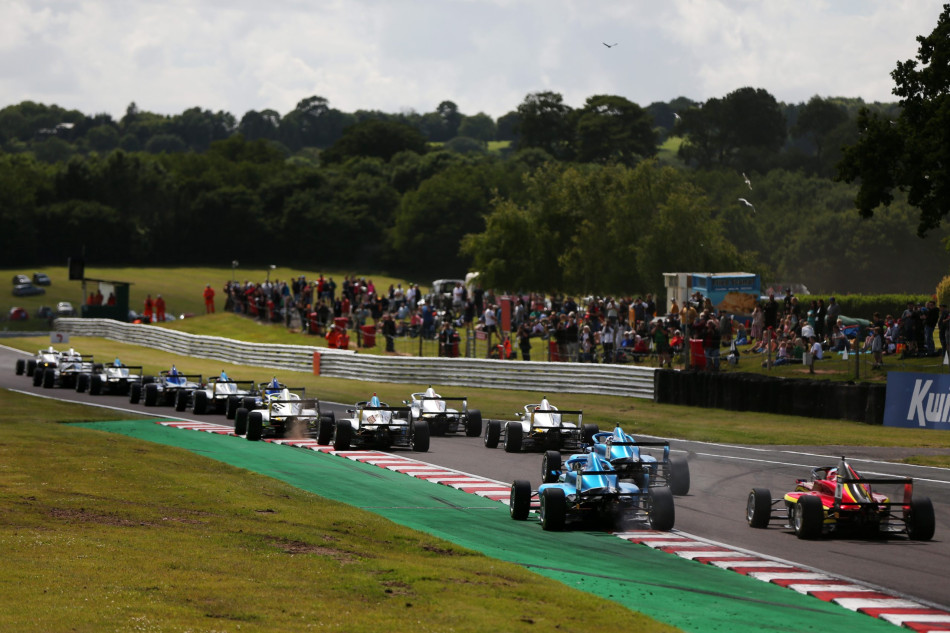 British Formula 4 Championship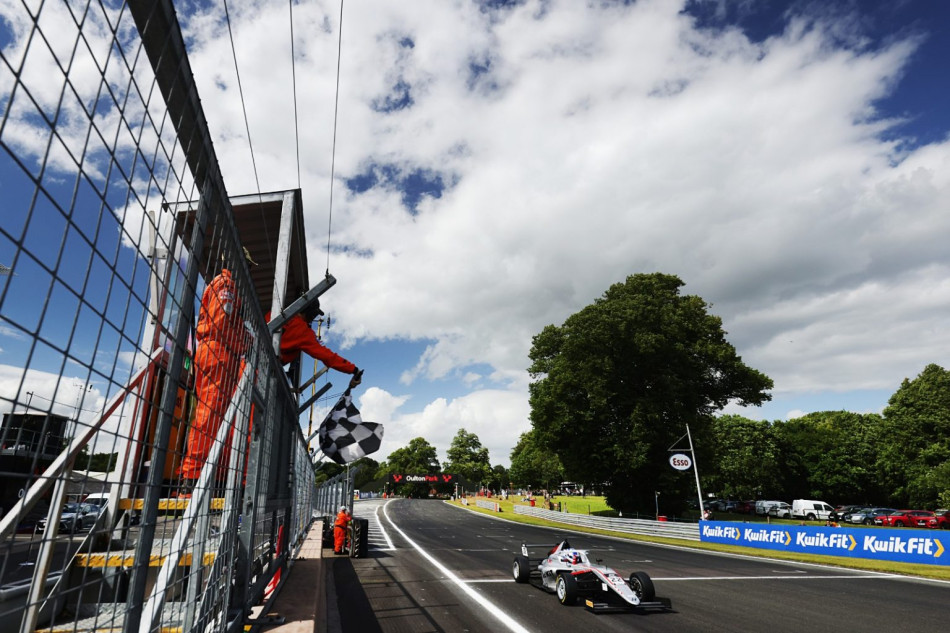 Dunne races clear to victory in Oulton Park opener
Hitech GP's Alex Dunne won the opening ROKiT F4 British Championship certified by FIA race of the weekend at Oulton Park at a canter, the championship leader 7.4 seconds clear of the competition to wrap up a sixth victory of the season.
"I'm really enjoying this track," grins Dunne. "It's probably one of my favourites throughout the year. So yeah, I'm feeling really comfortable out there.
"I think I made a little mistake at the start. I released the clutch a bit quickly, so I broke off the line and he managed that to get up alongside me, but I managed to hold him off into turn one. And then I could kind of see in my mirrors that that I was gradually pulling away. So, I tried to try to do my best to look after the tyres and keep that gap.
"We have to make the most of the pace we have right now and try to carry that on into the rest of the season."
Sharp's second place maintains his record of taking a podium finish at each race meeting, the Kiwi rising star clawing back more ground in the standings after being forced to sit out the opening event due to his age.
"We showed our pace at the start, I was able to get a really good start, and on the first lap I made up two positions, so I couldn't really ask for much more than that for a first lap," said Sharp in parc ferme.
"After that, I really just settled into the race and tried to put in consistent laps. I could tell Aiden behind me was a bit quicker, and especially towards the end we lost a bit of pace. I was able to just hold on for second."
Mercedes junior Daniel Guinchard seizes his chance
Mercedes-AMG junior Daniel Guinchard become the second Formula 1 junior driver after Ugo Ugochukwu to score a maiden single-seater victory in the ROKiT F4 British Championship certified by FIA this season, rising from fifth to win the partially reversed grid race at Oulton Park.
Starting from fifth, the Phinsys by Argenti racer made a lightning getaway to pass Carlin racer Ugochukwu and a slow-starting Adam Fitzgerald off the line, slotting in behind the JHR pairing of pole-sitter Joseph Loake and Noah Lisle in third.
From there, he kept his cool as trouble hit the leading duo; a spin for Lisle at Old Hall relegated the Australian to the tail end of the field, before a problem with the front-left tyre caused heartbreak on home soil for Loake, his two-second lead evaporating in an instant as he slowed and was forced to retire.
Once released, Guinchard never looked back and powered clear to register his maiden victory in Britain's FIA Formula 4 series by 3.6 seconds over Carlin pairing Louis Sharp and Ugochukwu, the former scoring a third consecutive podium.
"It was a perfect race," said an elated Guinchard. "I made a really good start, had a strong first lap and from there it was a clean race with no mistakes, and everything came together for once.
"I think we're getting there finally with the car, driving-wise, it's all coming together slowly. So hopefully there will be many more wins."
Lightning start rewards Sharp with maiden victory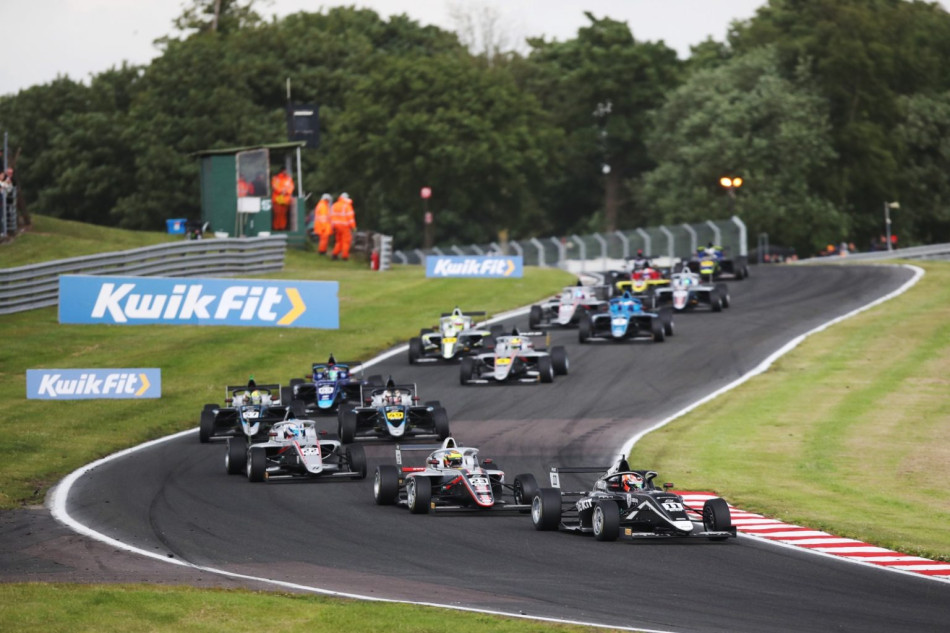 The Rodin Cars-backed racer started on the front row alongside pole-sitter and championship leader Alex Dunne, but out-dragged the Hitech GP racer on the run down to Old Hall and annexed the race lead on the outside line into the right-hander.
JHR Developments' Georgi Dimitrov was also able to capitalise on a slower-than-usual start for the Irishman, slotting into second. Although he shadowed Sharp's every move for the first few laps, the gap between them gradually widened and he was forced to keep a watching brief on a recovering Dunne behind in third.
An opportunity for Dunne to strike back never presented itself, however, and the pair took the chequered flag 1.1 and 1.8 seconds respectively behind an ecstatic Sharp, who also scores a fourth consecutive podium with his win.
"I'm speechless, to be honest. It's all a bit surreal, scoring three podiums and a race win," beamed Sharp. "Going into the weekend I wasn't expecting it, even after qualifying with how hard it is to pass around here, and how quick the top three were.
"I think the team has done a great job, especially in that last race. They gave me a really good setup and have been so supportive. I couldn't ask for anything more."
ROKiT British F4 heads next to Croft for a two-day test this coming week (14-15 June) before returning to the Yorkshire venue for the next three rounds of the 2022 season on 25-26 June.
Spanish Formula 4 Championship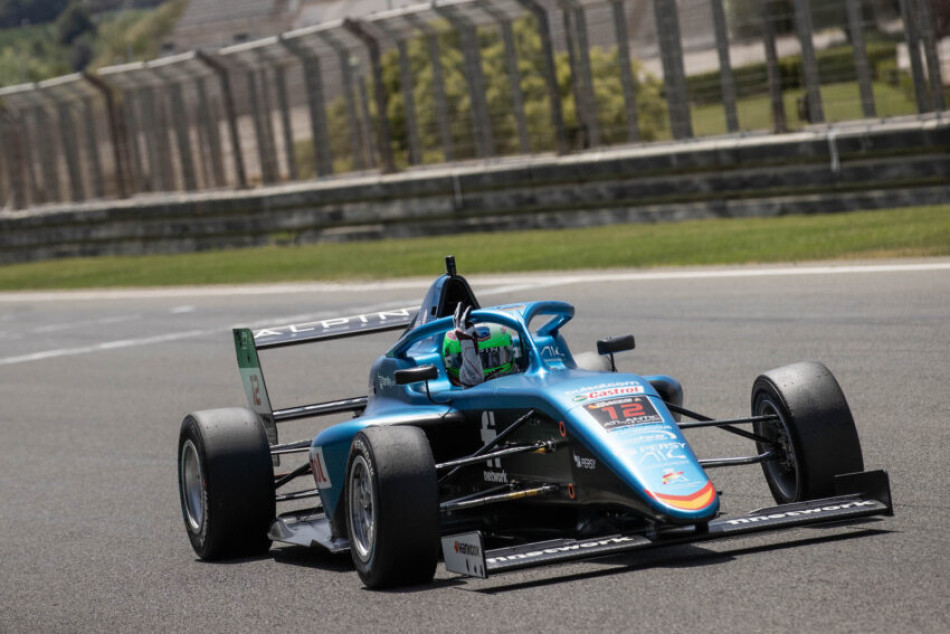 Nikola Tsolov reigns in Valencia
Nikola Tsolov has extended his advantage at the head of the Spanish Formula 4 Championship after taking the three victories at stake in Valencia without giving his rivals a chance.
The Spanish Formula 4 Championship takes a break until July, when on the 7th, 8th and 9th the contest will land in Spa-Francorchamps for the fourth round of the season.