FIVA ID CARD UNVEILED IN IRAN
On 11 May 2022, the Historical Vehicle Association of Iran (HVAI), the FIVA ANF and an affiliate of the Touring and Automobile Club of Iran (TACI), unveiled the first international ID card of historical vehicles in Iran, in the presence of Minister of Cultural Heritages, Tourism and Handicraft in Iran Ezzatollah Zarghami, Fédération Internationale des Véhicules Anciens (FIVA) President Tiddo Bresters, and TACI President Mohammad Hossein Soufi.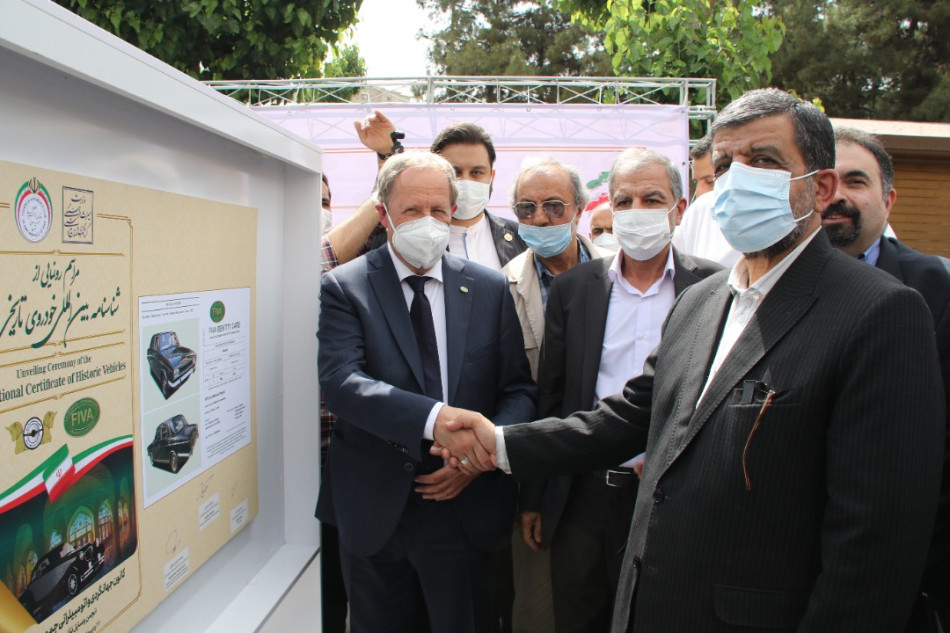 TACI President explained that Iran is the 30th country of all 80 Members of FIVA which got the permission to issue this ID card for its historical vehicles. He also emphasised the carefulness and skills of the working group of experts of identification and protection of historic vehicles, which was noticed by Mr. Bresters as well.
FIVA President highlighted that the recent activities of TACI and HVAI on identifying and preserving historical vehicles, installation of historical plates and assigning ID cards can be used as a pattern for other countries. "What was interesting to me on this trip, is the respect that not only the government, but also the people have for historical vehicles; I hope that the issuance of identity card will help preserve more of these vehicles" he added. ID cards provide the opportunity to participate in international competitions and rallies.
It bears mention that two cars were selected as candidates for the issuance of the first FIVA ID Cards.
The first one was a 1970 Iran National Paykan. According to Ramin Salehkhou who heads the HVAI, the Paykan was a symbolic selection, as it not only has deep roots in Iranian automotive culture arising from its mass production, providing both mobility and fond memories to generations of Iranians, but also due to its role as the genesis of the Iranian automotive industry.
Salehkhou then elaborated that the second vehicle, a 1971 BMW 2800 CS, had been recently selected by the BMW Clubs International Council as the co-winner for the Prof. Dr. Gerhard Knochlein BMW Classic Award "for outstanding contribution to preserving BMW tradition" due to the quality of its restoration. Accordingly, Salehkhou went on to state that though both cars had separate histories and heritages, they both shared and reflected in their own way the creativity of Iranians, whether it was by way of developing an indigenous automotive industry through the Paykan or by the ability to carry out world class restorations as evidenced by the international recognition that the BMW had garnered.