FIA - Jean Todt visits Bulgaria to promote #3500LIVES and celebrate 60 years of the Union of Bulgarian Motorists
FIA President met with a number of government officials, including Deputy Prime Minister Tomislav Donchev, and was made Doctor Honoris Causa of the National Sports Academy, Bulgaria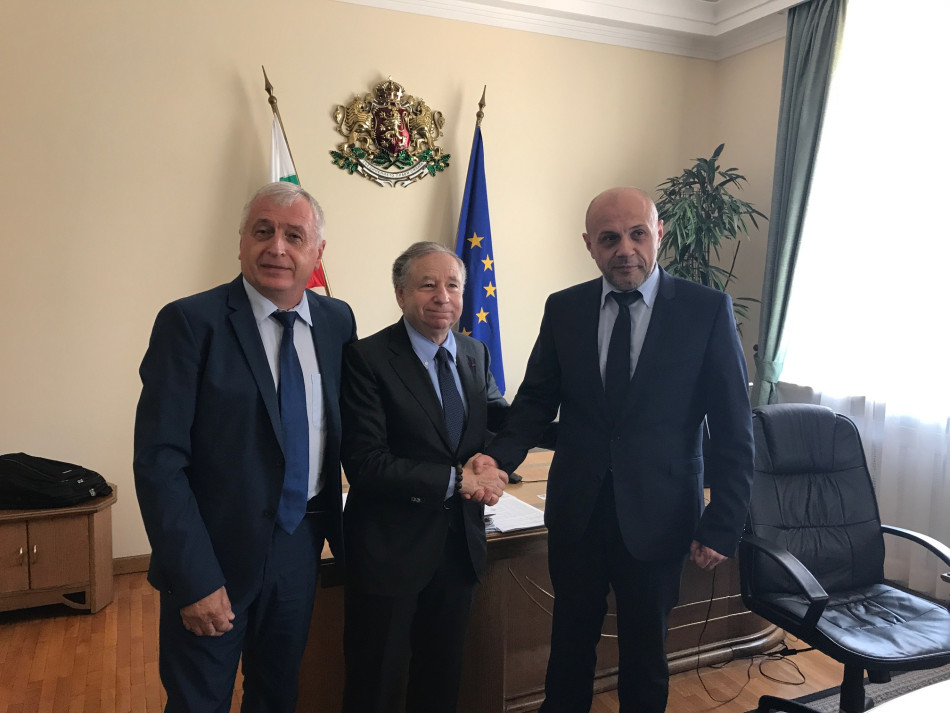 FIA President Jean Todt yesterday, 6 July, visited the Bulgarian capital Sofia to meet with national representatives of the United Nations before a meeting with Deputy Prime Minister Tomislav Donchev and the Minister of Youth and Sport Krasen Kralev.
The positive discussions centred on the FIA's #3500LIVES road safety campaign, with Bulgaria one of the countries in which the campaign's high-profile messages will be displayed through campaign partner JCDecaux. The Deputy Prime Minister pledged his support for the initiative and for improving road safety in the country.
Following these meetings, the FIA President travelled to the Bulgarian National Sports Academy, where he received the title of Doctor Honoris Causa. The institution has produced a great number of the countries Olympic champions, and Jean Todt said, "Over the past 70 years, the National Sports Academy of Bulgaria has gained an international reputation. This would not be possible without the exceptional staff and sporting facilities and equipment that make up your campus, where 42 different sports can be practised."
In his speech, Todt, who also serves as UN Secretary General's Special Envoy for Road Safety, reminded the audience that road safety is at the heart of the missions of the FIA and its Member Clubs such as the UAB. He gave a few striking figures to illustrate the road safety challenge globally and in Bulgaria and talked about one big initiative which was launched last March by the FIA, in partnership with JCDecaux: the #3500LIVES campaign. Visible in 70 countries around the world and in Sofia at the moment, this campaign aims to raise awareness on the 3500 people who die on the world's roads every day thanks to the support of 13 celebrities from the sport, music and film industries.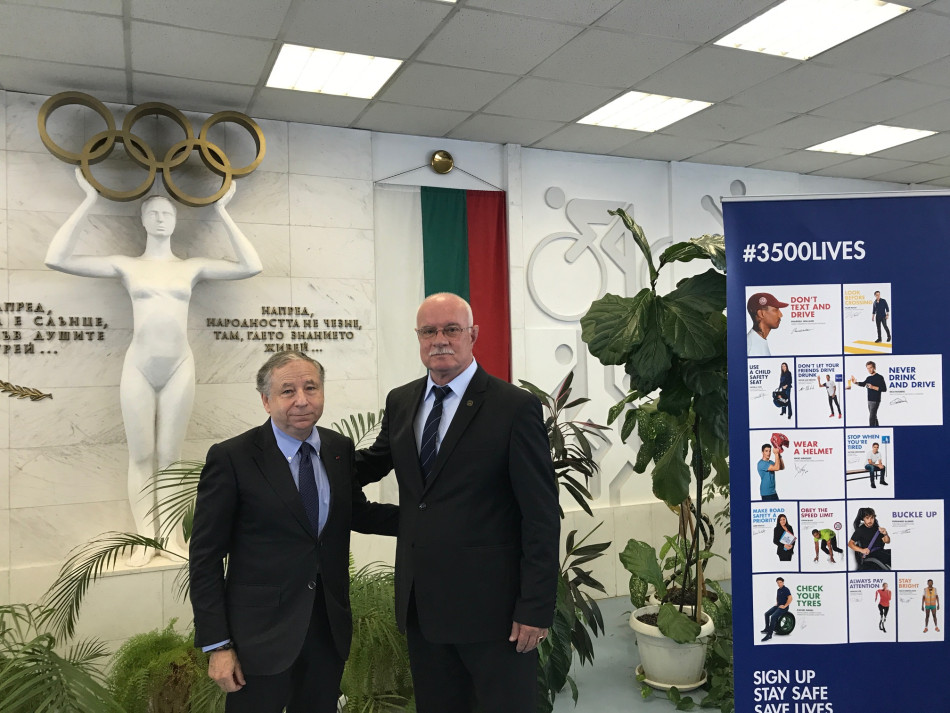 President Todt also identified the key role technology plays in all sports, and how technological advances in motor sport in particular are not only crucial to the sport, but have a significant impact on the advancement of road safety and environmental developments.
He added, "The safety of road users around the world is at the heart of the missions of our organisation and of our member clubs, such as the Union of Bulgarian Motorists, which is celebrating its 60th anniversary tonight.
"The FIA is harnessing energies to improve road safety worldwide, through constructive discussions with everyone involved, particularly large international organisations, public authorities and manufacturers."
2017 marks the 60th anniversary of the UAB, and in the final part of his visit, the FIA President went to the Club to join in the celebrations and pay tribute to its President, Emil Panchev.