This page contains archived information and may not display perfectly
FIA GT World Cup won by driver on his roof
2016 FIA GT World Cup - Macau GP - Race report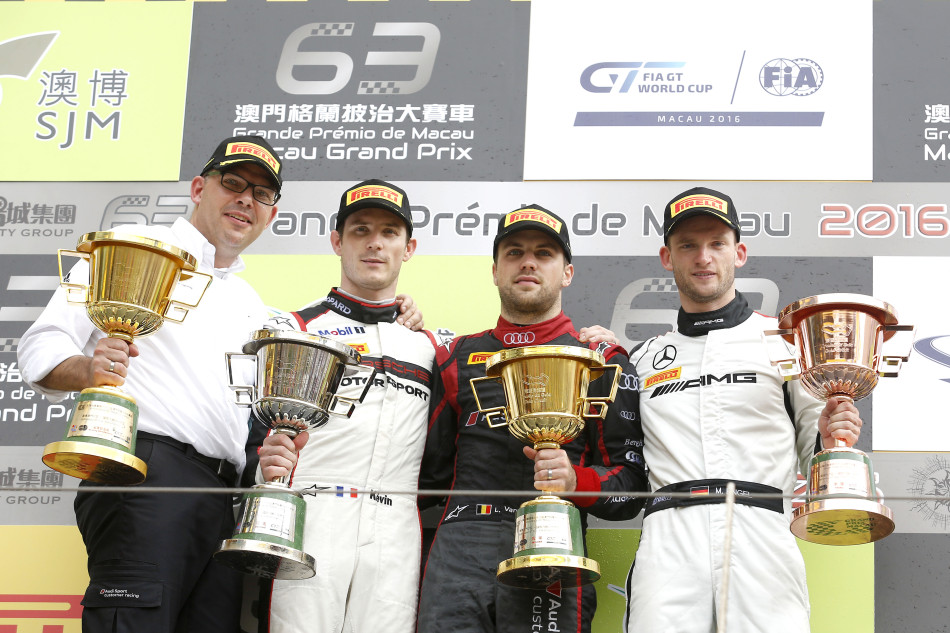 In a remarkable race in which  less than two competitive laps were completed Belgium's Laurens Vanthoor (Audi R8 LMS) has been awarded the FIA GT World Cup after flipping his car on its roof at the Macau Grand Prix.
Vanthoor was crowned victor ahead of Keven Estre (Porsche 991) and defending champion Maro Engel (Mercedes-Benz AMG GT) after officials ruled the race result would be decided on the penultimate lap of the race.
Vanthoor emerged from the upended wreckage of his Audi after it mounted the barrier and flew backwards upside down at the highspeed Mandarin corner to learn he'd been ruled the winner of a race he thought he'd lost.
He had led just four laps of a scheduled 18 lap event – three of them behind the safety car and only one of them truly competitive.
Vanthoor had started from pole position and ledf the first lap from the Porsches of Earl Bamber and Kevin Estre and the Mercedes-Benz of Maro Engel.
But a crash into the fence at Fisherman's Bend by back marker Ricky Capo (BMW) brought out a safety car and ultimately led to a lengthy race suspension as track workers repaired the safety fence onto the harbor side straight.
In a time certain race Bamber in second place was able to learn that race stewards had penalised him five seconds for moving in front of Engel just after the start.
On the restart , with just 18minutes of racing remaining , Bamber forced his way past Vanthoor, desperate to open a gap to negate his penalty.
But Vanthoor hit an inside kerb in his pursuit of Bamber launching his Audi into the fence and then upending it.
By the time his car had been cleared there was just four minutes of racing remaining and officials declared the race without a second restart.
Bamber who was ahead when the race was stopped dropped to fourth with the inclusion of his penalty.
Vanthoor had been strong all race weekend , winning yesterday"s qualifying race.
Vanthoor's win gave Audi the FIA GT World Cup Manufacturer's Trophy
Hong Kong driver Adderly Fong (Bentley Continental GT3) won the Non-Manufacturers' Championship after repairing his car from a Saturday incident.